Dear fellow members and friends

2 January 2007
We had great luck yesterday (see Tessa's report below) – and started the year in a pleasantly relaxed and convivial way. With the usual provisos about circumstances unforeseen I should be able (if required!) to organise our fortnightly rides up to at least 18 March – but don't let that  stop anyone else volunteering to take one on during this period.
On the subject of conviviality, I meant to mention in my pre-Christmas circular that the room where we had our 'Christmas Get-Together' on 19 December turned out to be the one where (in the days long before the pub became the Open House), Brian Hutton received his trophy for winning the National Cyclists Union's Sussex Road Race Championship in 1954. Since Brian was a stalwart of the rival British League of Racing Cyclists, going along there for the presentation must have had a 'Daniel-in-the-Lions' Den' feel. 
You may remember Brian's story some time ago about how he managed to win this race with somewhat dodgy cranks – but in case you've forgotten I'm currently gathering some of his pieces together to put on the History page of our website.
Another reminder while we're recalling Brian's early exploits. We do have a Racing Secretary – Bob Harber – who would be delighted to here from anyone interested – however tentatively – in the more challenging and energetic sides of cycling – including time trials and long distance Audax rides. Get in touch with Bob. He's at bobharber@tiscali.co.uk.
To save sending out a separate 'members-only' message, I give notice that the 2007 AGM will take place at 8pm on Wednesday 7 February at Joyce's house. [32 Bentham Road – directions later]. Members please suggest any items for the agenda – which I will include in another circular well before the meeting.
Happy New Year … and Boots!
Ian
The Next Ride
 
Sunday 7 January
This was the one I'd planned for late November, but was defeated by rail works.
 
Newick – only about 18 miles
We did this ride, more or less – plus a few miles more – in late 2005 when we visited the Bluebell Railway 'open day' at Sheffield Park. We leave Lewes by the usual route that brings us out near Offham church, then continue on skirting Barcombe and eventually reaching Newick where the Royal Oak looks the best bet for lunch. Back via Spithurst and Barcombe Cross (possibility of a tea stop at the other Royal Oak) then back to Lewes via Barcombe Mills, Wellingham Lane, a bit of unavoidable main road up to Earwig Corner and just beyond where we'll take the 'Sue Pringle route' avoiding that nasty bit by the tunnel entrance back to the station.
 
Catch the 10.39 from Brighton or meet at Lewes station at 10.54  Trains back – best bets look to be 15.45 and 16.02.
 
Points of interest. We pass Newick Park on the way back. We probably won't get a view of the (according to Pevsner) 'interesting late C17 front'  but I think we probably will pass its entrance 'Pinnacle Lodge … a charming Late Georgian folly.' We shall see.
 
Clarion 'Brunch' Ride
New Year's Day 2007 – Tessa's report
  
On New Year's Eve, the wind was a strong South Easterly. Today it was the exact opposite: crisp and North West blowing all trace of cloud away giving us a bright sunny start to 2007.
Mick, Andie, Joyce, Ian, Fred, Anne and Ed set off from the Palace Pier
 
Ian and Ed arrived at Marocco's first, closely followed by Andie, Mick, Ann, Fred and Joyce, where I was waiting with Tricia my friend from London.
 
We cycled off into the wind stopping at the end of the cycle lane where it dips down to join Basin Road. We waited a couple of minutes for Joyce who had stopped to give a tricyclist a lesson in cycle lane etiquette. We battled the wind along Basin Road with Tricia asking 'Are we nearly there' more than once. Once the beach and sea came into view we saw many surfers taking advantage of the churning waves, no doubt they would be queuing up at Carats in a while.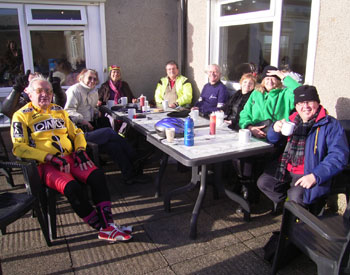 Outside Carats Cafe – Sue's photo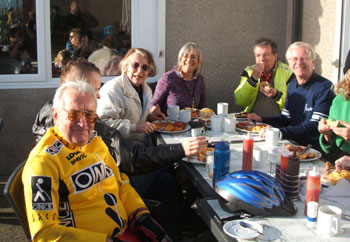 Passer-by missed the point of a group photo!
 
Talking of queues, the one in Carats filled me with dismay! Ian had found us a couple of tables outside in the sun. We took it in turn to stand in the queue and conversation made the time pass quickly. By this time, we had been joined by Sue who took photos of the group though Andie did insist on hiding his face.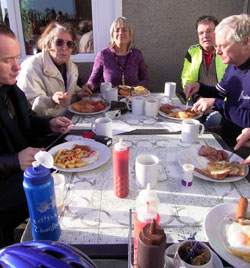 Tucking in!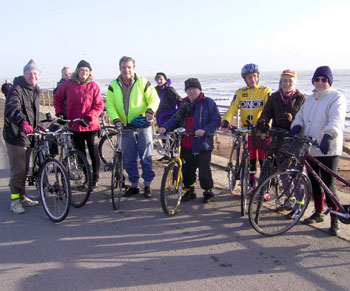 Ready for the ride back
 
Our food arrived before long and almost simultaneously which was a grand effort considering how busy they were.
 
The sun began to shift and we began to feel cold so it was time to head back. I showed Sue my Saracen folding bike, bought to ride in the Caribbean last year and which has proved to be an invaluable spare bike for visitors. It can be ridden equally well by my 6'7'' son and my 8 year old granddaughter.
 
The wind blew us back to Brighton. The best part of the day had been ours.
 
Tessa