Dear fellow members and friends
29 January 2006
Can I remind everyone that the AGM is on Wednesday (1 February) 8 pm at Joyce's at 32 Bentham Road (agenda attached to last circular). Neil has, as reported last time, volunteered to take on the later 'Clarion Sundays' of the ones I can't make – but no one has been able to volunteer for 12 March. But all is not lost; I've managed to rearrange things for that day and will organise the ride myself. Details below.
Boots!
Ian
The Next Rides
 
February and (one) March Rides
 
Sunday 12 February
Pevensey Levels & Herstmonceux c 23 miles
Starting just for a short way on the Cuckoo Trail, this route takes us out onto the Levels and via Rickney northwards to Herstmonceux Castle (Science Centre) dating from c 1440 where we will try to find the bridleway route and avoid the ire of the man on the entrance this time.
 
A couple of miles on the A272 take us through Boreham Street (where we might stop for lunch at the Bull's Head, Windmill Hill (which does have a post mill) and Herstmonceux where we head out on quieter roads to Cowbeech Hill then loop downwards to rejoin the Trail at Hellingly. Possibility of tea at the usual place near the Polegate end of the Trail.
 
Catch the 10.20 (again!) from Brighton station [which doesn't stop at London Road] or meet at Polegate station at 10.49. Trains back are at 2 minutes past the hour with a change at Lewes and 42 minutes past for direct services.
 
 
Sunday 26 February
Hurstpierpoint – Hickstead – Twineham – Wineham – Blackstone (late risers' special) c 22 miles
 
Taking the little roads past Hurstpierpoint College crossing the main A27 (by bridge) at Hickstead, more quiet lanes to Twineham then a loop up round the A272 and back to Wineham where we'll stop for lunch at the Royal Oak – such a pleasant surprise when we did a similar (but not identical) ride last September. Then down to the pretty hamlet of Blackstone and via Bramlands back to Hurstpierpoint and Hassocks
 
Catch 11am from Brighton station or meet at Hassocks station at 11.10. Trains back are at 38 minute past the hour.
 
 
Sunday 12 March
Centurion Way and loop towards the Hampshire Border – about 19 miles
 
The problems with what we've done on the Centurion Way to date have been 1) the unpleasant bit of main road between West Dean and the turn-off for the Lavant Valley … and one or other of the fairly big hills to climb out of it before gliding down to Chichester.
 
My idea is to take the trail as far as Lavant and then head west through West Stoke and Funtington to Woodmancote (which is quite near to the Hampshire border) where we might have lunch at the imaginatively-named Woodmancote Arms.
 
Then we head back towards Chichester, at first paralleling the main road but then veering north-east to rejoin the Centurion Way at the access point below the one we left at. From there we return to Chichester
 
Catch the 10.17* from Brighton or meet at Chichester station at 11.20. Best trains back 15.15 – arrives 16.00 – or 15.53 arrives 16.56.
 
* There is the possibility of changing at Hove for a faster train. Both are Southern trains but changing platforms at Hove can be awkward so let's stick to the slower version.
 
The Last Ride – Ian's report
Sunday 29 January
Glynde – East Hoathly – Glynde 21 miles .
We'd had very cold weather and even snow during the previous week, so I was a little bit apprehensive about what it would be like today. As it turned out it could hardly have been better – bright sunshine all day. The wind was a bit of a problem on the 'outward' stretch, but made the return journey much easier.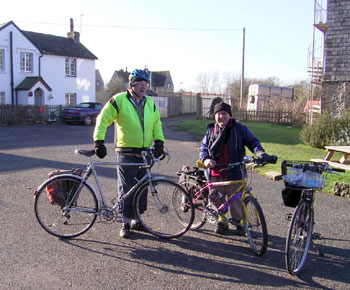 Ian and Fred
 
Only Joyce and Fred met me at the station, so it was a 'Three Musketeers' day. We struggled up the little hill past Glynde Place – closed at this time of year so no possibility of tea there later and we were soon looking at fields packed almost to overflowing with alpacas and the odd (some very odd) llama. The proprietors had thoughtfully provided a great deal of information on the field gate so we made our way onwards a little less ignorant than we had arrived.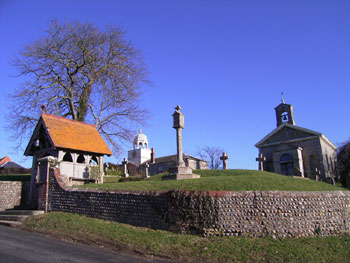 Glynde church, with Glynde Place in the background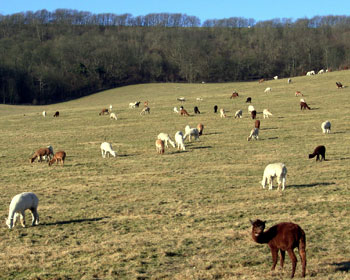 Field full of Atlantic Alpacas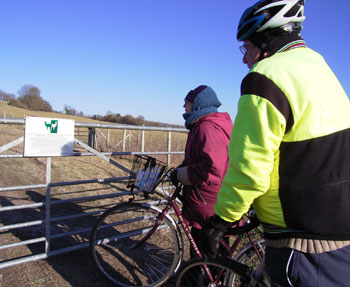 Joyce and Ian learn all about them
 
After crossing the A22 we had a good view of the still-under-construction Hamilton Palace (sic) with its dome or cupola or whatever it's called glinting in the sun. Unaccountably, Mr Hoogstraten didn't invite us in for coffee so we made our way instead to the King's Head at East Hoathly where we had lunch.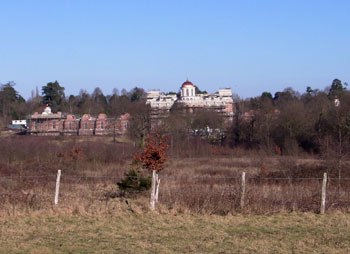 Hamilton Palace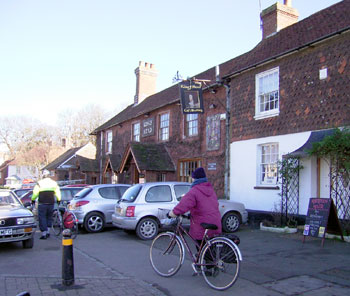 The King's Head at East Hoathly
 
It was more downhill than uphill on the return leg and even the uphill was easier with the fairly strong wind at our backs.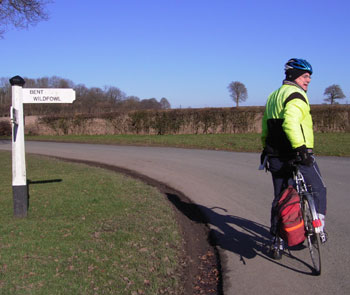 Ian on the lookout for 'bent wildfowl'!
Pottering along near Ripe behind Fred and Joyce riding into the bright sunshine with the shadows of trees dappling the road and the South Downs in the distance I was reminded of the work of the 'cycling artist' Frank (aka Pat) Patterson whose already very dated-looking and rather sentimental pictures appeared regularly in both Cycling (aka 'the comic' and now called Cycling Weekly and the CTC Gazette when I started cycling a bit in the late '40s (He died in 1952). All we needed was someone in plus fours on a 1930s style touring bike with a big saddle bag! Alun will remember him, I'm sure.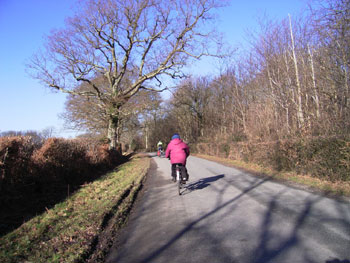 '...the shadows of trees dappling the road...'
 
We got back to Glynde with some time to spare before the train back to Brighton. I was going home by car but I think Joyce and Fred dropped in for a coffee or whatever at the Trevor Arms while they were waiting [no – we stayed on the station!]. A really pleasant day out – apart from some Yahoo of a driver who blared his horn at us quite gratuitously while we were waiting to cross the A22. My face felt like it had been in the sun when I got home – not bad for January!
 
Ian
 
More about the Old Brighton Section
 
I promised in the last edition, which included the bit that Michael Walker found about the local Clarion-recommended repairer in 1951 – E.G.F. Moreman, 24 George Street, Brighton – to pass on Brian Hutton's tale about him – so here it is.
 
'Mr Moreman of George Street had a small cycle shop and dealt with ride-to-work cyclists and not racers, but I did get to know him and gave him some custom. He was very helpful on occasions.
 
One such occasion was in September 1954. It was a Sunday and I was all keyed up as a BLRC rider to try and win the rival Sussex NCU's road race championship.* I lived in Camelford Street off St James's Street and several friends called round to ride the 15 miles to the start of the race which was in Newick.
 
I had checked my bike the previous day but after a couple of pedal revolutions my bottom bracket packed up. I panicked and my only hope was that Mr Moreman might be able to help. I freewheeled with my mates down St James's Street and found his shop was closed, but I saw him in the shop. I explained the position and in typical fashion he offered to help and quickly fitted a new bottom bracket.
 
We then had virtually to do a team time trial to get to Newick in time. Nearing Newick a mate said something was not quite right and we found the cranks were not exactly in line. They were just a little out. I didn't have time to remedy the situation and as I hadn't noticed anything wrong I had no choice but to ride the race. I was very keyed up and started the winning break and won the title in a four-up sprint finish.
 
At the time I was noted for writing hoax letters to Cycling magazine. For example I told them I had filled my tyres with water to make finding punctures easier. One day the water had turned to ice and it had a flywheel effect vastly increasing my speed. When I told riders I had won the championship with my cranks out of line, and still gone like a bomb they all thought it was another hoax story!
 
Brian
 
*for those unfamiliar with these bodies, the British League of Racing Cyclists was a breakaway organisation from the National Cyclists Union. The BLRC was frustrated with the very conservative attitude of the NCU – particularly its reluctance (until more or less forced to by the activities of its rival) to promote 'massed start' road racing, rather than sticking exclusively to time trials (races against the clock rather than directly with other riders... IB
 
Next time – Brian's weekly training circuit round the Brighton area. (You'll feel tired just reading about it.)