Dear fellow members and friends

29 April 2006

Sorry for the delay. I've now received the minutes of the AGM at the Easter Meet – but will save this until next time when I hope to have also a brief report from Bob.
Joyce tells me that Sheila was allowed to leave hospital very soon after her heart operation and is now convalescing in Cambridge. The surgeon thought her unusually fit for someone of her age – cycling contributed no doubt. We all wish her the speediest and fullest recovery.
Our membership continues to increase steadily. Another five new members have joined recently including our very first 'juniors' – the Walker twins. Since they live in East Dulwich we may not see too much of them, or of Michael who has supplied so much interesting Clarion history material. (See later in this circular.) And we mustn't forget Sue and Jeff who have also joined recently. Welcome to the Clarion to you all!
 
Given the restrictions in distance and difficulty of terrain we try to keep to, it gets increasingly difficult to come up with something new. I thought I'd got two splendid ideas for variations on familiar routes based on Berwick and Polegate. But both involved significant stretches of 'track' and when I checked them out the other day they were waterlogged with deep ruts. So it was back to the drawing board for those rides as was the case when I tried to ride through the grounds of Wiston to the bridleway at the back and found that you can't do that any more!
 
During the winter I've generally given details of at least a couple of rides in advance. But in order to leave dates free for possible rides organised by others – and a couple of people are working on some possibilities at the moment – and more volunteers would be very welcome – I'm sticking to one ride at a time for the moment. Except for
 
The Old Shoreham Tollbridge rides on 25 June
 
Since asking for your views I have realised that 18 June is the date of the London-Brighton Bike Ride – not a good day to try to organise one of ours – whether involving the trains or starting at Palace Pier. So we will miss the 18th and make the Tollbridge ride an 'official' Clarion event and go fortnightly from then on ( ie 9 July/23 July). We use the Tollbridge from time to time – like last Sunday – so it's self-interest rather than charity.
 
This year there are 4 rides – a 2 mile one, a 10 mile one to Steyning, a 29 mile one to Thakeham, and a 39 mile one to Shipley. 29 miles comes closest to our usual mileage so I suggest we sign up for that one – though that doesn't of course preclude you going for one of the others.
 
To get the details and the entry form go to www.cycling-support.co.uk, click at the side on 'Rides' and then beneath Save the Tollbridge. You'll need to download the form and send it in with your entry fee – only £4 if you enter by 1 June and have your documents sent by email. Do it soon, while you think about it … and let me know when you've entered so we can plan what we want to do as a group on the day
 
--
 
This is a time of year when people who haven't ventured out yet because of the rain and cold – including old friends we haven't seen since New Year's Day – might be tempted out. I've borne this in mind with the next few rides.
 
The Next Ride
 
[The version I sent out earlier got a bit garbled – sorry!]
Sunday 7 May
Hassocks – Fulking – Newtimber (only 17/18 miles)
Parts of this ride will be on familiar roads, but with some yet unvisited (by us) places. Originally, I'd contemplated incorporating them in a ride starting at Preston Circus and going over Devils Dyke, but I've abandoned that idea (for the time being at least) having worked out that apart from being a bit hillier than usual it would come out at over 30 miles.
So, from Hassocks, I propose we head through Hurstpierpoint and, almost in sight of the old 1930s former Kings Head pub take Langton Lane northwards and cross the A23 near Sayers Common. Reeds Lane, which I don't think we've used before, will take us down to High Cross. The next bit, down Blackstone Lane and the lanes south of the A281 past Bramlands we've already used this year. But then we will head south again down the appropriately named Clappers Lane (with lunch in sight there will be a natural tendency to speed up.) Arriving in Fulking we will decide on the day whether to turn right for lunch at the Shepherd and Dog – the popular pub at the bottom of Devils Dyke – or left to the Royal Oak at Poynings.
Leaving whichever pub we decide on, we head towards Brighton for a while and then down the lane to Newtimber where we can use the 'Equestrian Route' (never seen that before,as distinct from a bridleway) which I have checked, for a couple of hundred yards until it joins the cycle route besides the A23 and links up (near the 'Llama Trekking' (!) according to my map with the road back to Hurstpierpoint.
Points of interest
Although there is nothing there that made it into the Sussex volume of The Buildings of England, Blackstone is a very pretty village... The Royal Oak at Poynings is actual mentioned there 'The jollity of the 1880s or so with its plenitude of garlands…'
Near the pub in Fulking is a stream. According to Brigid Chapman's West Sussex Inns (1988) 'John Ruskin … who took a great interest in promoting the well-being of the people of his times (1819-1900) had the idea of harnessing the waters of the Fulking stream to power an hydraulic ram which would pump the supply around the parish. The little Gothic pump house is still there and on it is a plaque bearing an inscription from Psalms 104, 10 and 107,8.'
Newtimber Place is a moated 16th/17th century building Pity about the constant noise from the A23!
Catch 11am from Brighton station or meet at 11.10 at Hassocks station. Trains for return at 38 minutes past the hour.
 
Ian
 
The Last Ride – Joyce's report.
Sunday 23 April
Upper Beeding
After the glorious Saturday, Sunday appeared dull and overcast, with a thin rain falling. But we were not deterred - at the Palace Pier were Anne, Ian, Fred, Jim and Jeff – to be joined at Marocco's café by Richard and Sharen.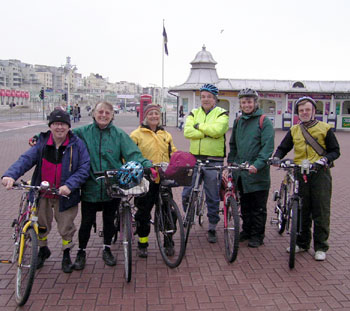 Fred, Joyce, Anne, Ian, Jim and Jeff at the Palace Pier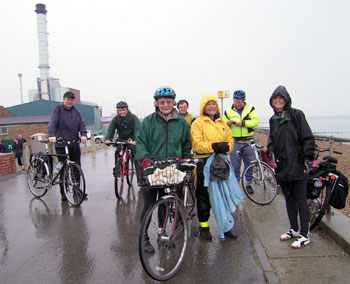 Outside Carats Cafe at Shoreham Harbour
So the seven of us set off undaunted, with the repeated mantra – 'it will clear up, it always does…' And indeed by the time we reached Carats (where the temptation to stop for coffee was resisted), the rain at least was ceasing. On we went to the beginning of the Coastal Link by the Tollbridge. There we said au revoir to Fred (back to visit the Engineerium) and Richard and Sharen.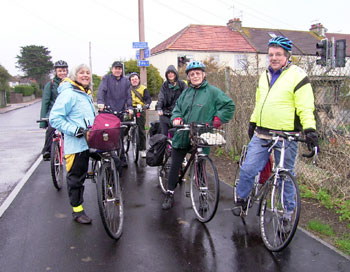 New cycle path through Shoreham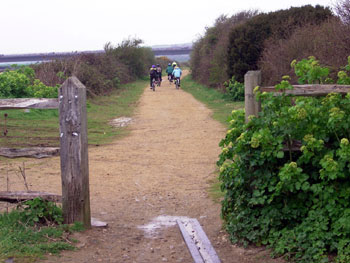 Off go the main group by the River Adur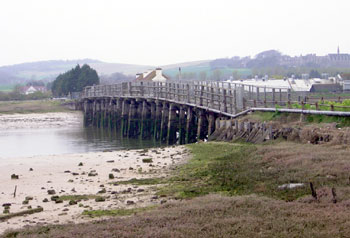 The Tollbridge that needs saving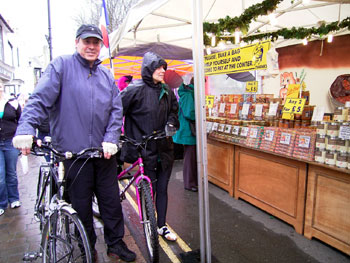 Richard and Sharen at the continental market
 
And then we were 5 …. Onwards for what is probably one of the easiest 26 miles we have done with the Clarion – (practically no hills at all) – along the Coastal Link, with its views of the river and the swans, and, as promised by Ian, a great view of Lancing College Chapel. By this time the weather had settled in to its rhythm for the day – overcast, on and off slight drizzle, but with the warmer breeze which heralded that spring is really here. In fact quite nice cycling weather…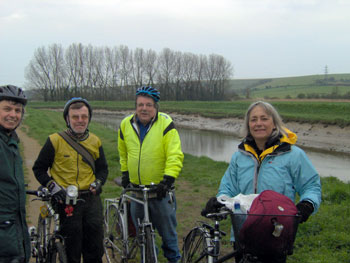 Along the Coastal Link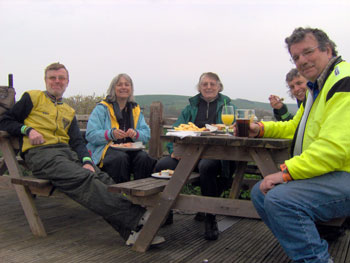 At the pub
So nice in fact that, at the delightful Bridge pub in Upper Beeding, we opted to eat outside on the river, where we were joined for a while by Bob and Colette (and extracted from Bob a promise to do a report on the Easter Meet in Shrewsbury which he attended as our delegate).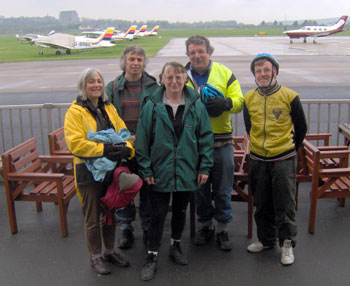 Tea at Shoreham airport
Restored by (for some of us at least) what seemed enormous plates of food, we faced the journey back. Going by the Coombes Road this was more a little bit more challenging, we had got used to no hills at all. Past the delightful St Botolphs and Coombes and so on to Shoreham airport, where we stopped again for tea, and where Ian and Joyce succumbed to the temptations of their great cakes.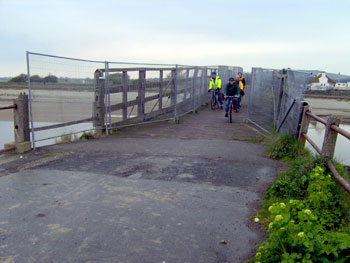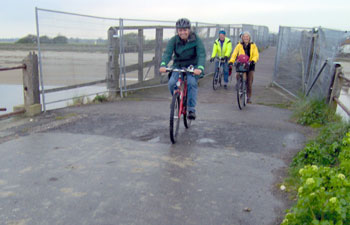 Across the Tollbridge
After a leisurely chat we continued over the Shoreham Tollbridge (see Ian's note about our ride for it in June), through the backways of Hove and on to the seaside cycle lane again.
 
Joyce
 
 
[Ian again] I mentioned the fascinating snippets of Clarion history that our new recruit Michael Walker has been sending us. Here's something a bit more contemporary from him to contemplate. As you'll gather it's from New Zealand – the italics in the text are mine.

THE MARLBOROUGH EXPRESS - LOCAL NEWS - 4 JAN 2005
Political activists pitch in
A group of young political activists pitched in at Kaikoura's resource recovery centre yesterday as part of a national road trip, which involves doing community projects.
Ten members of Young Labour, the youth wing of the Labour Party, are travelling from Auckland to Invercargill by bus on a 10-day trip dubbed the Clarion Road Tour.
The tour is not named after a stereo brand, but in honour of the Clarion Cycling Club, a group of dedicated British political activists who rode around the English countryside in the 1890s.
'We're performing community projects as we go, and also taking with us a 12 metre long banner that we are having young people sign to give us their thoughts on the future of New Zealand, as part of the constitutional review that's going on at Parliament,' Young Labour vice-president and group spokesperson Jacinda Adern said.
The group, which ranges in age between 16 and 25, is travelling the country in a grey 1974 Bedford bus, which 'rocks and rolls a bit', Ms Adern admitted with a laugh.
The reaction from young people had been positive across the political spectrum, she said. 'Many have said they are really happy with New Zealand and want to keep it clean, green and beautiful, so we thought it would be good to do a number of conservation-based projects.'
On New Year's Day, after arriving in Picton, the group had a clean up along the Picton waterfront, where they were joined by Labour's Kaikoura electoral candidate Brendon Burns.
Yesterday the group spent time at Innovative Waste Kaikoura helping with recycling before heading on to Christchurch. Ms Ardern admitted that after a spell spent on the recycling table that all of the group would come away from the experience as much better recyclers.
--
 
There's really nothing one can say after that ... except perhaps
 
Boots!
 
Ian