Dear fellow members and friends

28 June 2000
Resignation
News has reached me in the last few days about the resignation of Charles Jepson as Clarion National Secretary. The details will no doubt feature in the next edition of Boots and Spurs but essentially it has arisen out of a decision by the National Committee to limit the Secretary's 'discretionary' spending (never that huge) which Charles felt amounted to a motion of no confidence. I'm attaching the letter I've received from Ian Clarke, the Chair/Vice President. Whatever the pros and cons, Charles has done a great deal for the Club in the relatively short time – 3-4 years – he's been Secretary.
Les Cyclistes
On a much more cheerful note, it was good to see the project of our latest recruit to the section, David Furnham on the Hove seafront. I know that quite a few of us managed to drop in at least once. There was quite a bit of Clarion related material – which was especially nice to see.
Simon Hedger and Danny Schlesinger of Les Cyclistes
Volunteers?
Jim is organising the ride on 23 July. Can I repeat my plea for more volunteers to take on the occasional run – and especially for someone for 3 September (easy to remember – the day the UK declared war in 1939!) when I shall be away again. [If someone has already said they will do it and I've forgotten please remind me!]
Great Idea from Neil – Riding to the Easter Meet 2007 (Hereford)
Having read Bob's report of this years Meet in Shrewsbury I thought it might be an idea if a few more of us attended next year's gathering in Hereford. This was followed by another more ambitious thought – how about riding up to the Meet in an effort to claim the British Workers Sports Association Trophy (awarded to the Section riding the most miles, collectively, to get to the Easter Meet).
 
Bob and I are both up for this and John Hopper is hoping to join us. I thought I'd mention this now to give other members plenty of time to think about whether they want to come along. We've not planned this thoroughly yet though Bob has a route in mind involving the Severn Bridge! Its likely we'd try and do this over 2 days stopping at a hostel overnight. If anyone wanted to join us for part of the distance – the second day or even for a few hours riding in to Hereford – this would all add to the overall completed mileage. More on this in the coming months… [Neil]
 
Boots!
 
Ian
The Next Ride
Chichester Harbour c 20 miles
 
This has become a favourite over the last two years. Starting at Chichester station. taking the Chichester Canal path to get out of the city, down to Sidlesham via North Mundham and some lanes and paths Then a loop round for glimpse of Pagham Harbour at Sidlesham Quay and stop at the nearby Crab and Lobster.* Across to West Itchenor where we'll take the ferry (pedestrians and cyclists only) across the Chichester Channel and from there into Bosham (possible tea stop) and then back to Chichester via Fishbourne. 
 
* In the summer it's sometimes nice to bring sandwiches instead of buying lunch in a pub. You can always eat them next day if you change your mind. Last year, according to Sheila's report, I went off to gaze at the seascape and 'commune' – but, though I didn't want to disillusion her, I was actually just eating my sandwiches.
Catch 10.17 from Brighton Station or meet at 11.19 at Chichester station. Direct return trains leave at 53 minutes past the hour from Chichester. [Change at Hove ones at 14 minutes past.]
Points of Interest – aside from Chichester itself; cathedral well worth a visit but Sunday not the best day.
The canal which we use initially runs 4.5 miles, from Chichester Basin to Chichester Harbour. It was promoted by an Act of 1817, built by John Rennie and opened in 1822. It formed part of the route from Portsmouth to London, via the Arun Junction Canal and the River Wey. [See P A L Vine London's Lost Route to Portsmouth. Never a commercial success its greatest fame is probably being painted by Turner.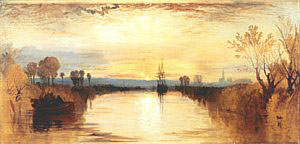 Of Sidlesham Ian Nairn – who covered West Sussex in Pevsner's guide – says 'Thatched flint cottages near the church, and a very pretty group on a creek of Pagham Harbour like a miniature Bosham.' He summed up West Itchenor – very accurately as 'all dinghies and ships' tackle, with one short, nicely unpretentious street of cottages, mainily C18, running down to the water's edge.' As for Bosham; 'Deservedly the best known village around Chichester Harbour; a close-packed huddle of cottages at the waterside, but built to a softer Sussex colour scheme –flint, brick, tile and tile-hanging.' The main attraction apart from the general ensemble is of course Holy Trinity church, some of which is pre-Conquest and contains, according to Nairn again, 'one of the best Saxon arches in England' Famously it was from here that Harold sailed in 1064, got shipwrecked in Normandy, and according to William swore an oath to support the Norman's claim to the English throne. It is depicted – or so it is believed – on the Bayeux Tapestry.
 
 
Last Ride – Ian's report
with additions from Fred and Neil
 
Sunday 25 June
The Old Tollbridge Charity Ride
 
Apart from anything else, what a splendid turnout – with lots of Clarion hats, T-shirts and racing jerseys (well Bob's at least ) in evidence. There was Neil and Bob plus a friend of his, Simon, doing the longer 39 mile ride; me, Joyce, Mick and Anne, Jeff, John, Jim and Annie on the (allegedly) 29 mile version, and Ed, Sarah and Fred on the 10 mile one – 11 paid-up members and 3 friends; not bad at all! Sue ferried me to the start in good time and stayed on to take photos and watch us all off.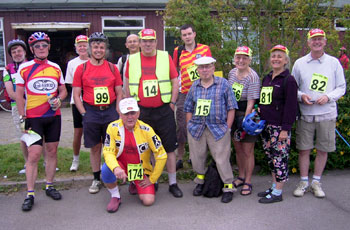 The herd of cats minus Annie [Sue's photo]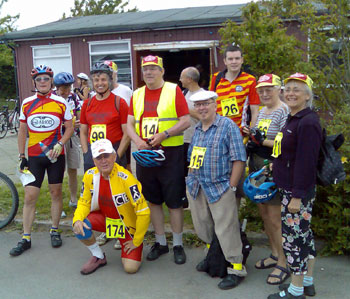 The herd of cats minus Annie and Mick [Mick's photo]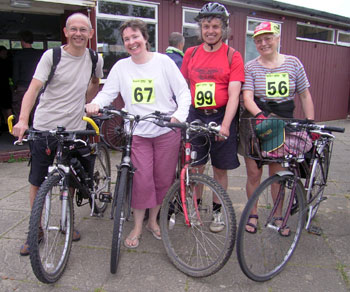 John, Annie, Jim and Joyce at the start [Fred's photo]
 
The idea was that we would all start together – but since there was no one present with sufficient experience in herding cats it didn't quite work out like that. It wasn't until we got across the by-pass that I realised that Ed and Sarah hadn't joined us. I had initially conceived my role as analogous to that of Lord Cardigan at Balaclava; leading the Light Brigade towards the Russian guns without looking back to see if anyone was following. But I had to adopt a less 'heroic' posture when I realised what had happened. Anyway, by the time we got to the top of the little rise above Botolphs we were all together again – with the exception of the 'fast lads' who were by that time visible only as a small cloud of dust on the far horizon.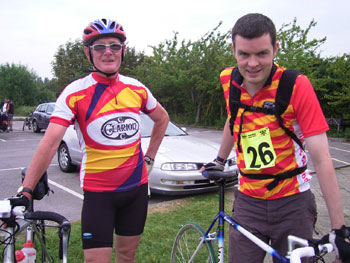 The 'Fast Lads': Bob and Neil [Fred's photo]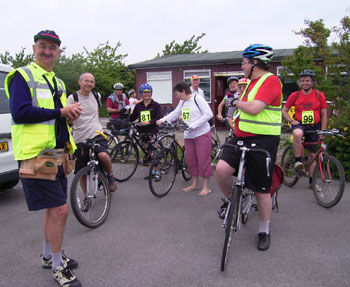 Les (the organiser) attempts to herd some cats [Fred's photo]
 
I then initiated a brief discussion about the possibility of 'improving' the route by avoiding the two quite long and steep hills just before Steyning by our usual expedient when in those parts of sneaking round on the Coastal Link. I was reprimanded by Chairman Ed for calling this (jokingly) the 'cowards' way out' and he insisted as did other stern disciplinarians on sticking to the prescribed road route. There were compensations for the deviationists – besides missing the hills – in that we did pass a really splendid and large patch of poppies.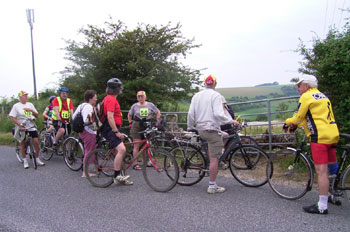 At the top of the first hill [Fred's photo]
 
We caught up with the upright folk at the Steyning Leisure Centre and soon were saying our goodbyes to Ed, Fred and Sarah and heading onwards, And at this point I shall metaphorically pass my quill pen to Fred for a breathtaking account of the rest of the action on Route 2 [Ian]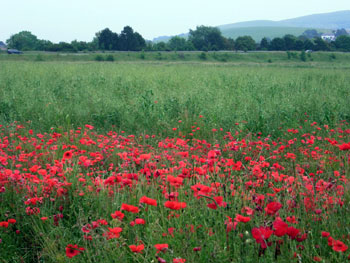 Field of poppies [Fred's photo]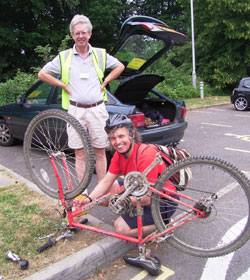 Dave Green assists Jim at Steyning [Fred's photo]
 
--
 
We three waved goodbye to the peleton at Steyning and headed back towards Shoreham. I bought a paper in the village and decided to go back the proper route, pushing my bike up the hill just outside Steyning. Sarah wanted to show Ed (who'd come the proper way) the poppies, so they went back the cheating way. With time to kill, I stopped off to buy some rhubarb by the roadside, getting a nip on the ankles from a collie when I tried to pay. At Botolph's I took a detour to the poppies, but no sign of the others so it was back onto the route.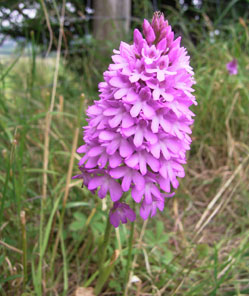 Pyramidal Orchid (Anacamptis pyramidalis) [Fred's photo]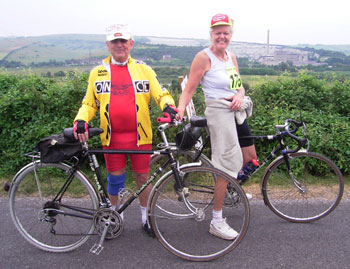 Ed and Sarah overlooking the cement works [Fred's photo]
At the top of the hill overlooking the cement works, however I spotted the familiar ONCE jersey of Ed and caught them up (they'd been visiting the church), pausing to take a photo of the wild Pyramidal Orchid (Anacamptis pyramidalis) growing by the side of the road. Then it was downhill all the way back to the podium and the medal ceremony, with a free cup of tea, a piece of buttered tea bread and a chat with ride organiser Les and his wife Liz, who'd been a Clarionette in her youth. After a quick nosey at the noisy model cars whizzing round the far end of Ricardo's car park, it was a short ride back to the station and home for the England match. [Fred]

--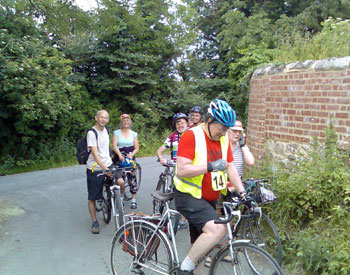 Joyce makes a call [Mick's photo]
 
Resuming my account after a short pause for quill sharpening, and having made a note to send a couple of fierce felines from the Brighton Clarion Heavy Squad to deal with the wretched dog that dared attack Fred, we cycled on pleasantly and at a very comfortable speed down the splendid Spithandle Lane, under the A24, through Ashington and on to Thakeham. A dearth of signing and an unusually steep hill as we were coming into the latter had me checking the map for the only time that day, but all was well and we were soon bucketing along lengthy downhill stretches back to Ashington. Just before there the 'fast lads' caught us and then went on, making for Shoreham Airport after the finish where Bob had arranged to meet Colette. Which seems like a good point to hand over the microphone (quill image getting over-used) to Neil. [Ian]

--

I met up with Bob at the start and we set off a little ahead of the others. We stopped off at the first refreshment point in Steyning where Bob's friend Simon joined us for the rest of the ride. Chatting for a while, I was relieved to hear that Bob had completed a 100+ mile Audax ride the previous day. As we rode on it was pretty clear he still had plenty left in his legs but I needn't have worried, Bob and Simon took me along in their slipstream at a pace I could just about cope with.
 
The 39 mile route followed that of the main ride as far as Ashington, continuing north on a 10 mile loop around Shipley before rejoining the 29 mile ride at Thakeham. I have to confess to not paying much attention to the surrounding countryside fixing my gaze instead on Bob's rear wheel. As a result the 39 miles passed in a bit of a blur.
 
We stopped for a sandwich at Shipley village hall and on returning to our bikes a man in a sparkling green Bentley pulled up and asked for directions to the local polo club. For a split second I wondered whether our Clarion fellowship should extend to such cases but I was rescued from my dilemma as Simon stepped forward to provide assistance. I'm sure I'd have got my map out had the need arisen!
 
I resumed my place at the back of our three-man group and watched the miles build up on my computer. Shortly before we rejoined the main route a couple of nasty hills presented themselves and I was amazed by the speed with which I lost touch with the others. As the gap between us extended by the second it appeared to me that the truth of my lack of fitness was being drawn out for me graph-like on the road – five more metres of hill = twenty metres gap and growing. They allowed me to catch up on the other side of the hill and we soon rejoined the 29 mile route (and at some point , I've no idea where, caught up with our Clarion comrades). [See above. IB]
 
Thanks again to Bob and Simon for keeping the pace just right. My road bike had been in moth-balls for two years after a failed ascent of Ditchling Beacon. It was great to be back on it though the hills brought back some painful memories.
 
[Neil]
 
--
 
The 29 milers stopped, as last year and as envisaged this year, at the Wiston Tea Rooms. There, some of us – the tables weren't big enough to accommodate us all - had a pleasant chat with a lady from Worthing called Jean who was very interested in our activities and reminisced with us about her cycling activities of yesteryear.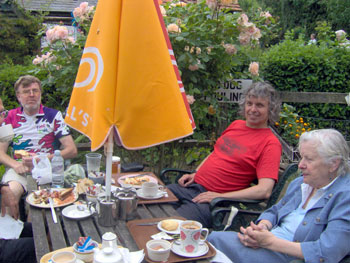 Jeff and Jim at lunch with Jean [Joyce's photo]
 
But once again we were the collective lanterne rouge of the whole caboodle and were visited – in a perfectly friendly manner – at the Tea Rooms by one of the organising team anxious to start taking the direction signs down etc. We explained that we could manage quite well without them since, apart from anything else, all that remained was simply repeating the first part of the ride in the opposite direction. With that in mind we stuck to the official route on the Annington hill stretch – didn't want the broom wagon deciding we'd got lost and searching the whole of West Sussex for us (or lodging an objection with the stewards and having us disqualified for 'deviation' (or repletion or hesitation).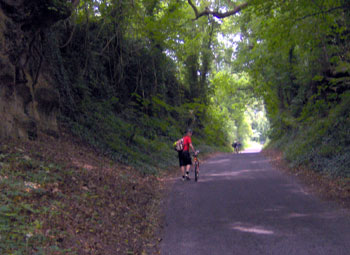 Jim caught walking up the hill in the shade (it was at the end of the ride...) [Joyce's photo]
 
On the way back down the Coombes Road, Mick spotted what must have been the same wild orchid as Fred had discovered some time earlier.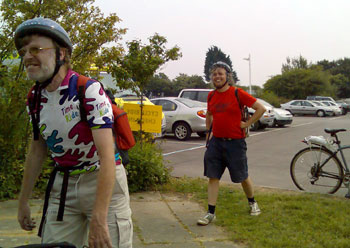 Jeff and Jim at the finish [Mick's photo]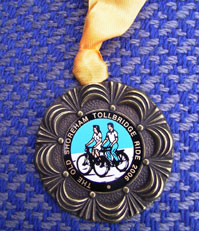 The medal [Fred's photo]
 
As it turned out we were back by the 2.30 'deadline' – or only a matter of seconds after it, collected our medals and popped across (with some who had to be elsewhere saying 'goodbye' at this point) to the Shoreham Airport terminal where we rejoined the 'fast lads' and Colette and had yet another photo taken. I accompanied those getting the train at Shoreham to the station and then trundled on notching up a total of just over 40 miles – which is quite a lot for me these days.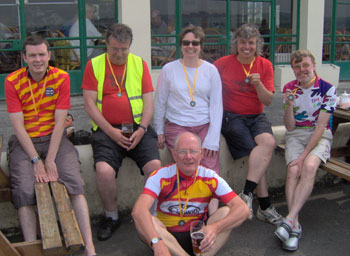 Wearing the medals at Shoreham Airport [Joyce's photo]
 
Excellent day. And lots of cash for the Tollbridge restoration. I do think, though, that for those of us who like to take it easy and make a day of it the 2.30 finish – accepting the problems of getting volunteers to staff the finish and act as marshals on the road – is a bit of a disincentive and should be reviewed by the organisers.
Ian