Dear fellow members and friends
26 April 2005
Ian's computer is still at the menders, so this is a short circular!
Last Ride
New Forest weekend 23 and 24 April 2005
Saturday dawned (and I mean 'dawned' up at 6.30!) overcast but not raining. Miraculously we all (Sheila, Fred, Anya, Eliane, Joyce) made it to the station on time and had a pleasant uneventful journey to Brockenhurst – (despite a worry about whether the bikes would be allowed on) – where we were met by Ian at about 11.15.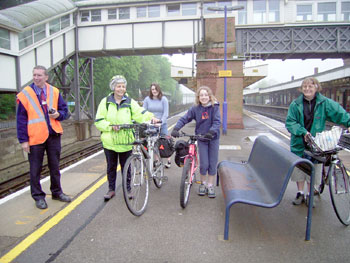 Sheila, Anya, Eliane and Joyce with helpful railwayman at Brockenhurst
First problem, the girls had forgotten their rain-wear, so halt at the very useful bike shop at the station. Then on the road the long way round to Burley via Rhinefield Road, across White Moor – wide expanse of moor in the mist and where we began to see ponies, including a delightful colt and its mother.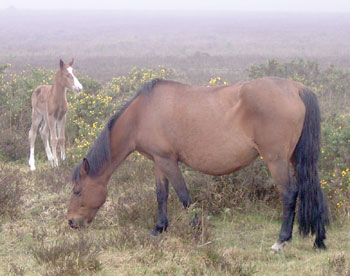 Foal and mare on Whitefield Moor
Weather brightening, and on through the forest – tall majestic trees. Second problem: Eliane (10) comes off her bike, but apart from a grazed knee and bruised ribs, no harm done. We told her that makes her a real cyclist...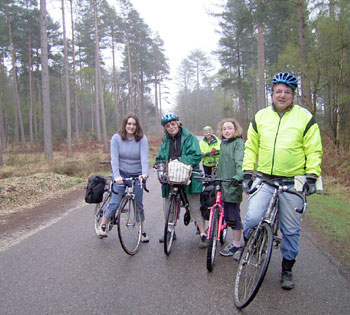 Anya, Joyce, Sheila, Eliane and Ian in the forest
Halt at the deer sanctuary to glimpse the deer, and then off road through the forest track.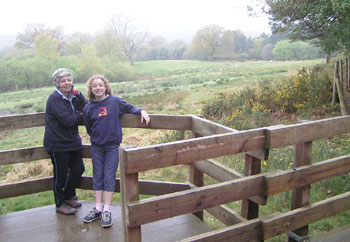 Sheila and Eliane on the deer viewing platform
(deer are dots in the distance, feeding time is not until 2pm!)
Third problem: Fred's at the rear with Ian and gets a puncture (a big thorn), the girls have rushed off for lunch, and his mobile phone can't get a signal.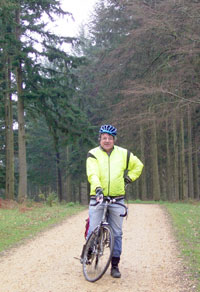 Ian poses for a pic just before Fred gets a puncture and realises he has all the repair kit, including spare inner tube, but no pump!
Ian dashes off to catch up with Joyce and between us we rustle up pump and appropriate fitment and leave Ian and Fred gallantly to get on with it, whilst Sheila, Joyce and the girls take the short road to Burley and welcome sustenance at the Queens Head. We had done about 14 miles, but it felt like 40!!!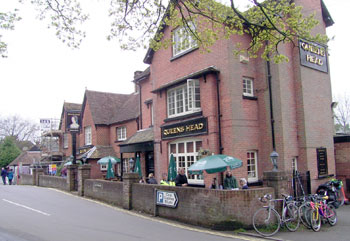 The Queens Head for lunch
After our – very late – lunch, Ian started back to Brockenhurst where he had left his car and we made our way to the Hostel, where the girls, by now wacked, opted to stay, whilst we went for a further little mosey around..
The hostel was great – and after a shower and a good meal we felt suitably
refreshed. The women had a four-bunk room of their own, whilst Fred went
off to the men's room...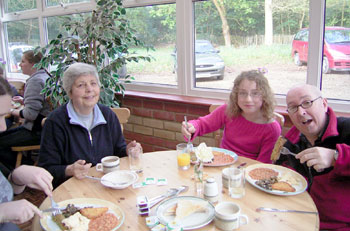 Full veggie English breakfast for Anya, Eliane and Fred – Sheila had the healthy option!
Sunday morning, Eliane up with the lark, the rest of us – especially Anya, somewhat later... After a great breakfast (Fred, Anya and Eliane had the full works, whilst Sheila and Joyce contented themselves with cereal and boiled egg) we set off to meet up with Nadia (Anya & Elie's mum) at Brockenhurst.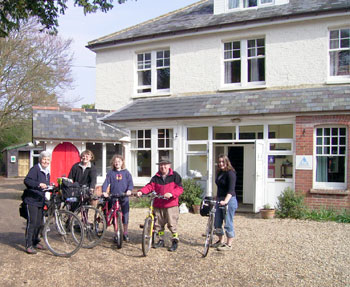 Sheila, Joyce, Eliane, Fred and Anya outside Burley YHA
This time we followed the old railway track happily (if a bit bumpily), until we reached a point where forestry work had been happening. Then it was an obstacle race, during which Anya got our second puncture of the trip...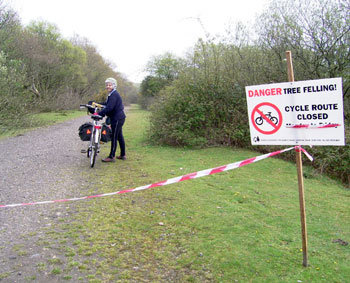 Sheila decides to risk it!
But we limped in to Brockenhurst where Nadia was waiting with a bike she had rented at the bike shop. It all worked out well because, by now, Sheila had decided she had done enough and wanted to look around Brockenhurst. So her bike went to Nadia, Anya got the rented bike, and the puncture went to the bike shop for repair. After a snack we set off for our last ride.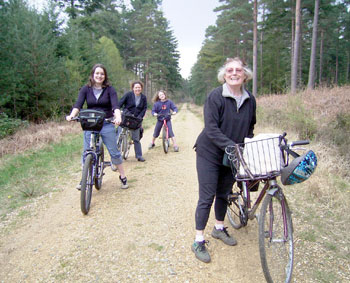 Anya, Nadia, Eliane and Joyce back in the forest
Again up the Ornamental Drive, but then off through a forest track, where we sailed through a rather full Ford! Just got back to Brockenhurst when the heavens opened – but since it was the only rain of the weekend we can't grumble.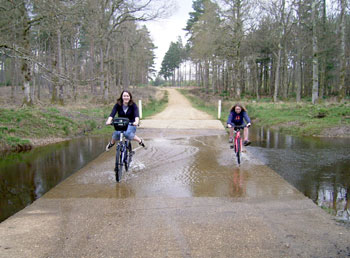 Anya and Eliane loved the ford so much, they went back and did it again for the camera
Perfection is not of this world, so I suppose we had to expect that the journey home would not be as smooth. Nadia and the girls went off by car and we happily got the train, secure in the knowledge that we had seat and bike reservations from Eastleigh. But ... when we got off at Eastleigh, we were told that there was no service to Brighton because of works, despite having been given our reservations. Another long wait, a train (the same service as the one we had left to change at Eastleigh) to Clapham Junction – horrendous carrying of bikes up stairs and finally the stopping train to Brighton. As Fred said – we had good reason to sleep well.
But it was a great weekend...
Joyce