Dear fellow members and friends

25 January 2007
Welcome to two new members, Caroline and Simon. Hope to see you both soon.
If you're already a member, as you tuck into your Burns' Night haggis and neeps this evening, spare a thought for me, trying to collect in the £6 subscriptions for 2007. I have had some – for which thanks. I will be sending them off to Donald Lever the national membership secretary at the end of next week. It would be nice to have a few more. So, please – send a cheque for £6 made out to National Clarion Cycling Club to
Ian Bullock, 104 Bonchurch Road, Brighton BN2 3PH
If you're not yet a member, but would like to join us, please go to the home page of our website, download and print off the membership form fill it in and send it to me – with your cheque, of course, made out as above.
Can I again remind members that the 2007 AGM will take place at 8pm on Wednesday 7 February at Joyce's house? [32 Bentham Road]
A brief report of the 'highlights' of last evening's Cycle Forum meeting – at which both your recent concerns were raised, Fred, will be found at the end of this circular, after Anne's report of the last ride.
Ed has asked me to draw your attention to the South Downs Way ride – in support of the Argus Appeal – and ever responsive to our Chair's instructions, I am doing just that. It's a 3-day event on 11, 12 and 13 May and costs £50 to register. Further details from southdownsargus@theargus.co.uk.
Ed was wondering if a B&H Clarion contingent could be raised. He was hoping to be able to participate himself, but will be in New Orleans (helping to rebuild the levees?) at the crucial time. It's not at all my sort of event, but if anyone is going to do it, please let me know and we can use this circular to see if we can put together a team.
Boots!
Ian
The Next Ride
I felt unusually tired and achy after the ride last Sunday. It's tempting to put it down to advancing age, but I suspect that not having got out on the bike at all for the previous ten days because of the awful weather had more to do with it. I hope so, anyway. And since what's true of me is likely to be true of others, I've decided to go for particularly, flat, short and easy rides for a while, until we can all get a few more 'miles in our legs'. Nowhere flatter than the Pevensey Levels.
Sunday 4 February
Polegate – Pevensey Levels – Normans Bay – only 18/19 miles
If you go to the archive of circulars, then on Winter 2004-05 and scroll down to 27 February, you'll see that we had some (very scenic) snow the last time we did this ride. At one stage we sort premature refuge in the Royal Oak and Castle Inn in Pevensey where a band of (also we thought rather premature) Morris dancers were performing outside. We have been extraordinarily lucky with the weather on our rides so far this year. We shall have to see what happens this time!
We'll kick off as though we're going along the Cuckoo trail but turn off almost immediately along a connecting cycle route that takes us out onto the Levels and then down to Pevensey where we will wend our way through the castle grounds. Then we continue down to Normans Bay either via Pevensey Bay and along by the sea or straight down the road (we'll decide when we get there) have lunch at the Star and return the same way we did at the beginning of October via Rickney, and heading across to join the Cuckoo Trail just up from the usual tea stop, at the Old Loom Mill tearoom.
Catch 10.20 from Brighton Station or meet at Polegate Station at 10.49. Aiming to return by 15. 42 from Polegate arriving Brighton at 16.12 – with change at Lewes the 16.02 arriving 16.34. All Southern trains.
Points of Interest: I like the 'bleak mid-winter'-ish aspect of the Levels at this time of year. Pevensey Castle is of course fascinating – a huge Roman Saxon Shore Fort with a Norman castle built into a small corner of it centuries later. And not so far away are some of the Martello Towers from the Napoleonic Wars giving quite a long-term perspective on coastal defences in Sussex.
The Last Ride – Anne's Report
Sunday 19 January
Palm and Pine, Crocuses and which inn to choose
Cuckfield and Lindfield
Seven eager cyclists assembled for the group photo at Hassocks station; this time kindly taken by a young Brighton woman cyclist who was waiting on the platform for her brother, plus bike, to arrive on the London train. We gave her the Clarion message and welcomed them to join us, but maybe our pace was too quick for them to catch us up, or maybe they'll go to our website and see us again. The weather was sunny as forecast, but a keen west wind whistled round the ears as we headed west from the station up the hill.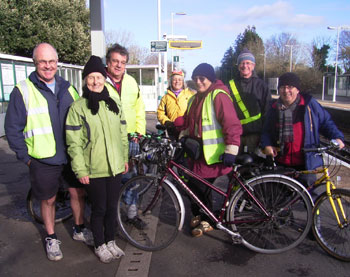 Jim, Sue, Ian, Anne, Joyce, Mick and Fred at Hassocks station
Soon we were down a lovely lane and quieter roads, passing through a 'Second Life' of private roads and extensive, expensive, rather gorgeous, dwellings. Would we really like to live in these exclusive, private homes we pondered? At lunch, later, some of us, at least, discussed the distribution of the current Brighton and Hove City 'Rose', perhaps more in keeping with the Clarion calling. Next highlight was fleeting glimpses of Cuckfield Park, beautiful Elizabethan manor house, approached by a long avenue of lime trees. Wonder who owns that and what it is today. No time for me to photograph it as Mick is racing on ahead, setting cracking pace.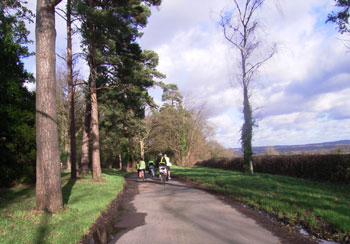 Lonesome pines in Borde Hill Gardens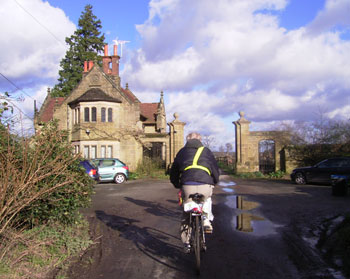 Splendid gatehouse
Now we reach the borders of the Borde Hill Gardens estate and travel down tree-lined lanes, avoiding the outstretched blackthorn and holly bushes, through the stone gateway, admiring the stunning views and ancient trees. Fred risks the boggy ground and takes a prize-winning photo of reflections in winter puddles, and Ian has to wait for us two, once again; sorry Ian, and everyone else, but such a joy.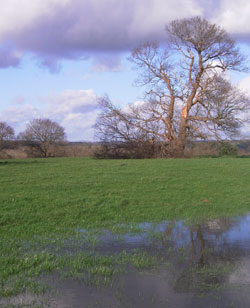 Storm damage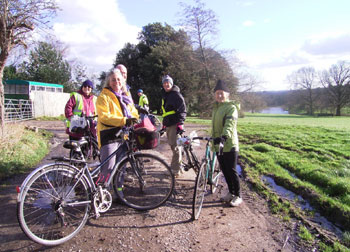 View of the lake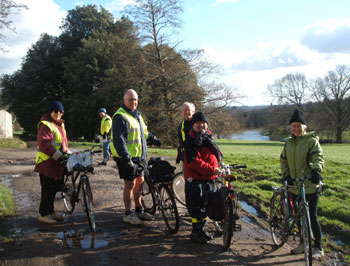 Anne's photo of same view
Another group photo or two above the lakes and in the sunshine, then we hurtled off again, passing palm and pine trees on our left, inside the National Trust grounds of Borde Hill. I had to stop again to snap the huge red hot hibiscus basking in our January sunshine. As we left the estate bridleway for the road, we had to wait for the Brighton CTC to climb up the hill. Jim teased the last cyclist that we had gone up it much faster, but regrettably, Jim was rudely rebuffed! We sailed down the hill that they had toiled up, thanks to Ian's canny navigational skills.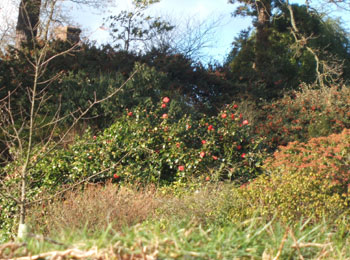 Red hot hibiscus basking in our January sunshine - Anne's photo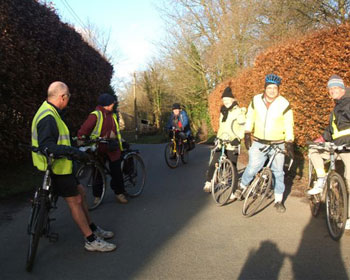 Fred stuggles up the hill – Anne's photo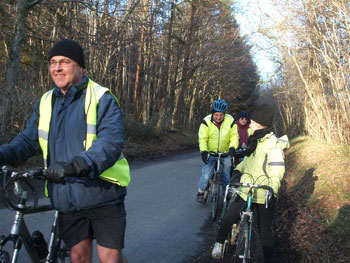 The Clarion call: One off, all off! - Anne's photo
By now all tummies were rumbling and thoughts turning to hot soup. We passed the intriquingly named Witches Inn, pausing only to regroup and continue. Some of us had time to read the pub signs promising locally sourced, fresh organic food and to hope that Ian had even better fare in mind for us. Half a mile further and we reached the promised Lindfield, jewel of Sussex villages, East or West. Crocuses were blooming in the grass verges, yet another sign of impending doom via global warming, or should , I say, early Spring. (No)
We were now faced with The Bent Arms and its attached Art Café, or, what seemed to me to loom on the horizon, the Tyger Inn. Since The Bent Arms offered too gourmet and time-consuming lunches and its attached Art Café's menu did not proffer soup, we voted to explore the Tyger prospect. This proved to be illusory on closer inspection as, in small print, 'formerly' appeared before and, 'now church property' after the pub sign, so, to waste no further time by recycling the half mile back to the Witch, we entered the Art Café. A warm welcome, if not warm soup awaited us. Seafood, cheese and ham sandwishes, mushrooms, scrambled eggs, smoked salmon, hot teas and most delicious home-made chocolate cakes appeared and were shared out among us in the bright art exhibition space, which we all enjoyed. The Clarion annual meet at Hereford was discussed and whether we could still enter for the most miles trophy. Would Neil still be keen? We'd hoped to see him at Hassocks on his home turf and hope all is well with him and his growing family. Our 7 February Clarion AGM and local Labour and city cycling topics were aired and shared, along with redistribution of Ian's salad and Anne's chocolate cake and ginger and lemon tea, to Anne and grateful Sue, respectively. Jim offered to take Joyce's spurned cheddar for a much preferred brie option, but, alas, two cheddars arrived too promptly to change.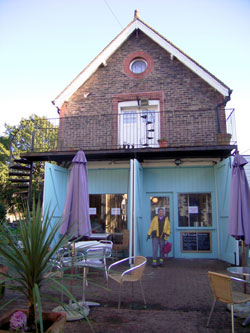 The Art Cafe
Thankfully, we whizzed down Slugwash Lane after lunch, heeding Ian's timely warning of treacherous bends at its bottom. A lovely ride down, again passing more lycrad-clad cycle tourers toiling up. However, our ups were yet to come and we had to hurry to catch the train. I had forgotten about that as I tarried , yet again, photographing, first the arrival of Fred, then an amazing twisted tree, which, probably, no-one else even noticed, as they knew where we were and where we had to be to reach the 3.38 train and I was still enthusing and enjoying every moment and not conscious of time.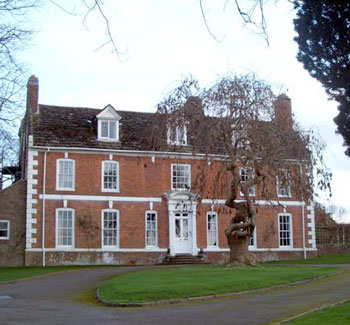 Twisted tree - Anne's photo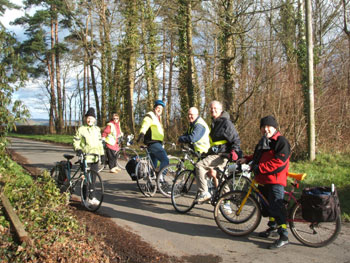 In the woods - Anne's photo
Mick and Ian ensured that Joyce, Fred, and Sue all caught the train home and Jim phoned for his lift as Ian, Anne and Mick stowed bikes in cars for home. As Mick and I entered Brighton at the Duke of York's cinema, Fred cycled into view on the cycle track. We awaited at traffic lights and I couldn't catch Fred's eye or ear, such was his concentration, or exhaustion. It was a pleasure to see that the cleaner, greener, public transport option had delivered Fred home safely and faster than the car (though, admittedly, car was warmer, but , this was offset, somewhat, by oil from bike-stashing in boot, contaminating Mick's lovely new alpaca Evo Morales sweater. My Bolivian balaclava from same website arrived this morning and I could have done with that earlier in the ride.
What a lovely day to remember and treasure, especially as North winds, dark clouds and freezing rain now reign. Thank you Ian, for another brilliant Clarion ride.
Anne
Cycle Forum meeting – 24 January.
Briefest of reports
I thought it was a useful, if at times confusing, meeting... Lots in the pipeline – particularly in connection with the Cycling Demonstration Town (CDT) project and there'll be much to report about this next time, but I'll confine myself here to issues of concern where there are signs of immediate (well, more or less) progress.
North Street Quadrant. A letter is being sent to the leader of the council on behalf of the 'forum'. It explains the concerns and makes it clear that an early rectification of the situation is necessary, from the point of view of safety.
Journey-On. Because of Fred's alert about the unreliability of the routes we had Tim Moore from that organisation at the meeting. He was very up-beat about the project – rather too much so, I thought, if Fred's experience is at all typical. He claimed that 80% of the time the site gave sensible routes. He did agree, though that

1) they needed to make it clear that it was a Beta site - still under construction and prone to teething problems and
2) to give their request for comments from users much greater prominence.
Try it for yourself on www.journeyon.co.uk
Providence Place/Ann Street. Jeannette Walsh, the Major Project Officer for the New England area, also attended the meeting. She still seemed unsure, to start with at least, what we were complaining about. An imminent on-site combined approach by Dean Spears and Sustrans will no doubt provide any clarification still needed. The meeting pressed for the removal of the 'cobbles' or failing that for spaces to be left on either side for cycles. My money is on the latter solution being the one that is decided upon – but time will tell. In the meantime, if this route is one you use and you haven't done so already , please still make your views known to Jeanette and the project engineer. Their emails are Jeanette.Walsh@brighton-hove.gov.uk, Leon.Bellis@brighton-hove.gov.uk.
Parking in Cycle Lanes in (eg) Lewes Road. The hardy perennial. Dean reported that this will be part of a coming review. Fingers crossed!
Advanced Stop Lines. These are being done mainly in the CDT area with part of the funding for the project. Both bus drivers and taxi drivers have been reminded not to enter the 'boxes.' I raised Fred's points about Preston Circus. Dean made a note of them – but stresses that further improvements are dependent on funding becoming available.
Ian