Dear fellow members and friends

24 July 2006
I'm deputising for Ian this week as he is still over in Tour de France country.
Next ride below – unfortunately I will not be there, but Ian will, so I hope you all have a good time and I look forward to the report.
Report on 23 July ride at the end of this message.
Developments on 3 September – Neil is cooking up a ride for us, possibly involving the Worth Way. The Isle of Wight ride will happen, but later on, and may be a 2-day event (Sat/Sun) with an overnight stop at a youth hostel. (IOW has two full hostels – Totland and Sandown; only the latter seems to fit into a coherent ride itinerary). Comments welcome, otherwise watch this space!
Boots! (or in my case, tatty trainers)
Jim
The Next Ride
Sunday 6 August
Pevensey Levels – Eastern Side c 20 miles
 
Apart from very popular rides – like the Chichester Harbour one – which I put in the programme every year, I try find routes that are at least a variation on what we have done before – even though many bits of them inevitably cover familiar ground. Here's one.
 
Heading east after the first 100 yards of the Cuckoo Trail, we head via Shepham Lane and Glynleigh Road to Rickney and soon after take a mile-long track across to Russells in the Marsh and Church Acre Bridge. A stretch of (often) busier road takes us up to Wartling where we can lose any traffic by taking the Horse Bridge lane that brings us out near Hooe.
 
We liked the Red Lion at Hooe Common last summer, so we'll try it again for lunch. We can return by taking the B2095, crossing the A27 very carefully and staying with it (as far as possible on a bit of footpath as far as Middle Bridge (about half a mile) and then the traffic-free track beside it (but mercifully hidden by trees and shrubs) for about a mile and a half down to Pevensey roundabout. From there we can make our way back via Rickney and the familiar lanes back to the Cuckoo Trail at Summer Hill where a tea-stop at the Old Loom Mill is definitely an option.
 
Catch the 10.20 at Brighton Station or meet at Polegate Station at 10.49 (direct train). Trains back are at 2 minutes past the hour (with change at Lewes) or 42 minutes (direct).
 

The Last Ride
Sunday 23 July
Horsham station – St Leonards Forest – Colgate – Slaugham – Staplefield – Balcombe station – Annie's Report
There were ten adventurers along for the ride: Anne, Anne, (not a giant panda) Jeff, Jim, John, Joyce, Neil, Roger, Sally and Suzanne. Some of us in the front half of the train nearly got off at the wrong stop but thanks to Jim's Sat Nav [aka eyes - Jim] we found our way to Horsham where we bolted for the Roosthole, entrance to St Leonard's Forest and home of a 9' dragon with a red underbelly and where (if I have this right) they used to mine iron ore.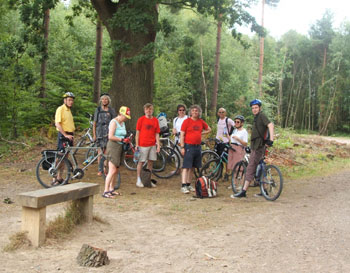 In the forest [Anne's photo]
We lunched in a pub named after aforementioned mythical being. Sally had two dinners due to the fact that Jim asked her what she was having to eat and she thought it was just a polite enquiry. We then found ourselves in Grouse Lane, so we had a good moan and cycled on past some hammer ponds decorated with water lilies. I think the 'hammer ponds' are so named because they played a part in the iron smelting process (but I am too lazy to find out what).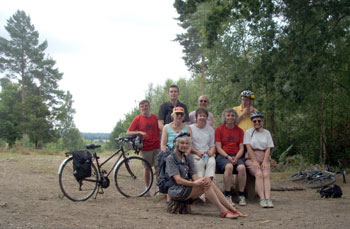 Group photo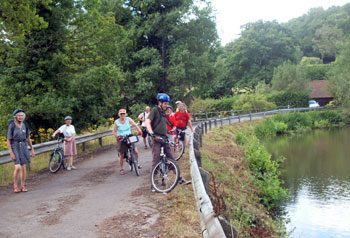 By the pond
We stopped at St Mary's Church in Slaugham (Sloffam, Slaffam, Slawfam) where there was a 600 yr old yew tree in the grounds and the gravestones were facing away from us as if the dead were in disgrace.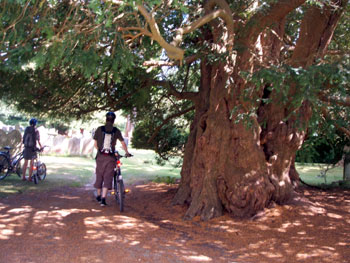 Ancient yew tree
We then walked through the fields to the ruins of Slaugham Place, which used to be an Elizabethan Manor House, where we saw a woman in white and a small boy in white (playing croquet) plus the rest of the wedding party. We made our way to Balcombe through Staplefield where there was a quintessential cricket match on a village green. The tea shop in Balcombe had officially closed but agreed to serve us if we sat outside, probably because we were all a bit sweaty by this time. It was an enjoyable day in lovely, uncharted (except by Jim) territory. A big thank you to Jim for organising it.
Annie