Dear fellow members and friends
23 November 2005
Charles Jepson, our National Secretary, has sent me a sample of a new Clarion T-shirt that it 's planned to have produced – subject to demand. He's asked me what I think. It's red with the Clarion CC name and logo on the front as you'd expect. I'll bring it along to both the get-together and the ride on 18 December, but if you think you might be interested – it will, he tells me, be available in S, M and L sizes and cost £12 - please, without commitment, send me an e mail within the next week saying so in order that I can give him as useful feedback as possible.
You'll have had details of the Christmas get-together last week – but I 've included them again as a reminder. Hope to see you there.
Boots!
Ian
The Next Rides
 
Sunday 4 December
Joyce & Sue – Ride with flexible options : Brighton – Steyning:
Either :
1. Meet at 10.30 Palace Pier to cycle via Carat's Café – those coming from
Hove can meet us at the King Alfred at about 10.45.
2. If you want to do a shorter ride – train from Brighton to Shoreham
station 11.10 , arriving at 11.20 where we will meet you (but let us know
if you are getting the train, preferably ahead of time on 680705 or e-mail Joyce.Edmond-Smith@brighton-hove.gov.uk, or on the day (mobile)
07761628836))
3. Those who want to do part of the way by car could either meet us at
Carat's Café or Shoreham station.
We plan to ride to Shoreham – across the lock, through Southwick and – if
the weather permits, up the Downs Link. Lunch at Steyning or Bramber
(depending how we feel), and back via Coombes Road. So, could cycle back
to Brighton via Portslade & Hove – others can take the train at Shoreham
if they have had enough. Palace Pier to Palace Pier it's c 24 miles
Joyce Edmond-Smith
 
Sunday 18 December – Last Ride of the Year!
And now for something completely different… and completely flat. Shoreham Airport and Back. c 20 miles.
 
Stopping at Carat's Café for coffee and Shoreham Airport for lunch. I've worked out a route which, though the return part is sometimes only a few yards from the outward one, only involves coming back exactly the same way for about a quarter of the total – mainly the cycle path along the seafront.
 
Not one of our idyllic rural routes, but it does make even the Pevensey Levels seem hilly. And it 's not devoid of scenic bits – the seafront of course, the views from the Shoreham Harbour locks, the footbridge over the Ardur, and the toll bridge later, the splendidly 1930s Shoreham Airport building itself – most recently spotted on TV in a repeat of Fortunes of War masquerading as Bucharest Airport – and the view from there of that gem of the Gothic Revival by R H Carpenter, Lancing College chapel. And we pass by both the medieval churches in Old (St Nicholas) and New (St Mary de Haura) Shoreham. (For those who don't know the difference, Old Shoreham is where the Old Shoreham Road goes to.)
 
Meet by the Palace Pier at 10.30 – or along the route at e g Maroccos. About 20 miles give or take depending on where you live/or are cycling from. 
 
 
Christmas Get-Together (for lunch and a pint)
Date: Saturday 10 December 
Time: 1pm (I 'll be there from c12.45)
Venue: The Swan at Falmer.
 
This is easily accessible by either public transport or bike, it is non-smoking throughout, the food is fine and the beer very good. It's not necessary to book. But if you know you'll definitely be coming let me know and if it looks necessary I'll ask them to reserve us a table (or two). i.bullock@ntlworld.com or (01273) 682133. If anyone doesn't know how to get there – just ask. Everyone is invited.
 
 
The Last Ride – Neil's Report
Sunday 20 November
Seaford – Litlington – Arlington – Wilmington – Seaford
 
I'd missed the previous three rides and I think my head must have been somewhere back in the Summer when I planned this one. Worried that my original plan – a 'there and back ' ride from Seaford to Litlington – was a little on the short and repetitive side I added a slightly more ambitious loop crossing the A27 and skirting Arlington reservoir before returning south through Wilmington and back onto the Litlington Road (20 miles in total).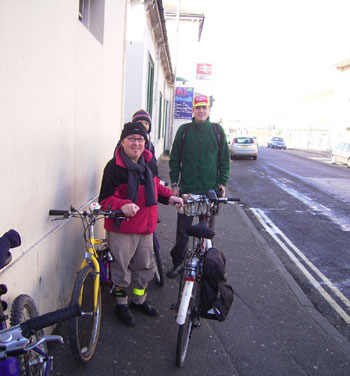 Fred, Mei and Neil at Seaford station
 
I'd had a nagging concern that my journey from Hassocks to Brighton to meet up and catch the Seaford train might present a problem and, sure enough, my enquiries early on Sunday morning revealed that a bus service had replaced the train on the mainline from London. Not wanting to test Southern's 'bikes on buses' policy I decided to make the journey by road and so, set about dismantling my bike in order to fit it into the back of my car.
 
With everything successfully reassembled in Seaford I made my way to the station and met Fred, Joyce and Mei off of the train. We headed for the seafront and rode straight into a dazzling and spectacular sun that was to stay with us all day. We were all unaware (and just as well) that we would still be riding as the sun was setting and that our return along the same coastal stretch would be a mad dash for the train completed in near darkness (luckily we all had our lights with us!).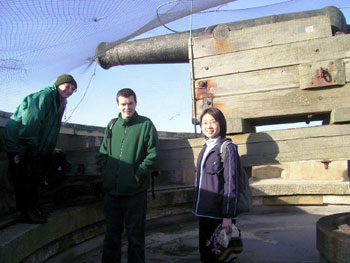 Joyce, Neil and Mei admire the big cannon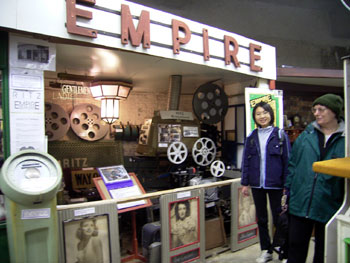 Mei and Joyce in the Tardis of a museum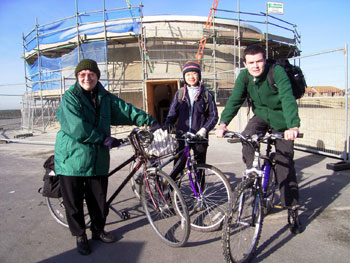 Joyce, Mei and Neil outside the Martello Tower
 
Halfway along the seafront we decided to take a closer look at the Martello Tower, now a museum exploring the tower's original purpose as part of the coastal defences in the Napoleonic wars. While this period is clearly the Museum's main focus, the curator explained that the tower has interesting post-war history adopting a number of different guises before becoming a museum.
 
We returned to the bikes and headed out of Seaford. The road to Litlington brought much needed relief from the busy A259 and we set about tackling the many undulations. We spotted a flock (gaggle?) of geese flying low above the river. They were in loose formation and did not seem intent on migrating any time soon. In conditions like this who could blame them for staying put.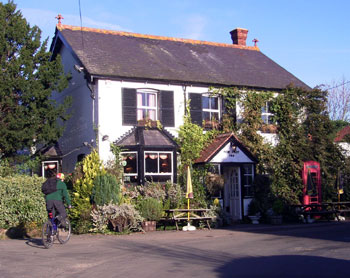 The Yew Tree Inn
 
Through Litlington, we veered west enjoying the idyllic view of Alfriston church from across the river. Over the A22 we headed for Arlington using the road we'd last navigated on our Cuckoo Trail ride in the summer. We decided to stop for lunch the Yew Tree Inn near Arlington reservoir. We had a good lunch and lobbied Joyce with suggestions as to how Brighton's new cycling money could be spent. A former Hanover resident myself, I liked Fred's suggestion of a 'ski-lift ' to assist cyclists climbing Southover Street – watch this space!
 
Back on the road I turned right for Wilmington and pedalled on. Oh dear. I should of course have waited at the junction and made sure that we'd all made the turning. Half a mile down the road I realised that I'd not seen Fred or Mei since the turning. I rode back to the junction but couldn't see them. I headed back to Joyce who said that Fred had rung her (just as well that they both had mobiles and managed to get a signal). They'd understandably ridden straight on at the junction and were now retracing their steps. I rode back to the now familiar junction where I met Fred and Mei and made my apologies.
Mei on a downhill stretch
 
It was already clear that we'd not make the 2.54 train and our unexpected detour meant that we'd now struggle to get the 3.54. I reassured everyone that the return was largely downhill but sensed faith in my predictions beginning to ebb as
we then faced the steep climb out of Wilmington. We rested briefly at the Long Man before heading back onto the Litlington Road. We passed the geese who did not seemed to have moved an inch from earlier and then Fred spotted the White Horse – our second chalk carving in half an hour.
 
We made it to Exceat bridge at 3.45 and it was clear that we were not going to be back in time for the next train. Now with over an hour to spare we decided to avoid the busy main road back to Seaford and take a further detour along the footpath heading out to the cliffs. With light fast fading and conditions muddy we made slow progress on our way out to Seaford Head. Joyce then came a cropper negotiating a gate and with the temperature plummeting and the clock ticking our return to Seaford began to take on the feel of a doomed polar expedition.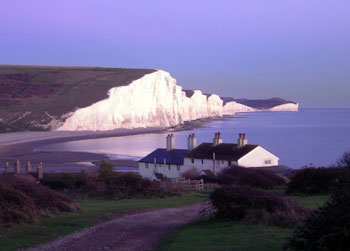 View of the Seven Sisters from Seaford Head
 
The view of Seven Sisters from Seaford Head rallied our spirits but with only twenty minutes to get the train the last stretch of our journey would be a frenetic dash. Halogen lights guiding our way we were strung out along the streets of Seaford and with our finish at the station almost in sight I half expected to see a Tour de France style '1km to go' sign. We scrambled onto the platform with the train just about to leave. An accommodating guard pointed Mei, Joyce and Fred in the direction of the cycle carriage and I made my way back to the car.
 
After today's display it's with some relief that I hand the organisational baton on to Joyce and Sue for the next ride and probably best that I humbly resume my place in the Clarion pack!
 
Thanks to all for a really enjoyable and longer than expected day.
 
BOOTS!
 
Neil