Dear fellow members and friends
23 June 2005
I was hoping to include some more reports – e g from Sheila, Richard and possibly Bob (or perhaps John?) Still time to include in next circular. But let's make it a general invitation; do let me have a report of any cycling related activity you've participated in recently. If you have photos let Fred (on pipes@brighton.co.uk) have them. He will advise on best method to send them.
Boots!
Ian
The Next Rides
Sunday 3 July
Lewes – Isfield – Piltdown – Lewes about 22 miles
This is the one we did last summer – only going the opposite way round on this (mildly) undulating route. Apart from the scene looking different going in the other direction, the main advantage is that we get the main road bit – up the hill out of Lewes and for about a mile along the A26 out of the way at the beginning instead of doing that stretch at the end and having to negotiate the island by the entrance to the tunnel which can be a bit scary on the bike. Going the other way is much easier in that respect.
We'll leave the A26 and take the little road down through Upper Wellingham to Barcombe Mills then take the bridleway along the old railway track. Reaching the next road we can make a diversion for coffee (beer, or even lunch) to the Anchor Inn then the bridleway to Isfield where the Laughing Fish is another possibility for a stop. Or 3 miles further on and nearly at Piltdown is the Peacock described in my ancient Sussex CAMRA guide as a 'Picturesque oak-beamed pub' (you have been warned!)
By Piltdown Pond we turn south and head back to Lewes. The tea room at Offham is either no more or was a figment of my imagination, so our best bet for a 'tea stop' seems to be the Royal Oak at Barcombe. Then we'll return to Lewes via the track that we used last year for our 'escape'. And so back to the station.
Catch the 10.40 from Brighton Station at or meet a Lewes Station at 10.55. Trains back leave at 19 and 49 minutes past the hour.
Sunday 17 July
Polegate – Pevensey Levels – Normans Bay – Hooe – Wartling – Polegate   25 miles
Bit longer but pretty easy going, this is the ride we intended to do in February – but shortened because of the snow storms.
We kick off as though we're going along the Cuckoo trail but turn off almost immediately along a connecting cycle route that takes us out onto the Levels and then down to Pevensey. Then we continue down to Normans Bay and into the outskirts of Bexhill. Then there's a couple of miles of suburban road before we're out on the open Levels again near Gotham (lookout for Robin and friend) and on to Hooe Common, Hooe and Wartling before dropping down again to Rickney, and heading across to join the Cuckoo Trail just up  from the usual tea stop.
Pubs. The Star at Norman Bay is one possibility or the Red Lion at Hooe. 
Catch 10.14 from Brighton Station or meet at Polegate Station at 10.46 (no changes). 'No change' return trains at 28 minutes past the hour (change in Lewes ones at 58 minutes past)
Sunday 31 July
Haywards Heath – Ouse Viaduct – Balcombe – Ardingly – Lindfield
A variation on one we did last year (avoiding the big flights of stairs at both Wivelsfield and Burgess Hill stations) Only about 16 miles – but with some hills and a track or two that will be enough for most of us (and you can always go round again at the end if you need more!).
We'll loop round to Cuckfield, take the 'back entrance' route to Borde Hill and then enjoy the splendid view of the Ouse Viaduct – familiar to everyone from train journeys to London but even more impressive from ground level.
On to Balcombe – with the possibility of a stop at the Half Moon. Then round (and across one arm of) the Ardingly Reservoir to Ardingly – another possible lunch stop – the Gardeners' Arms – then to the Bluebell Railway station at Horsted Keynes. Skirting Horsted Keynes itself we make for Lindfield – tea by the pond – and then back to Haywards Heath.
Catch 10.58 from Brighton Station or meet at Haywards Heath station at 11.19. Southern trains back at 28 minutes past the hour (Thameslink at 3 and 33 minutes past).
The Last Ride
Sunday 12 June – Shoreham Tollbridge ride Ian's report; photos by Joyce.
'Seen Richard?' Joyce and I asked each other when we met up at the start in Ricardos car park. Neither of us had, and whereas we were sure he had intended to participate, we all know that things can arise at the last minute. Having ascertained as far as possible that he hadn't already left, Joyce left a note for him with her mobile number. If he rang we would wait for him at some convenient point along the route.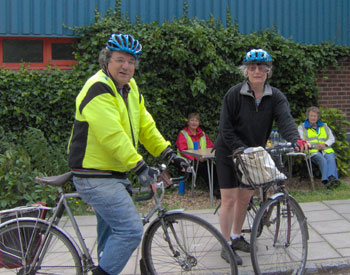 Joyce and Ian at the first refreshment stop at Steyning
So, we set off along the Coombes road and through Steyning with a brief stop at the organisers' refreshment point. Then a few hundred yards up the Ashurst road, Joyce spotted someone waiting on a bike a little ahead. 'I think it's Richard!' she said. And it was – sporting the number 101 compared to our 40 and 58; if he started that long after us how could he possibly be ahead?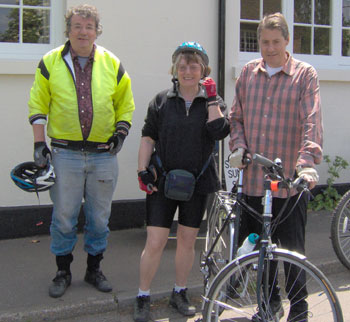 After we had met up with Richard at the second refreshment stop (at
Shipley)
In fact he'd cycled from home and had problems finding the start. He was so late that Les Robinson gave him a lift to near where we encountered him. [Honour was more than satisfied in that the ride to and from the start was much longer than the few miles skipped between Shoreham and Steyning.] The route was pleasant and the weather ideal – dry and fairly warm but with a welcome light breeze. We stopped for a (free) cup of tea at Shipley Community Centre, and a little further down the road to have a quick look at Hilaire Belloc's windmill.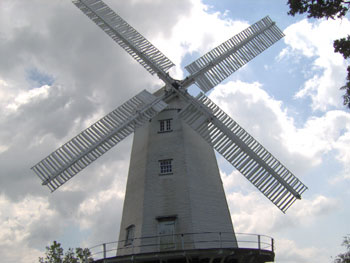 The Windmill
Soon we were on the outskirts of Wiston and about to follow the route arrows along Spithandle Lane to Horsebridge Common when I spotted a bunch of cars parked on both sides of the road about a hundred yards further on. 'Must be the Wiston Tea Rooms', I thought. And so it turned out to be. Neither Joyce nor Richard had been there before – and the number of tables and beasts of both the feathered and four-legged varieties had increased since I was last there a good few years back. So we had a pleasant stop.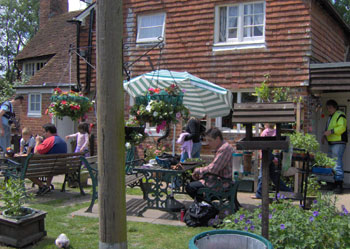 The really lovely tea place at Wiston where we had an unauthorised stop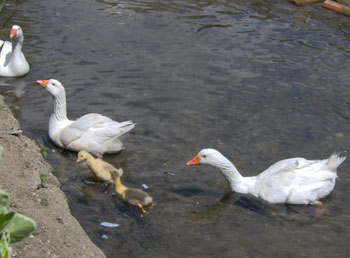 Ducks at the Wiston tea place
Only thing was that that the ride organisers' sweep van checking on slowcoaches such as us had naturally not come down off the route to check on the tearooms. All the direction arrows had vanished for the rest of our return trip – not that that was a problem. We struggled up the steep hill at Annington with me making a mental note that on rides this way in future we'll take the stretch of the Coastal Link down to Botolphs and avoid this one. We arrived at the finish just before 3. We were not apparently the very last to finish. We were told that a couple of 'young folk' had insisted on completing the longest (38 mile to our 32) ride by climbing the Bostal ('good luck to them'. we thought!).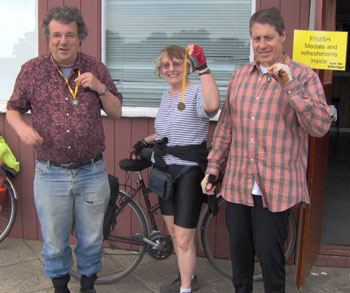 Collecting our medals at the end
And so the ride ended with us resplendent with our very impressive medals complete with yellow ribbon to hang them round our necks. The latest on the Toll Bridge seems to be that though plans for the initial work were finalised some time ago the proceedings are currently being held up by delays on the part of English Heritage.
Ian