Dear fellow members and friends

22 December 2006
There were 12 of us at the Christmas Get-together on 19th December – which is equivalent to a third of our current membership. Many thanks to Ed for organising the event. But if you couldn't make it, why not join us on New Year's Day!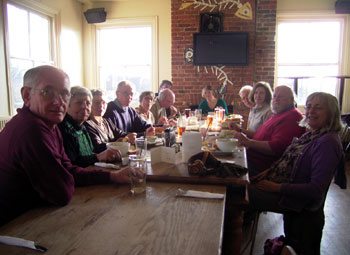 In the meantime, Merry Christmas and Happy New Year… and Boots!
Ian
The Next Rides
Monday 1 January 2007
New Year's Day – Special Brunch Ride
To Carat's Café at Shoreham Harbour
I'm hoping that this easiest of starts to the year may tempt out some of those we seldom see – or even have yet to see.
Meet by the Palace Pier at 11am* - or along the route at eg Maroccos. Only about 9 miles – plus from home and back to the Pier.
*I'm aware (amazingly!) of the Fat Boy Slim event – but that starts in the afternoon and is nearly a quarter of a mile away down Madeira Drive. That said, if there is any problem with meeting by the Palace Pier, let's just move along the route to the nearest convenient spot – eg opposite the Old Ship.

Sunday 7 January
This was the one I'd planned for late November, but was defeated by rail works.
Newick - only about 18 miles
We did this ride, more or less – plus a few miles more – last year when we visited the Bluebell Railway 'open day' at Sheffield Park. We leave Lewes by the usual route that brings us out near Offham church, then continue on skirting Barcombe and eventually reaching Newick where the Royal Oak looks the best bet for lunch. Back via Spithurst and Barcombe Cross (possibility of a tea stop at the other Royal Oak) then back to Lewes via Barcombe Mills, Wellingham Lane, a bit of unavoidable main road up to Earwig Corner and just beyond where we'll take the 'Sue Pringle route' avoiding that nasty bit by the tunnel entrance back to the station.
Catch the 10.39 from Brighton or meet at Lewes station at 10.54. Trains back – best bets look to be 15.45 and 16.02.
Points of interest. We pass Newick Park on the way back. We probably won't get a view of the (according to Pevsner) 'interesting late C17 front' but I think we probably will pass its entrance 'Pinnacle Lodge … a charming Late Georgian folly.' We shall see.
The Last Ride – Suzanne's report, photos by Joyce
Sunday 17 December
Berwick – Ripe – Berwick
Why oh why did you stay-a-beds and laggards miss such a beautiful outing? Jim came. Only his second outing with Clarion, but there he was relaxing on a Brighton station platform bench ready to be greeted by Joyce, Roger, Sue and Suzanne. Ian met us a Berwick. The traditional hapless passer-by was press ganged into pressing the button to take the memorial photo of the gang setting off.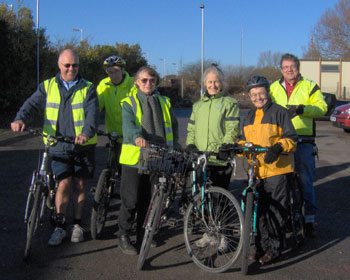 Jim, Roger, Joyce, Sue, Suzanne and Ian
Gently rolling countryside – with amazing amounts of water rolling off the fields and none at all falling on our heads. And there we were at Golden Cross. Sue couldn't resist looking at the camper-vans so the rest of us took off, determined to beat the all time record of doing the whole two miles to Ripe in over thirty minutes. And I'm pleased to say we are now world champions of the less-than-four-miles-in-the-hour record (don't forget The Lamb at Ripe doesn't open til noon!).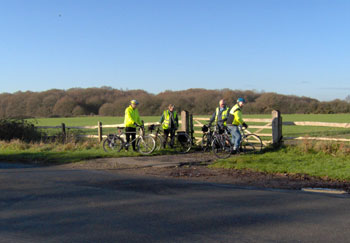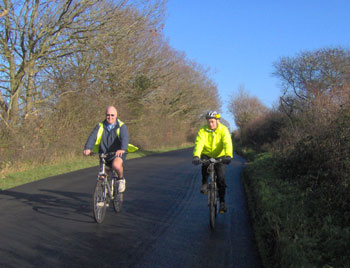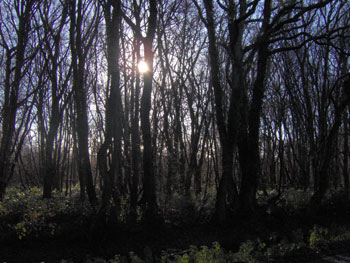 Conspiracy theory* has it that The Lamb is particularly quiet these days since it has abandoned Harveys and has become a Shepherd Neame establishment. None the less, the baguettes were well filled and came with chips. Back on the road replete and happy. Sun still shining. Selmeston Tearooms looked inviting but as it was only 2pm the consensus was to give it a miss and fit in a quick cup of coffee at the Berwick Arms. Mission accomplished. Onto the 2.48 and home before dark.
Thanks to Ian for all the planning and thanks to the sun for being there.
Suzanne
* Mine, I'm afraid. I didn't know the pub was no longer Harveys when I planned the ride – and was looking forward to a pint of 'Old'! Ian

City Cycling Forum Working Group Meeting, 13 December – Ian's Report
This was a well attended and, I thought, useful and constructive meeting – which is not what I've always felt about its predecessors. As always the proof is in the eating. Fred is putting the minutes on the website (Cycling in Brighton) page, so I'm just going to pick out a few items which I think are of particular concern.
North Street Quadrant. (see also my previous report, where I reported that it was likely to be well into 2007 before this was put right). There were two important developments; the group requested the immediate re-opening, and there were assurances that real efforts were being made to ensure that proper consultation will avoid such situations arising in the future. Let's hope so.
Cycling Demonstration Town. Much work is in hand – advance stop lines are being installed at every signalised junction in the Cycle Demonstration Town area (Hove and West Brighton) – a dedicated cycle route will link the seafront and the Downs and the Old Shoreham Road will have cycle lanes up to the city border.
It was reported that the Personalised Travel Planning programme has been one of the cheapest in the country, costing only £10 per head, compared to £30 in some other areas. Brighton & Hove, we were told, has consistently higher levels of cycling than any other Cycling Demonstration Town and the PTP approach is said to have a very good track record in getting people on their bikes. A survey of 2,000 households will be carried out in the coming spring, so we should be able to see how well it has worked in this instance fairly soon.
Opening the Undercliff to cyclists – inevitably, repealing by-laws is a lengthy process involving consultation with all interested parties and opportunities to consider objections, but the Council has approved amending the existing by-law to permit cycling.
Providence Place 'bumps' According to the draft minutes the 'Action' from this agenda item was that 'Members are invited to contact Jeanette Walsh and copy in Leon Bellis with comments regarding this infrastructure.' This is not my recollection of the meeting – and I have already made this clear. In fact the meeting felt that passing the matter back to individuals in this way was completely unsatisfactory and asked that representations seeking the early removal of these obstacles be made at once from the Forum Working Group itself.
That said, I think it will be a good idea if people who have had personal experience of trying to ride over this route - Joyce and Fred spring to mind, but there are probably others – do reinforce what I hope has been the collective demand by contacting the named individuals. I had no idea who they were – but I've found out! Jeanette Walsh is the Major Projects Officer and Leon Bellis the Project Engineer. Their emails are:-
Jeanette.Walsh@brighton-hove.gov.uk
Leon.Bellis@brighton-hove.gov.uk
The next meeting is scheduled for 24 January. Please let me have the suggestions and concerns you would like raised.
Ian