Dear fellow members and friends
20 July 2005

Knowing that our most regular and most recent participants couldn't make Sunday's ride I was quite prepared to find myself on my own. But I needn't have been concerned; in the end there were six of us (see Tessa's report below) – in at least one case thanks to the mention in the Bricycles list. Many thanks Becky.
So far this year with only one exception I've organised and led all the rides. As things stand, I should be OK for the coming 'Clarion Sundays' until the end of August. But after that there will be one or two occasions that I won't be available. Joyce has leapt into the breach in the past – and last year Chris did once or twice – and maybe will be able to again. But don't let this deter anyone else who'd like to organise something. I can help with the planning if required. Let me know.
Bob and John's Epic Ride

While most of us are confirmed 'potterers' we do have at least two members with greater ambitions. I received the following from John a little while ago.
Bob and I are now in the final stages of preparation for London Edinburgh London (see www.audax.uk.net/el/index.htm for additional details and the entry lists). We will be in the 08.15 start group from Thorne, Doncaster on Saturday 23rd and we have to ride to Dalkeith via Castle Howard, Canonbie and Tushielaw before retracing to Thorne, on to London and back to Thorne by the early hours of Thursday morning.
Bob has done megamiles with an End to End and a Manche Med. I have had to content myself with Audax rides. A ride like this is often achieved more in the head than with the legs although you need those too. It also leads to a sore behind but there is some enjoyment on the way. We will be in touch after the event, may even achieve a writeup if we can remember what happened.

Spurs!

John

Good luck from us all! We look forward to your report(s).

Boots!

Ian

The Next Rides

Sunday 31 July
Haywards Heath – Ouse Viaduct – Balcombe – Ardingly – Lindfield.

A variation on one we did last year (avoiding the big flights of stairs at both Wivelsfield and Burgess Hill stations) Only about 16 miles – but with some hills and a track or two that will be enough for most of us (and you can always go round again at the end if you need more!).
We'll loop round to Cuckfield, take the 'back entrance' route to Borde Hill and then enjoy the splendid view of the Ouse Viaduct - familiar to everyone from train journeys to London but even more impressive from ground level.
On to Balcombe – with the possibility of a stop at the Half Moon. Then round (and across one arm of) the Ardingly Reservoir to Ardingly – another possible lunch stop = the Gardeners' Arms - then to the Bluebell Railway station at Horsted Keynes. Skirting Horsted Keynes itself we make for Lindfield – tea by the pond – and then back to Haywards Heath.
Catch 10.58 from Brighton Station or meet at Haywards Heath station at 11.19. Southern trains back at 28 minutes past the hour (Thameslink at 3 and 33 minutes past).

Sunday 14 August
Glynde – Chiddingly and East Hoathly

This one is partially inspired by reports of good tearoom facilities at Glynde Place – less than a mile from the station and therefore the end of the ride (unless like Tim last year you start and finish in Brighton.) From Glynde station we ride down to the main road and take the cycle track along it for a short spell before heading off into quieter roads for Ripe and Golden Cross. After Muddles Green we have a choice of pubs for a lunch stop. It may be too early to stop at the Six Bells at Chiddingly (or the very popular pub may be a bit too busy). If so, the King's Head at East Hoathly, with its front covered with 'mathematical tiles' beckons.

We'll return via Shortgate and Laughton Common and the road that runs at the back of Glyndebourne Opera House past fields usually featuring a variety of llamas.

Catch 10.14 from Brighton Station (no changes) or meet at Glynde station at 10.35. Direct trains back at 39 minutes past the hour.


Sunday 28 August
A Different Take on the Cuckoo Trail

The Trail is popular because it's car-free and the gradients are gentle. We've gone straight up and down it; we've gone up it and returned via the Pevensey Levels to the East; and we've used just the bottom of the Trail near Polegate as a jumping off point for other rides. This time, we'll base ourselves on Berwick (NOT Polegate) Station, follow the National Cycle Network route to the Cuckoo Trail, ride up it as far as Horam and return on its Western side, pausing for lunch at the May Garland, via Gun Hill, Golden Cross and Chalvington. At that point we'll decide on the day whether to make directly for Berwick Station or – adding two or three miles - to make a diversion to the tearooms at Selmeston

Catch 10.14 from Brighton Station (no changes) or meet at Berwick station at 10.41. Direct trains back at 34 minutes past the hour.



The Last Ride
Sunday 17 July Pevensey Levels – Tessa's Report

Ian, Helen and Tessa met up at Polegate Station and greeted newcomers Marilyn, Neil and Manu. We had travelled from Brighton, Portslade, Hassocks and Rottingdean.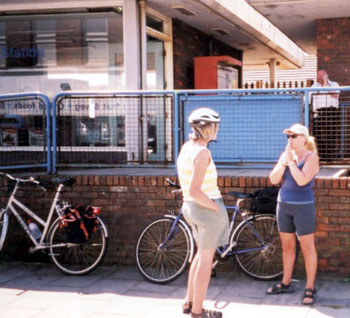 Tessa and Marilyn at Polegate station
The weather was perfect as we set off on the Cuckoo Trail enjoying the dappled shade. We soon took a turning onto a bridleway that led us across the A22 on a bridge parallel to the Cuckoo Trail. We continued through the small roads of Pevensey Levels to Westham and Pevensey Castle where a passer by offered to photograph us with the castle as a backdrop. He left his sunglasses behind but we chased after him to return them.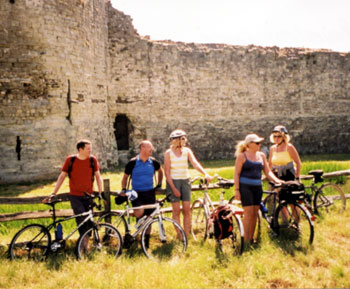 Neil, Manu, Tessa, Marilyn and Helen at Pevensey Castle (the passer by who took the photo of the whole group didn't press the button hard enough!)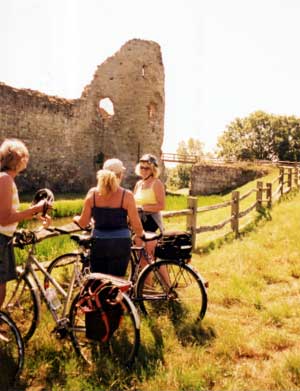 Tessa, Marilyn and Helen at Pevensey Castle
We headed down to the sea at Cooden Beach having voted not to take a detour to Norman's Bay. It was lovely to get a glimpse of the sea and feel the cooling breeze, especially as we were about to meet our first hill!
A brief stop to pump up Helen's tyre turned into a rather longer interlude as it kept deflating yet didn't seem to be a puncture and so baffled everyone.
Once sorted we carried on, rather hungry by now, for 5 miles to the Red Lion at Hooe, contending with more hills on the way. The menu was varied and delicious and Ian pointed out that the licence had been in the same family since 1912. We obviously looked hungry as we were offered an extra plate of chips for free. We fell on it even though we had eaten and Ian was quizzed as to the location and distance of the tea stop.
The biggest hill came after lunch, only 3 of us managed it without dismounting. To Wartling down an ungraded road sprouting tufts of grass in the middle. A wider busier road led us south almost to Pevensey roundabout. Although flat it was hard going as we were riding into a headwind.
Back along the levels where beyond the reeds I spotted butterflies and horses. Marilyn pointed out a dumped washing machine which shattered my reverie. We passed through Rickney and back on to the Cuckoo Trail. We nearly missed the turning for the Old Loom Mill where we were just in time to order tea and cakes from a rather fraught staff. It had obviously been a long hot Sunday. A couple of miles back to the station where we went our separate ways after a delightful day out.

Tessa