Dear fellow members and friends

1 November 2006

Christmas get-together … final call!
Thanks if you've already e-mailed me with your preference. I did say 'by the end of October' but, you haven't let me know yet there's still time – just – if you respond to this message straightaway. The choices at the moment are
A lunch at The Nelson Trafalgar Street on Monday 18 December at 12.30 or
B same place and time but on Saturday 9 December (subject to availability).
I hope as many people as possible will try and make it: it would be particularly nice to see some of those who haven't been able to get out on the rides much this year – like me recently.
Boots!
 
Ian
The Next Ride
Sunday 12 November
A Bit of the Centurion Way then a Different Take on Chichester Harbour
A very short ( c 18 miles) but very varied ride.
The idea is to combine the southern part of the Centurion Way with a bit of Chichester Harbour we haven't yet visited. [New-to-us bits in italics as usual.]
Just a short way up Centurion Way, then off down, to Fishbourne, then take the cycle route across to Bosham, follow the road round Bosham Hoe and back to Fishbourne, a short stretch of the old main road and down the Salterns Way route to Dell quay for lunch at the Crown and Anchor. Then the cycle route down to the Salterns Marina, (aka Chichester Marina) and back via the Chichester Ship Canal Footpath, with an interesting line of houseboats near the marina, joining the usual stretch of canalside bridleway at Poyntz Bridge which takes us back to the Basin almost opposite the station.
Possible variations. If the weather is awful on the day we can shorten the ride by 3 or 4 miles by skipping the loop round Bosham and going to Dell Quay by a more direct route. The route includes 2 to 3 miles of canal footpath; I've not checked this out completely, just had a look at where we'll start at Curfield Bridge. Looked OK for gentle single-file cycling there. But there may be stretches we'll need to walk further on (though stiles are unlikely on a canal path!).
Catch the 10.20 from Brighton station or meet at Chichester station at 11.21. Return trains are at 15 minutes past the hour (change at Hove) or 54 minutes direct.
The Last Ride – Joyce's report, photos by Anne
Sunday 29 October
Hassocks – Barcombe – Hassocks (c. 21 miles)
Having had a streaming cold all week, I got to Saturday evening thinking it was unlikely I would make the ride. However, the extra hour gave me time to bestir myself and I am so glad I wasn't wimpish enough to stay at home. In fact, quite miraculously during the whole ride there were no signs of cough, sore throat nor even fatigue… So there you are – Clarion rides:- the cure for everything!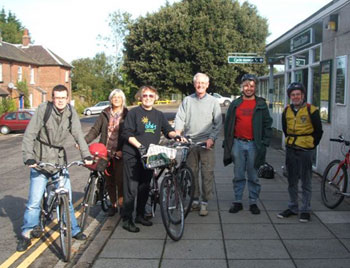 Neil, Anne, Joyce, Mick, Jim and Jeff
Met up with Anne, Mick, Jeff and Jim at the station – (good to see Jeff and Jim back in the fold ) and Neil, our leader, at Hassocks. It was a glorious autumn day and stayed that way all day, perfect for cycling. Along lovely, quiet Underhill Lane where the abundance of berries this year was noticeable, as was the fact that trees are still very green.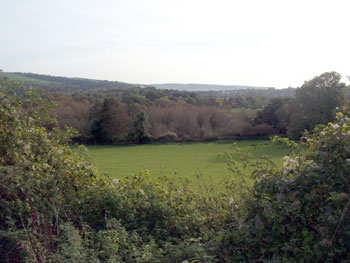 The Downs through Old Man's Beard
Then along (I think) the road to Offham – here there were one or two cars which dared to be on our road …. but it was well worth it for the wonderful views of the valley to the left and the Downs to the right. Back on to wonderfully quiet lanes – it is quite amazing that in crowded East Sussex one can find such oases – then on to what we all agreed was very good food at the Royal Oak in what seemed an unbelievably short time. There the conversation ranged from future planning for B&H to what we should do for the Christmas lunch.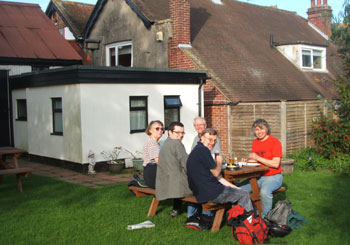 Lunch at the Royal Oak
Waiting to cross the main road on the way back, Neil suddenly turned into action man by leaping off his bike to grab a terrified dog which had slipped its leash and dashed across the road. Quick action – particularly as he first thought it was a deer when he first saw it! The owners were duly grateful… Then via Plumpton Green passing the lovely Streat Church.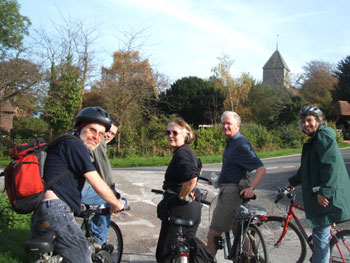 Stopping by the church
The bridleway was a bit hairy – great pools of water – Anne and I did our balancing act, but this time managed not to fall in . You have to have one adventure on every ride! On towards Ditchling and tea at the delightful Stoneywish Nature Reserve where we were tempted by the wonderful array of cakes.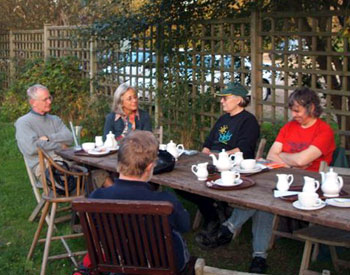 Tea, talk and cakes
Arrived at the station in perfect time – except that Jeff, Anne and I somehow got left on the platform! We had split up and hurrying to get to the bike space (like good citizens) the doors suddenly closed. No guard, so the driver presumably didn't know he had left us abandoned (well that's the kindliest interpretation). After the initial shock we wiled away the hour reasonably happily by a combination of cross-word, newspaper and laughing at the thought of Mick's and Jim's faces when they got off at Brighton to discover we had disappeared (actually we didn't let that happened cos Anne phoned Mick…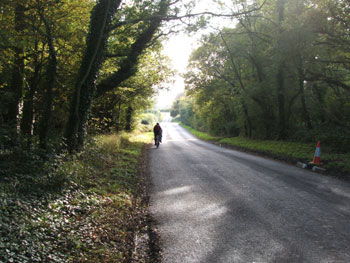 Autumn light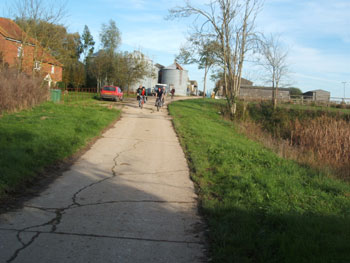 Charge of the Light Brigade
This was a really great ride – just undulating enough to give some interest and nice downhill runs, but nothing really taxing – almost car free and wonderful views. One definitely to put in the list for a return. Thanks Neil.
Joyce