Dear fellow members and friends
1 March2005
Next Rides
Sunday 13 March
Albourne – Goddards Green – Bolney – Twineham c 20 miles
If I describe this ride as 'either side of the A23' it may sound uninviting – but it is fascinating how very 'rural' it can be – apart from the distant rumbling of traffic to those with very sharp ears. This uses mainly quiet country lanes – unavoidable 'suburban' stretches at start and finish – and two different bits of the old A23 now designated as part of the cycle route which you may remember from before the road was turned into a motorway in all but name. We join the first by that  distinctive domed  former pub – the  King's Head with its green copper cupola, now a computer firm's HQ – near Albourne and go through Sayers Common before crossing over to the east side of the A23 and going up through Goddards Green and eventually recrossing the A23 near Bolney to the second part of the old main road. When I recced this ride last summer the famous Bolney Stage pub had just been renovated and was about to re-open (though no sign of the stage coach that used to stand outside). I suggest we make this our first choice for a pub lunch stop – though there is also the Eight Bells  and the Queens Head within a few hundred yards. The quiet roads down through Twineham are mostly flat when not positively downhill.
Catch 10.58 from Brighton Station or meet at Hassocks Station at 11.08. Aiming to return by 15.40 from Hassocks arriving Brighton at 15.51 or 16.40 arriving 16.51. All Southern trains. No changes.
Sunday 27 March [Easter Sunday] 
Easiest bike ride - ever! Maximum 24 miles with no hills.
Fred's debut ride as organiser – ideal first ride of the year or for anyone returning to cycling. Train to Polegate, up the Cuckoo Trail (sheltered disused train line covered in tarmac so very flat), through Hailsham housing estates, to Heathfield (if the will is there) and back. Possibilities for lunch at pub in Heathfield  or Railway Inn in Hailsham if the Golden Martlet at Hellingly proves to be still closed. In any event a welcome afternoon tea on the way back at the Old Loom Mill, within spitting distance of Polegate station.
Catch 10.14 from Brighton station to Polegate, Southern, no changes, or meet at Polegate station 10.46. Return 15.28 (arrive Brighton 16.02) or 16.28 (arrive Brighton 17.02).
Call Fred on 01273 697962 ( or 0794 168 1096 on the day) to confirm participation.
Last Ride
Sunday 27 February    
Pevensey Levels - Ian's Report
Looking out of the window soon after I woke up, the day looked far from promising in spite of a weather forecast that comprised 'sunny periods' as well as 'chilly'. Everything outside had turned into a 'winter wonderland' and  the snow was still falling steadily.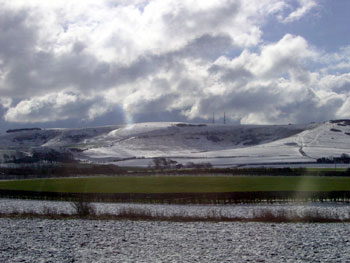 The South Downs from the train
Joyce and Fred must have had a similar impression. But we don't give up easily – and by 10 o'clock things were looking decidedly better. Even so we nearly had to cancel when Fred heard an announcement at Brighton station which seemed to suggest that there were no trains running east of Lewes. However, a train to Polegate – and no further – somehow materialised, and I met him and Joyce at that station. The train took about ten minutes to arrive from the moment it came in sight – there was some sort of power failure apparently. Which makes you wonder what they would do if we had bad weather.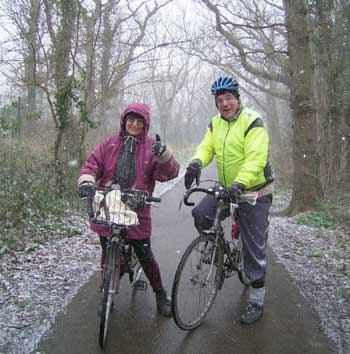 Joyce and Ian in the snow
As we set off for the first 100 yards down the Cuckoo Trail before taking a sharp right turn, it started snowing – but it didn't last long and anyway it's much better than cycling in rain. Within minutes it was a nice sunny day – and stayed that way as we followed the almost traffic-free route to Pevensey. Then it started snowing again.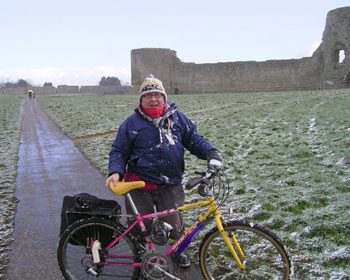 Fred at Pevensey Castle
We walked through the grounds of the Roman fort/Norman castle starting off in a bit of a blizzard which changed back to 'sunny period' by the time we got half way. This may be evident from Fred's photos.
Pevensey Castle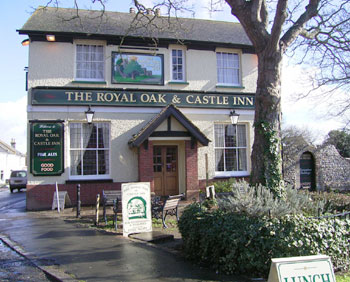 The Royal Oak and Castle Inn
It was now 12 and we decided to stop – for a warm as much as anything – at The Royal Oak and Castle Inn (only one pub!) just outside the castle entrance. A group of morris dancers - the ribbon-decked, blacked face and sturdy cudgel variety – then materialised, demonstrating if proof were needed that the three of us were not the only lunatics who had risked the weather. One of them explained that they were from Eastbourne – but had adopted a Shropshire/Welsh Borders tradition because they thought it was 'more fun than the Cotswold'. So there you have it. Fred was busy with his camera before we departed.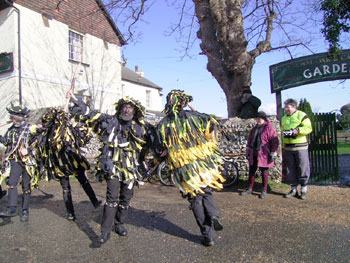 Joyce and Ian watch the Old Star Morris
On the road down to Normans Bay we were now really out on the Levels and the wind was very cold – and blowing in the  wrong direction. The Star – closed for renovation last time we were there last year – was now busy with people having lunch.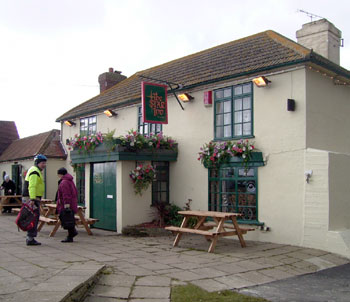 The Star Inn boasts the biggest adventure playground in the south
We joined them and decided to leave the Hooe/Wartling bit of the planned route for another day. We set off back down to the Pevensey island, after a brief diversion to check out the Martello tower on the Normans Bay seafront, then took the designated cycle route as far as Rickney. Then we drifted along in the sunshine with a helpful wind behind us (mostly) across the Down Level joining the Cuckoo Trail at Summer Hill and stopping almost immediately for a welcome cuppa at the Loom Handicrafts tea-room – a favourite since our very first ride last year. Only 20 miles but very enjoyable ones – but who'd have thought it at 7.30 that morning?
ian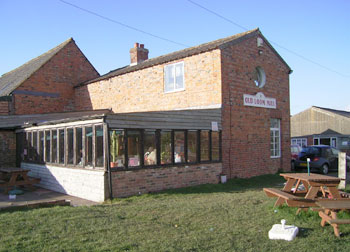 The Old Loom Mill tearooms
Fred and Joyce add:- We had 20 minutes to wait at Polegate with locked waiting room, met a couple of Bricycles members on train at Glynde!
Boots!
Ian