Dear fellow members and friends
19 March 2007

First, a proposal from our Chair/Social Secretary, Ed Furey. As he says, if we stick to our present schedule – and there are no plans at the moment to change it – there will be no 'Clarion' ride on 3 June, so you could join Ed as an 'extra' If you're interested please get in touch with Ed direct. (i.e. not to me!) His email is edward.furey7@ntlworld.com (is it possible there are another six of them!)
He writes:-
"The Martlets Hospice & St Catherine's Hospice, Crawley are organising another fundraising bike ride. Leaflets/entry forms are available at the 3 Martlets outlets in Brighton with full details on www.themartlets.org.
Salient points:
Start & Finish @ Hurstpierpoint College (ie nearest Rail Stationn Hassocks 2 miles)
Circuits of 10/25/35/45 miles.
Entry £12 – children under 18 Free.
Teams of 6 or more receive 30% discount on entry fee. We can specify which Hospice we support.
Start time between 9.30 & 11 am.
Each circuit is Marshalled. Loo & Refreshment Stops. Sweep Wagon.
All entry forms to be returned by 25 May.
Riders who raise more than £200 are entered in a draw to win a Giant velocipede
Two friends who died of cancer and their families were greatly supported by Martlets 'in house', then at home.
I will enter. Are there Clarionettes who want to make up a team?
No Clarion ride on the Sunday 3 June. Please let me know if 'Yes' by 1 April. I will send off the Entry form and pay the £8.40 discounted fee for each entrant by Visa card. You can pay me by the time I have to pay the Visa charge. (O.K 1 Airmile for every £20 spent on a Natwest Visa card)
Boots!
Ed Furey"
Ed's one is well clear of the 'Save the Toll Bridge' ride – which I know several people are keen on doing again this year. That's on 22 July. This is a 'Clarion Sunday' so I suggest we make it the 'official' ride for that day. Personally, I shall have to miss it – so I'll sponsor whoever asks me first. Jim is currently planning rides for July – one could always be in August or September, Jim.
Recently, I had an email from Mark Chessher [not to be confused with Mark Strong – and before anyone else asks me, yes, I have contacted Mark again to say that there is real interest in his 'guided Cuckoo Trail' suggestion, but, no, I haven't had a reply yet, though I'm sure we'll be hearing from him before too long].
Back to Mark C. He writes: 'am living in New York now, and hopefully for a few years. I have kept the place in Brighton though and will be back. Iam keen to support the Clarion.'
This intro is getting a bit long – and you'll be wanting to see the details of the next ride. But please have a look at Michael Walker's latest contribution for our 'history page' at the end of this circular. It would be nice to know what actually happened in 1950 and whether the Clarion, as such, were involved.
Boots!
Ian
The Next Ride
Sunday 1 April
And now for something different for April Fool's Day – The Mysteries of Shoreham Beach
Meet at Palace Pier at 10.30am
Well, not all that mysterious, perhaps, but the surprise is that there's anything worth looking at all in such a suburban area. We set out past (?) Carat's Café, having a look at the harbour entrance, and over the locks, take the little roads from Southwick Green re-emerging on the seafront by the Adur Footbridge. Fine sights of the river and harbour – and of the famous collection of houseboats will be our lot there, and then we'll double back eastwards to visit the Old Fort and the former Coastguard station and see the harbour entrance from the other side. Then its westward (ho!) to Widewater (or is it Wydewater?) Lagoon – the Beach's nature reserve. We'll follow the path along past the end of the lagoon into Lancing and then after an unavoidable a strip of main road that features some interesting 'seaside architecture' of various 20th century eras, we'll take the New Saltings road down to Shoreham Airport and lunch, returning afterwards via the Old Tollbridge and the useful backstreets route that brings us out on the Hove seafront again. And so back to Palace Pier.
Now that Spring has sprung, I'm hoping to tempt out some of those we haven't seen much (or in some cases anything) of during the winter. This could be regarded as an extended version of the New Year's Day 'brunch' ride to Carats Café (except we may not stop there). It's pancake flat and from Palace Pier to Palace Pier it's only c 22 miles. It's also cheaper than usual – no train fares/petrol costs! If you are going to join us en route, let me know and we'll be looking out for you. NO APRIL FOOL JOKES PLEASE – EVEN BEFORE 12 O'CLOCK!
Points of Interest
I'm taking as read all the points of interest of various kinds on the Brighton/Hove seafront. According to the OS map the very end of the Monarch's Way is where the path ends by the Shoreham Harbour entrance just past Carat's Café. Curious, I resorted to Google and discovered that it's Britain's second-longest signed walking trail, a lengthy, 615 mile, meandering route following the flight of Charles II after his defeat at the Battle of Worcester in 1651, and including many sites of historic interest. The Way was devised by Trevor Antill who first published a guide in 1994. There are plans to extend it into France to cover the rest of the Charles' journey. Well, perhaps we ought to balance things out a bit by inventing a Roundheads' Way linking all the battlefields where the Royalists were defeated – or perhaps that's a bit mean and bloodthirsty? Be a very long walk too.
Crossing the locks is always interesting. Before rejoining the main road – momentarily – we'll pass St Mary de Haura in New Shoreham, which is of great interest to architectural historians, being 'Transitional' between Romanesque and Gothic. Then it's off the bike and over the Adur footbridge. There was a short item in Friday's Argus which reported that 'Plans to replace it with an iconic bridge such as the Newcastle's 'winking eye' form a key part of the regeneration of Shoreham Harbour.' Adur council has applied to be part of the Connect2 project organised by Sustrans. Apparently there'll be a public TV vote. See www.sustransconnect2.org.uk
Shoreham Fort dates from 1857. It was experimental in design, according to Gary Baines's excellent website – see www.shorehamfort.co.uk – for a wealth of further details. Although quite a few people are unaware of its existence, Widewater Lagoon seems to date from the 1840s when the embankment was built. Now a local nature reserve (since 1997), it has special (SNCI) status as a unique Saline Lagoon. Lots of flora and fauna. Several websites – Google for details.
Shoreham Airport we have often visited. Founded in 1910 when flying was in its infancy, it is the oldest civil airport in the world. (The Argus says so, so it must be true!) Great views of Lancing College chapel – and the by-pass flyover. Another old friend is the Old Toll Bridge. Haven't heard any more after what I reported in the last issue – and, before you ask, St Nicholas, the Old Shoreham church is, appropriately, rather older than St Mary's. Ian Nairn says – rather uncharacteristically spitefully for him, I think, that it's ' a good deal more Norman than it was in 1800'.
Well, who'd have thought there was so much to write about in this area?
The Last Ride – Jim's Report
Sunday 18 March
Ditchling, Plumpton, Underhill Lane, Clayton
There had been some rather depressing weather forecasts, which deterred John (understandably, given his experience two weeks before!) and it was also Mother's Day, which presumably claimed others, whether givers or receivers of thanks. (This gave me a certain sense of déjà vu, since I did the report for Mother's Day last year!) On top of all that, Jeff's bike had still not been fixed since his gear broke on the previous 'ride', so only four of us made it to Hassocks Station today: Ian, Fred, Joyce and myself.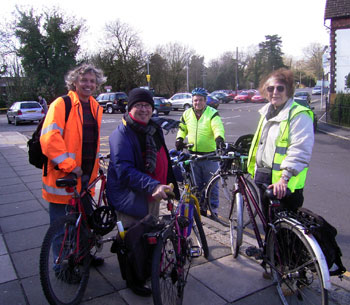 Jim, Fred, Ian and Joyce at Hassocks station
As it turned out, the weather was kinder to us than it might have been (it didn't rain, other than a few spatters when we were passing through Clayton, and in fact the sun shone nearly all day); but the cruel wind made up for the lack of rain, and really slowed us down, even on the flat. It was the noisiest ride I had been on – towards the end, we were all grunting like mad with the effort it was taking to battle against the wind.
Fred and Joyce on the B2116 – Jim's photo
It was, for me, a very interesting ride, as it included parts I had never been to before, particularly in the second half. For almost the entire ride the northward-facing escarpment of the downs looked down on us and seemed to be saying that 'real' cyclists would be up there in a flash … but we were content to traverse the entire length of Underhill Lane instead.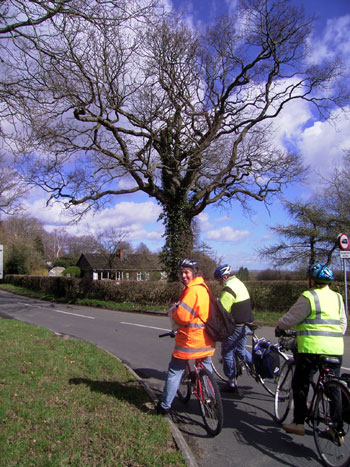 An interesting tree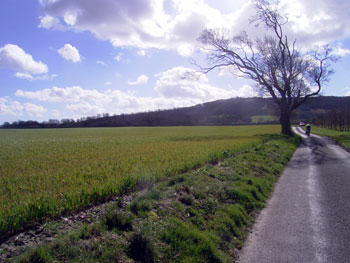 A hedgeless field
Over lunch at the Half Moon at Plumpton, I quizzed Ian about Pevsner, whom, as you may have noticed, he is given to quoting in his ride descriptions. From Ian's reply, and a bit of internet research, I learned that Sir Nikolaus Pevsner, who had been born and brought up in Leipzig, came to England in 1933 at the age of 31, and launched himself into a project 'to document every building that mattered between Berwick-on-Tweed and The Lizard', the result of which was his 46-volume Buildings of England series, published between 1951-1974.
To me he sounds rather like the architectural equivalent of those Radio 3 pundits whose enjoyment of a piece of music is spoilt by the fact that the oboist came in a demisemiquaver too early in bar 46, while the rest of us notice nothing amiss … but perhaps I am being too hard on him?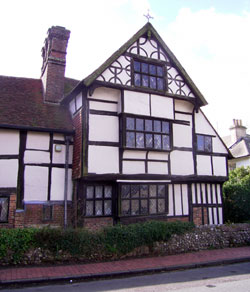 [Part of] Anne of Cleves house
At any rate, as you will have read, he didn't think much of the Anne of Cleves House in Ditchling. I tried to find out more about this house, but gave up after the second page of Google hits, by which time I had already discovered that apart from the famous Anne of Cleves House in Lewes, there is also one in Melton Mowbray in Leicestershire, and another in Haverhill, Suffolk. Like the Lewes one, they all seem to have been given to Anne by Henry VIII as part of the divorce settlement, but it is not clear whether she actually lived in (or even visited) any of them. (Presumably if there were as many as my quick Google search suggested, she would have had a full time job simply visiting them all once a year!)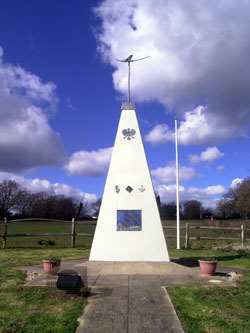 The Polish RAF memorial
Some time after Ditchling, having traversed the entire length of Spatham Lane and then turned eastwards, we hit the Wivelsfield-Chailey road. Here we stopped at the Plough Inn for a minute or two to look at the pyramid-shaped monument to three Polish squadrons that were based at RAF Chailey (not a trace of which seems to remain, at least from the look of my 1:25000 OS map; perhaps Jeff's great-uncle's wartime map might help here?) The Poles only lost two airmen from the base, and their names are inscribed on the monument, which is clearly well looked-after.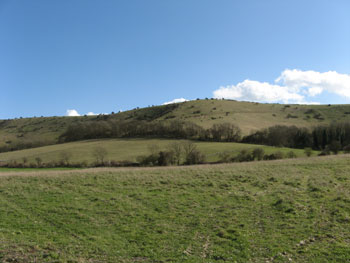 The Downs in the sunshine – Jim's photo
We were denied the delightfully-named Honeypot Lane, but Highbridge Lane, which took us to Chiltington, and Allington Lane, which followed it, were just as pleasant. (I say 'Chiltington', because that's what the aforementioned OS map says; it suggests that in order to arrive in East Chiltington, we would have had to take Novington Lane instead; the only problem with this is that 'Chiltington' is a mile or so EAST of East Chiltington, to say nothing of West Chiltington … help! My partner, Sally, recently spotted that the 'London South' 1:25000 OS map shows Clapham Junction station in Brixton, so perhaps we should not take these maps too literally?)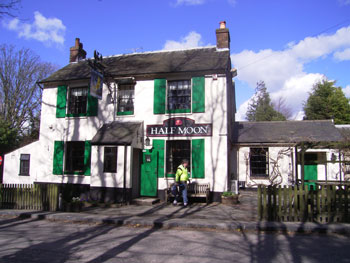 The Half Moon at Plumpton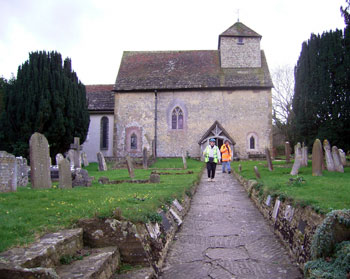 Two pilgrims leaving the church
From the end of Allington Lane we turned west, and for the first two or three miles of the B2116, the wind was assisted in its tormenting of us by rather too many cars going rather too fast; but peace was regained at Westmeston, and we then followed Underhill Lane all the way to Clayton. Here we stopped to have a look at the 11th or 12th century wall paintings in the church of St John the Baptist. On the way, we had been hoping to catch a glimpse of Plumpton Place, which looks rather like a moated castle from the map, and which Pevsner actually liked; but it is not visible from the road. Its grounds were presumably largely given over to what used to be known as Plumpton Agricultural College, which has now dropped its middle name and appears to have diversified into such fascinating areas as Animal Management (now THAT would be a good idea!) and Equine Machinery, although maybe those are two different things?
Some of the land we passed through between Westmeston and Clayton appears to belong to South East Water. This intrigued me, as I thought this was Southern Water's turf, and raised the horrific possibility of unscrupulous Kentish hordes stealing our water ... but, thanks again to those nice people at Google, I now know that 'South East Water supply 3,607 square km across areas of Kent, Hampshire, Berkshire, Sussex and Surrey with 400 million litres of water every day'. So there – it isn't as simple as it seems ...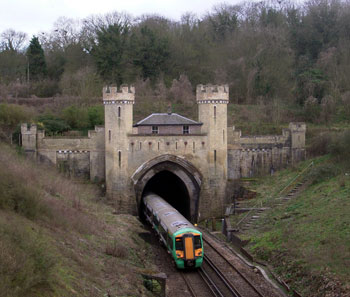 Clayton railway tunnel
After leaving the church at Clayton, we had a look at the castellated folly that is the north portal of Clayton railway tunnel. Pevsner called this an 'engaging oddity', but presumably this was before the addition of a modern brick-built section that entirely fails to fit in with the rest. As it is the only part with windows, one can only assume that it has, or had, a purpose connected with human habitation, although it is much too small for anyone to live in.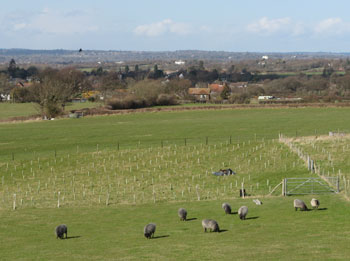 Black sheep and a vista of mid-Sussex – Jim's photo
Danny - Jim's photo
Tired, but not downhearted enough to take the easy way home when Ian put it to the vote, we then struck out along New Way Lane, which took us nearly to Hurstpierpoint. The first section of this lane is really an extension of Underhill Lane, but it then turns north and passes Danny, a 16th century country house which has now been converted to retirement apartments. (Apparently – thanks to Google again – the name Danny is a corruption of the Saxon Danehithe, meaning 'valley and haven').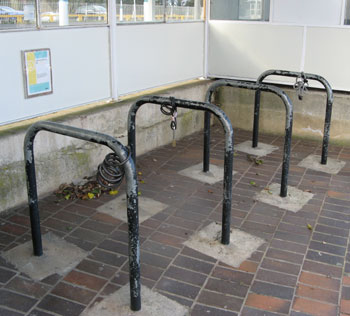 Hassocks Station – where have the bikes gone? Jim's photo
Thanks to Ian for a fascinating ride, which, interpolating Joyce's and my readings, we agreed to have measured about 19 miles. Unfortunately I will not be able to make the next five rides (the life of a student layabout is more hectic than many imagine!) but will be back on June 10th, by which time I hope to have completed plans for two new rides, to be tried out in July, trains permitting.
Jim
From Michael:
British Workers Sports Association
 
            FORTHCOMING CYCLING EVENTS 1946
 
Mr. G. W. Nelson, of Woodford Bridge, Essex, who is COHSE's (health union) representative on the Executive Committee of the British Workers' Sports' Association, gave an address on Trades Unionism and Publicity at the Annual General Meeting in London last month.
 
The Association decided to support the holding of the Workers' Olympiad in London in 1950, as it was felt impossible to stage it in 1947, particularly as Wembley Stadium would not be available next year.
 
Birmingham District reported they were running a Cricket and Tennis League.
 
Mr. Goddard, one of C.O.H.S.E.'s (health union) Branch Secretaries at Paddington, has been co-opted on the Cycling Committee.
 
Cycling events up to September 1946 include :—
 
July 28th.—50 mile road course; South Mims.
 
August 18th.—25 mile youths' (under 18); South Mims.
 
September 16th.—10 miles ladies'.  East Lanes. ; Walkden:
 
Also Proposed.—Inter-section race, between London and
Birmingham.
 
Following are the addresses of National and District Secretaries:—
 
NATIONAL SECRETARIES.
Athletics.—Mr. A. E. Read, 44 Brynmaer Road, London, S.W.1
Cycling – Mr. C.J. Morris, 198 High Street, Tonbridge.
Lawn Tennis—Wr. G. L. Deacon, 18 Beechcroft Road, near Maiden, Surrey.
Chess—Mr. M. J. Reilly, 20 Dollis Hill  Avenue. London, N.W.2.
Bowls—Mr. C. H. Pitt, 14 St. George's Drive, Westminster, S.W.1
 
DISTRICT SECRETARIES.
London.—Councillor Tom Morris, 3 Latimer Road, Hammersmith
Reading.—Mrs. Ivy Noyes, 47 Chiltern Road, Caversham, Reading.
Cardiff—Mr. S. W. Lewis, 93 Carlisle Street, Cardiff.
Bristol—Mr. A. E. Hudson, 38 Dorchester Road, Horfield, Bristol, 7.
Surrey.—Mr. G. L. Deacon, 18 Beechcroft Road, New Malden, Surrey.
Birmingham—Mr. E. T. Williams, 262-264 Corporation Street, Birmingham, 4.