Dear fellow members and friends
19 February 2007
The Section finished 2006 with 35 members. Currently we have 25 – including our two new recruits Caroline and Simon. I now have 2007 membership cards for the 23 (so far) renewing members. In the case of people I'm likely to see during the next few weeks I'll hang on to them; otherwise I'll be popping them in the post shortly. Caroline and Simon will be getting 'membership kits' (the mind boggles!) direct from Donald Lever, the National Membership Secretary, as soon as he can lay his hands on – he tells me – copies of Boots and Spurs to include.
My plea for the remaining 2006 members to renew their subscriptions for the current year by sending me a cheque for £6 (or £3 if you're under 18) made out to the National Clarion Cycling Club did not entirely fall on stony ground. Thanks Sue, Tessa – and in anticipation, Michael! Others please, if you want to carry on your membership, send it to:-
Ian Bullock, 104 Bonchurch Road, Brighton BN2 3PH
If you're not yet a member, but would like to join us, please go to the homepage of this website download and print off the membership form fill it in and send it to me – with your cheque, of course, made out as above.
--
A few people expressed interest in Fred Louchel's folding bike project and I suggested they contact him direct on f_louchel2@yahoo.co.uk. Did anyone do this? Keep me posted.
--
You may have seen my letter in the Argus, published weeks and weeks after the letter it was responing to. Basically, what I was saying was that though there are plenty of things to be critical of, the notion that the Council is wasting money on ineffectual Cycling Demonstration Town projects is neither accurate nor fair.
Wearing my 'cycling rep' hat I've just received a progress report from Dean Spears, the B&H Council's Principal Transport Planner. The results of the cycling monitoring in all the Cycling Demonstrations Towns (CDTs) for the quarter ending in December – though not yet the official analysis – are now available. I'll email them to you if you're interested in the details – but Dean says that 'results are encouraging and indeed record the highest overall cycling levels out of all the CDTs through a combination of automated and manual counting devices.'
He also reports that 'Work starts on improving the entrances to Hove Recreation Ground (on Hove Park Road), and into Hove Park (from Goldstone Crescent) on Monday 19 February 2007 (climate permitting). The work will involve improving the gradient for wheelchair users, cyclists and pedestrians, together with widening each footpath to reduce possible conflict amongst its users.'
Future Rides… and a cautionary tale
Asked about the next ride last Sunday, at the pub in Chiddingly, I said I intended that we have a second go at the Dell Quay ride, based on Chichester. I thought immediately afterwards – 'But you haven't checked the trains!' – and sure enough not only is it track maintenance and buses on 18 Feb, but also for every 'Clarion Sunday' until 15 April! Some quick thinking required on my part.
More generally, subject to the usual provisos about unforeseeable circumstances, I seem to be OK for Clarion Sundays up until July – when we will need someone else to take on both 8th and 22nd rides (unless we change our schedule due, perhaps to participating in the Tollbridge Ride – can't find any details yet). And I should be OK for August. But that doesn't mean I desperately want to organise all the rides myself! Mark has promised us a 'guided tour of the Cuckoo Trail' and others have mentioned possible routes they'd like to try. So, lots of volunteers please. But let me know in good time.
Only one thing I'd like to add to Roger's excellent report (below) is the magic moment when, as we struggled through the Vert Lane seas of mud, half a dozen young deer galloped across the path and disappeared into the trees. More than a bike ride – it was an adventure!
Boots!
Ian
The Next Ride

Sunday 4 March
East Hoathly via Potato Lane - c 23 miles

My original plan thwarted by railway maintenance (see above), I wanted to schedule this ride for 18th – but you can't get further east than Lewes by train that day for similar reasons. And although we go very near some bits of the last ride there are only two miles or so on the same roads – and in the opposite direction from last Sunday!

We leave Glynde station and take our time to get up the little hill that goes past Glynde Place (we'll look in there for tea in the summer). Then past the fields of alpacas and llamas (if they're out) behind Glyndebourne and by little roads – including the splendidly named Potato Lane to the outskirts of Ringer. Across the main road and round through Norlington, then northwards past the Bentley Wildfowl entrance and across the A26 to High Cross and Palehouse Common (glimpses of the grandiose Hoogstraten 'palace'). By little roads to East Hoathly for lunch at the Kings Head. On the way back, after a nasty but mercifully short bit of the A26 we will neatly bisect our muddy route of the last ride (at right angles, on a proper road, and heading downhill!) through Vert Woods and then by 'narrow roads', skirting Ripe, then a slightly bigger one and back to Glynde by a deserted bit of the old main road and the cycle path along the A27 for a short spell.
Catch 10.20 from Brighton Station or meet at Glynde Station at 10.37. Aiming to return by 15.53 arriving Brighton at 16.12. [But by then even the next train, the 16.53 arriving Brighton 17.12 will be OK with the evenings getting lighter all the time.]
Points of Interest
Glynde Place is an Elizabethan courtyard house dating from the 1560s. Near Norlington, as Roger reported when we passed that way last August, 'The most notable landmark en route was a roadside plot with two small bumps which, allegedly, are the graves of two men who died in a duel nearby in 1800. There was some debate about why there were two graves, since a duel usually has a winner and a loser.' Hoogstraten's folly I've already mentioned. The pub at East Hoathly, as I reported when we visited it early last year, by a different route, featured in 1990 in The Hidden Places of Sussex – by Anon but with a foreword by Angela Rippon! – which tells us 'The history of this pub is written in the diaries of Thomas Turner, who worked as schoolmaster, haberdasher, grocer and undertaker, and who divided his spare time between drinking, quarrelling with his mother-in-law and keeping a diary which he began in 1754.' So, there you have it!
The Last Ride – Roger's Report, photos by Jim

Sunday 18 February 2007
Berwick to Chiddingly

Joyce, Tessa and Roger met at Brighton station to catch the 10.20 to Berwick. Jim and Jeff joined the train at Lewes.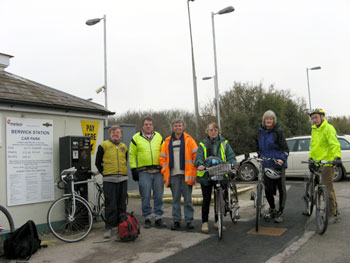 Jeff, Ian, Jim, Joyce, Tessa and Roger at Berwick station

Jeff had a fascinating map with him, made by his great uncle who had been an RAF navigator during the second world war. It consisted of ordinance survey maps of southern England pasted into an impressively bound book. What made it special was the way each page folded in the middle and thus covered a much greater area than you would have expected. Very useful when navigating a plane, and also for cycling.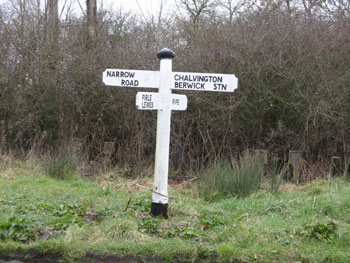 Very informative!
Ian was on the platform to greet us at Berwick. After the usual group photo we set off towards Laughton, passing a farmyard en route in which a Dalek was sitting watching the world go by (honestly!).
Ah, this is better....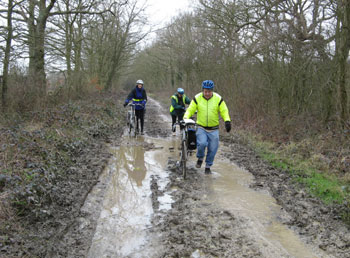 Oh no it isn't!

Things started to get really exciting as we entered the Vert Woods. About 200 yards in, the concrete track turned to deep, mushy mud, dotted with even deeper puddles. We stopped and were considering an alternative route on the main road when a cyclist coming the other way assured us that the mud only lasted about 100 yards. So we ploughed on, discovering that the advice was only partly true, as further patches of almost unpassable mud added to the fun along the way.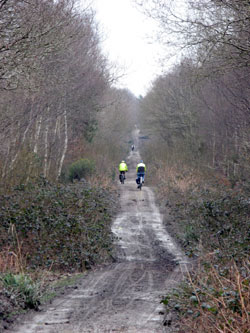 The road goes ever on...

The trick with cycling in mud is to get in a low gear and just keep going, which is fine so long as the people in front do the same. If someone stops, those behind have to stop as well, with much less choice about where to put their feet. This was well illustrated at one point when those up front could hear Joyce getting more and more excited at the rear. So we stopped to find out what she was saying, which turned out to be 'Don't stop! Don't stop!'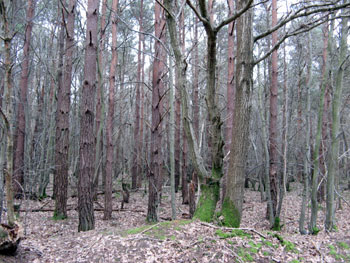 Vert Wood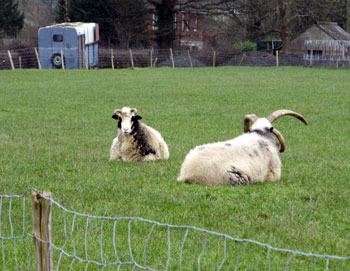 A fine pair of horns

All of which made the sight of a normal road with cars on it quite attractive, especially as it led to the Six Bells at Chiddingly where we enjoyed welcome refreshments and some nice swing-style jazz from a live band.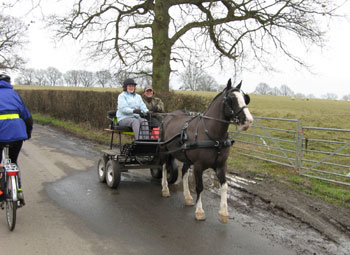 That's the way to get around!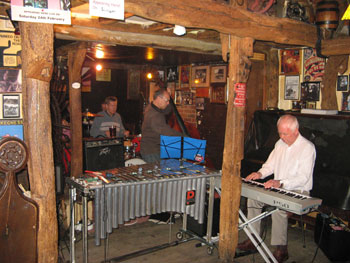 Jazz at the Six Bells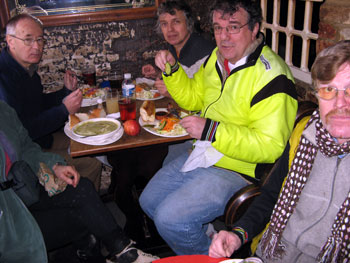 Lunch in our cubby hole

On the return journey we decided to deviate from the planned route a bit so as to catch an earlier train. This decision was only made after extensive consultation by our leader with all members of the group (honestly!). So we arrived at Berwick with about 15 minutes to wait for the train, just time for those who wanted to wash the mud off their bikes, using water and brushes found in the car wash at a nearby petrol station.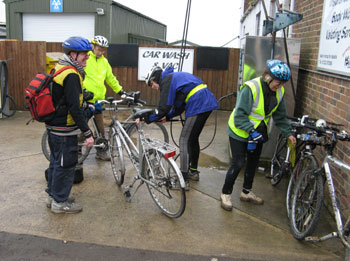 Washing the mud off

Many thanks to Ian for leading an enjoyable outing – and next time you see him, don't mention the mud!

Roger