Dear fellow members and friends
19 December 2005
Merry Christmas and Happy New Year!
It always comes as a surprise that 23 December is the 'shortest day' – I know it is but somehow it always seems that it should be about a month or so later – especially this year when we've had 'autumn' leaves well into December. But for us it means that, gradually, we can plan to get back from rides a bit later without risking unpleasant riding in the dark or having to think about lights.
New Year is a time when people sometimes make resolutions to get out on their bikes again, so with that in mind the first January rides are both very short and pretty 'flat' – especially the New Year's Day one. I had planned to move on next to a ride based on Hassocks station but they seem to be digging up the main line both on 29 January and on our previous Sunday (15th) I think they do this on purpose to thwart Neil! The ones I've planned for February are OK though (neither starting from Hassocks)
March Rides
I said last time that I was going to miss 26 March and 9 April but I now realise that I can't make 12 March either. Neil has already volunteered in principle to organise at least one of these, but please don't let that deter anyone else from taking one on. Not urgent at the moment but seemingly distant dates have a habit of suddenly catching up with you.
One thing to bear in mind is that I'm not much into 'off road' cycling – though I do incorporate some of the more civilised 'tracks' and trails into rides from time to time. So these 3 dates would be a good time for those with more of a taste for what used to be known in cycling circles (back in those innocent days of the 1950s) as 'rough stuff' to indulge in something more adventurous of this kind.
2006 AGM
Just a reminder to all members – especially 'office holders' Please let me know dates and or days of the week when you can't make it – or ones you'd prefer. I have to give 21 days notice so I have to nag a bit about this.
For contacting me 'on the day' please note my new mobile number, 07747 307892
Boots!
Ian
The Next Rides
 
NEW YEAR'S DAY – SPECIAL BRUNCH RIDE
 
Since our next 'Clarion Sunday' falls on 1 January I thought we ought to do something – but something minimally energetic. It may sound a bit repetitive given the most recent ride and the one next Sunday but I'm proposing a gentle canter out to Carats Café for a late brunch. I'm hoping that this easiest of starts to the year may tempt out some of those we seldom see – or even have yet to see.
 
Meet by the Palace Pier at 11am – or along the route at e g Maroccos. Only about 9 miles – plus from home and back to the Pier.
Sunday 15 January
Berwick Circular – only about 14 miles
This is the one we did at the end of January this year (and we can make it c 3 miles less by cutting out Selmeston if that's the vote on the day. Could hardly be easier) 
All on quiet and pleasant country roads from Berwick station to Chalvington and Golden Cross then back down to Ripe (possible stop at The Lamb) then Selmeston (tea rooms?) and back to Berwick (with another 'tea' opportunity at the Berwick Inn next door to the station.
Catch10.20 from Brighton Station or meet at Berwick Station at 10.43. Aiming for return by either the 14.48 or the 15.48 which get back to Brighton at 12 minutes past the hour. All are Southern trains and involve no changes (unlike last year).
 
The Last Ride

Sunday 18 December
Shoreham Fort and Airport – Roger's Report.
 
Brilliant winter sunshine and a clear blue sky greeted the impressive crowd of cyclists who assembled at Brighton's only remaining Pier, on the Sunday before Christmas.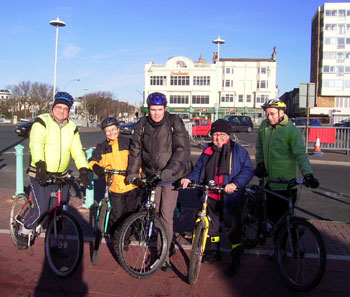 Ian, Suzanne, Neil, Fred and Roger outside the Palace Pier
 
Ian, who was one of the last to arrive, must have thought that his promise of a 'no hills' Christmas treat had attracted a record number of members. In fact the majority were the start of the Bricycles 'Rolling Lunch'. We let them go first (so as not to show them up), which left five Clarion riders – Suzanne, Neil, Fred, Ian and myself- plus Mei who joined us en route in Hove.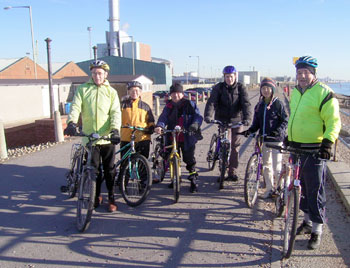 Roger, Suzanne, Fred, Neil, Mei and Ian outside Carats cafe
 
Fred persuaded a Bricycles straggler to take our group photo, then we set off westward along the cycle path. We had a short stop at Carats Café to debate whether to go in to warm up, and also whether 'Carats' should have an apostrophe. After some foot stamping and finger flexing to get blood flowing we decided to skip coffee and push on towards Shoreham.
 
We walked over the footbridge to Shoreham Beach and made a short detour to see the old fort at the harbour entrance. Ian gave us a bit of the history: it was built in 1857; the 'caponiers' or small buildings attached to the east, south and west sides were to protect the troops from pebbles thrown up if cannon fire hit the shingle in front of the fort; they also served as WCs.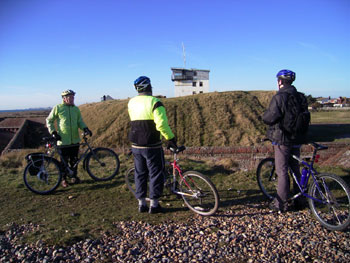 Roger, Ian and Neil admire the fort
 
Our destination was another historic, though more recent building, the 1936 art-deco terminal building at Shoreham Airport. The attraction was not so much plane spotting as the good food and beer in the airport bar.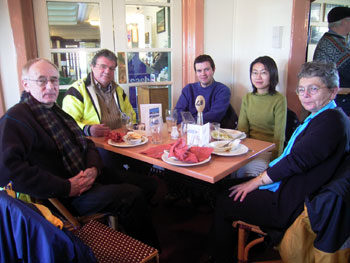 Roger, Ian, Neil, Mei and Suzanne after lunch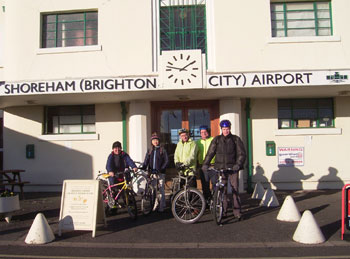 Fred, Mei, Roger, Ian and Neil outside Shoreham airport
 
The lunch break was enlivened by some well-informed discussion of cycle paths, 24-hour licenses, the nature of bureaucracy, and the lack of good music in the hit parade. Then back into the cold for the return ride, by an inland route over the Old Shoreham Bridge.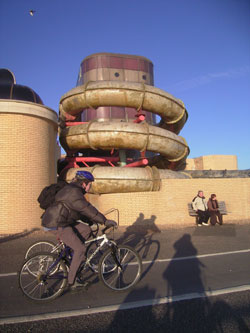 Neil and another cycle past the doomed King Alfred building
 
As we said our farewells back in Brighton the sun was just staring to disappear behind a bank of cloud. Perfect planning!
 
Roger