Dear fellow members and friends
19 August 2005
First news from our very own Dynamic Duo. Two reports from John below still hoping to hear Bob's side of the story! One is of the London – Edinburgh – London ride.
John says:'For the record it took me 112 hours and 20 minutes of which 77 were in the saddle, 14 asleep and the rest off the bike, mainly eating (my HRM tells me that I used 43,000 calories on the ride and I know that I ingested around 18,000 of these at the stops with the rest coming from my ample fat reserves). Bob finished well over an hour and a half before me but I will let him tell his story. Suffice it to say that the experience was wonderful in many ways, particularly the scenery and the camaraderie'. Full report below.
John also sent an account of a ride he did in eastern Germany after completing the LEL. See below also. Since there's lots in the report line I'll just repeat the details of the next ride and hang fire on plans for the one after that until the next circular.
Boots!
Ian
The Next Ride
Sunday 28 August
A Different Take on the Cuckoo Trail
The Trail is popular because it's car-free and the gradients are gentle. We've gone straight up and down it; we've gone up it and returned via the Pevensey Levels to the East; and we've used just the bottom of the Trail near Polegate as a jumping off point for other rides. This time, we'll base ourselves on Berwick (NOT Polegate) Station, follow the National Cycle Network route to the Cuckoo Trail, ride up it as far as Horam and return on its Western side, pausing for lunch at the May Garland, via Gun Hill, Golden Cross and Chalvington. At that point we'll decide on the day whether to make directly for Berwick Station or – adding or three or four miles - to make a diversion to the tearooms at Selmeston. Otherwise c 23 miles
I did a recce of the NCT route from Berwick to the Cuckoo Trail a few weeks ago. It starts off on pleasantly quiet roads but the 'track' bit includes two or three stretches of loose stones (need a steamroller or modern equivalent down there!). But they are negotiable and short enough to walk past if we don't fancy riding over them. Shouldn't be a problem.
Catch 10.14 from Brighton Station (no changes) or meet at Berwick station at 10.41. Direct trains back at 34 minutes past the hour.
The Last Ride – Helen's Report
(written at Glynde Place)
Sunday 14 August
Glynde – East Hoathly – Glynde Photos by Ian
Trains do take some of the strain and are reliable if not cheap, some of the time – most of all today when I was late due to the traffic crawl between Lewes and Glynde where a 'famous five' cyclists were awaiting – namely Ian, Tessa, Angie and first timers Roger and Mei.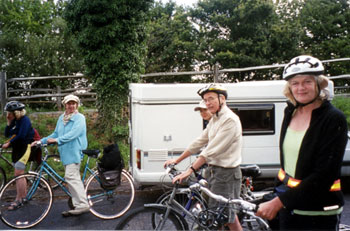 Helen, Angie, Mei, Roger and Tessa
We headed uphill south of Glynde to the A27 and eastwards, turning north to Ripe and then on to Golden Cross to cross the A22. The pull and draw of the Six Bells at Chiddingly was hard to resist. We sat outside in a beautiful sunny spot with jazz in the background wafting with the culinary delights from inside.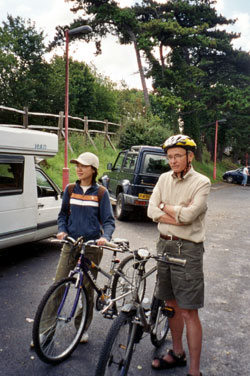 Ready to go – Mei and Roger at Glynde station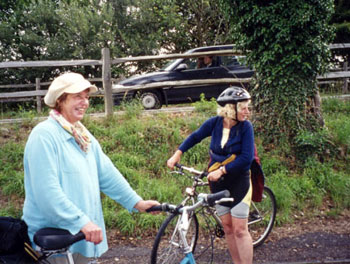 Angie and Helen at Glynde station
On, with waterproofs on and off several times – but eventually more off than on. We pedalled on to East Hoathly – where disappointingly the tea-shop was closed even to browse the crafts on sale there. Back along and across the A22, a sigh of relief on quieter roads again. Reassured that my bike was intact because at least one of the others noticed juddering on their bike we rode to a next stop – the llamas.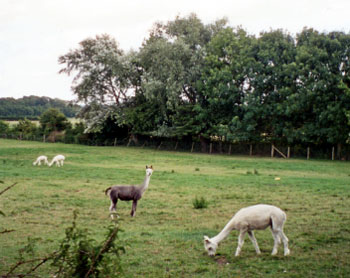 Llamas
They held our attention for a while as they for a while as they paraded their wares/assents – real fashion icons. Then round the corner as we dealt with the hill, our attention was diverted to seem them pronking by the field full.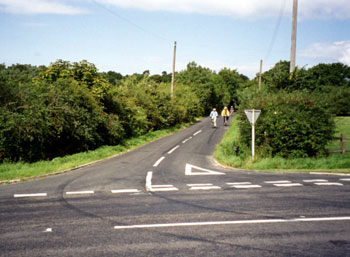 Nearly home!
The lovely downhill was curtailed by having reached our delightful tea stop at Glynde Place and with the slight diversion of the church with flock fabric on the walls. The sun shining and clear skies, sitting outside in the garden the conversation flowed. Eventually we tore ourselves away for the 'arduous' short downhill back to the station. A lovely day had been had by all. Hope more of you will join us next time.
Helen
London Edinburgh London 2005 – John's report
Every four years Audax UK, the long distance riding association of the UK, organizes London – Edinburgh – London, or LEL. Bob Harber and I were among the nearly 300 entrants who set off on Saturday 23 July with the goal of covering 1400km before the early hours of Thursday 28th. The run is non-competitive but you must visit set control points within the overall time limit of 116 hours 40 minutes. Randonneurs (as we call ourselves) are expected to be self-sufficient although on this 'super brevet' we had the comfort of the occasional motorcycle marshal along with drop bags of spare clothes at strategic points.
There are two starting options, either Lea Valley Youth Hostel just north of London or Thorne Rugby Club near Doncaster. Both cover the same route starting northwards but we elected to start at Thorne to get the northern hills over first while our legs were still relatively fresh.
Our ride from Thorne started at 08.15 on Saturday 23' July. Bob was soon off riding with the fast boys and I then suffered the indignity of a 25 minute wait for the Boothferry swing bridge to open and close, thus falling further behind. The first part to Stamford Bridge was flat, we then climbed through Castle Howard and stopped at the first control at Hovingham. On to Eppleby, rolling hills followed by a flat piece before climbing up Teesdale and over Yad Moss. Down through Alston and on to Canonbie which was at 290km where I planned to sleep, arriving at just after midnight. The trouble was that everyone else had the same idea and there was no space on the floor in the community centre so I found a nook on the stage and had three hours of non-sleep.
I left at 4am (Bob was already long-departed) and rolled the 110km to Dalkeith via Ettrick, climbing 1200 metres on the way. Wonderful scenery with sheep threatening to run on the road all over the place. I had a shower and change of clothes there (a drop bag point) and set off back over the roller coaster to Canonbie. Bob and I agreed (he was leaving Dalkeith as I arrived) to meet at Langdon Beck that night.
The route was slightly easier back towards Canonbie as the climbs are shorter escarpments and the descents form the dip slopes. It was after 8pm by the time I had eaten at Canonbie and then I was on my way to Alston which I reached at 1am after some pretty stiff climbing from Brampton. The night was pitch dark and the road was almost awash with rabbits whose white tails flitted all over the road in my headlight, quite disconcerting.
Bob was asleep on the control floor (Alston Youth Hostel). Neither of us was keen on climbing Yad Moss in the inky darkness at that time of night. We grabbed two beds, showered and left at 6am, winching our way up to the pass and then freezing on the run down to Middleton (Langdon and Alston were alternative controls to one another so we did not have to stop again). I was perishingly cold so we invaded a warm bakery (Bob has a seasoned eye for spotting these places) and wasted an hour and a half whilst eating much of what they had on offer! On to Eppleby (there we heard that Jack Eason, to be 80 in October, had been advised to pack on medical grounds when he arrived from London, a great shame) and Hovingham, thence to Thorne (another change of clothes from the car and a shower in the rugby club) before reaching Lincoln at 3am on Tuesday morning. Up at 6am and off on the relative flatlands to Thurlby and Gamlingay. Our intention had been to get to Lea Valley and back to Gamlingay for the last night but it was nearly 11pm when I arrived at the Lea Valley YH and I decided to sleep there. We left at 4am and the main drawback was that it had begun to rain stair rods which stayed with us until early afternoon. We had 300km to go and 24 hours to do it in.
Gamlingay at 8am, Thurlby around 2pm, Lincoln at 7pm (I lost 90 minutes due to bad navigation) and then I rolled back the last 80km with another rider to finish at 00.35 on the Thursday morning. Bob had arrived 90 minutes ahead of us.
This was a great ride, different from Paris – Brest – Paris with fewer riders, more varied and spectacular scenery, a greater feeling of being alone on the road and significant temperature and climate changes. On the other hand, nothing can compare with the atmosphere of PBP. It is not easy to compare relative difficulty but I would say that PBP is more demanding overall but LEL has some specifically harder parts.
LEL was a great experience and very enjoyable from all points of view (except that of my behind!). It took me 112 hours 20 minutes, just outside my target of 110. I spent 77 hours in the saddle, 14 hours sleeping and the remainder eating, refuelling, showering or getting lost. My plan had been to ride 4 times 300 and one 200, in the end the order changed slightly to 3 times three, one 200 and a final 300.
Bob and I are now looking at next year's 'super brevet' in Germany, 1500km from Hamburg to Berlin, Cologne and back to Hamburg.
John Hopper
The Elbe Cycle Route Dresden to Hamburg, July – August 2005 - John reports
I elected to ride the Elbe Radweg in the second half of my annual holiday as a relaxing follow-up to London - Edinburgh - London Audax which Bob Harber and I had completed the previous week.
I flew with the bike to Hanover and took a series of trains to Dresden, booked through the German Railway Service in Sutton which ensured that my bike had its own numbered and reserved berth on the Inter City services. I arrived in Dresden just before a thunderstorm but the air had cleared by the time I was ready to move off the following morning. I had done the magnificent sights of Dresden the last time I was there so I did not linger on this occasion. Nonetheless, it is a city to which a day can easily be devoted.
Leaving Dresden by the cycle path running past the hotel along the river bank I journeyed the first day through Meissen, 'Saxon Switzerland' and along the Saxon Wine Route before reaching Torgau, a beautiful mediaeval town about 90km downstream. On subsequent days I stopped in Wittenberg-Lutherstadt (a definite must for anyone with a sense of history and the Reformation), Magdeburg, Havelberg, Wittenberge and Hitzacker before reaching Hamburg to fly home a week later, a total of around 600km.
En route I discovered historical sites relating to the Thirty Years War, the Napoleonic wars and much to commemorate the Second World War, remembering that the Allies and Soviet forces met on the Elbe. Other more peaceful sights include the stork sanctuary in the village of Ruhstadt where huge nests with brooding storks sit on top of the houses. The ferries, at 50 Eurocents a trip, were a delight, running on demand to take cars and cyclists over the magnificent river. Eateries were plentiful and served excellent wholesome food at low cost.
The region suffers from relatively high unemployment and, apart from the towns, the rural route is sparsely populated. Riding beside the river reminded me of the peace and quiet of the Great Ouse I knew in my childhood in the 50s and 60s. The route follows both sides of the river and is well signposted. It is also flat (I climbed 75 metres in the whole week!) running very close to the river most of the time.
Having booked hotels at manageable intervals I had a goal to achieve each day however the accommodation is plentiful and even in high season I could have found somewhere each night without a problem. It is also cheap by our standards with bed, private facilities and full buffet breakfast for around 35 Euros a night. Anyone who wants to ride the route and take shorter days will find no lack of accommodation throughout the route, even in high season.
The overall route runs from Prague to Cuxhaven on the North Sea coast and is well documented in the guidebooks produced by Esterbauer. You can join it wherever you like, you usually have a choice of both sides of the river to ride on and the surface is generally good, much of it with asphalt but with a good sprinkling of cobbles and hard gravel pathways. My tyres were 28s and were fine but I would advise wider if you have them. Note that the section from Prague to Dresden is still largely unfinished .
This is a delightful and non-strenuous route, accessible by plane and train and also the boat to Cuxhaven form Harwich. I will be pleased to offer suggestions or give advice if anyone is interested in organising a trip.