Dear fellow members and friends
18 March2005
Now we've been at it for a year – give or take a week or so – we can repeat some of our earlier rides without it being too boring.
Next Rides
Sunday 27 March [Easter Sunday] 
Easiest bike ride – ever!
Maximum = 24 miles with no hills.
Fred's debut ride as organiser – ideal first ride of the year or for anyone returning to cycling. Train to Polegate, up the Cuckoo Trail (sheltered disused train line covered in tarmac so very flat), through Hailsham housing estates, to Heathfield (if the will is there) and back.  Possibilities for lunch  at pub in Heathfield or Railway Inn in Hailsham if the Golden Martlet at Hellingly proves to be still closed. In any event a welcome afternoon tea on the way back at the Old Loom Mill, within spitting distance of Polegate station. 
Catch 10.14 from Brighton station to Polegate, Southern, no changes, or meet at Polegate station 10.46. Return 15.28 (arrive Brighton 16.02) or 16.28 (arrive Brighton 17.02).
Call Fred on 01273 697962 ( or 0794 168 1096 on the day) to confirm participation.
Sunday 10 April  
Upper Beeding 
C 25 miles Palace Pier to Palace Pier – adjust for your own starting point.
Meet 10.30 by Palace Pier (cycle track is now fully open). If you live at the Hove end I suggest joining us near the King Alfred – outside Marocco's café on the seafront where the cycle track goes round the houses. We can wait for you there if you're going to be late – as long as I know. Phone me before 10.10 on 682133 or after that on my mobile number 07787528433. Total distance is about 25 miles (Pier to Pier).
We'll follow the same route as on New Year's Day – subject to the Coastal Link track being dry enough and as last year have lunch at the Bridge at Upper Beeding. – in the garden if it's warm enough. For the return, as last year, but this time with Ed still with us (if participating) we'll cross onto the Coombes Road near Botolphs and then go to Shoreham Airport for tea.
Architecture notes (for Fred especially)
After the seafront and Shoreham Harbour we'll be passing near a number of medieval churches – including the two Romanesque-Gothic Transitional ones in Shoreham, St Mary de Haura and St Nicholas. Near the latter where we'll join the Coastal Link along the track of the old railway line, there's a very good view across the river of Lancing College Chapel, described by Ian Nairn in The Buildings of England of expressing perfectly 'that elusive dream of the Gothic Revival'. At Bramber there's the ruins of the castle and what's left of St Mary''s 15th century house and on the way back more survivals from the Middle Ages in the parish churches at Botolphs and (my favourite) the tiny 11th century one at Coombes before we get at least a distant glimpse of the terminal at Shoreham Airport which was used in at least one episode of Poirot to impersonate a Croyden airport.
The next ride(s) after that will be the New Forest Youth Hostel Weekend on 22 - 24 April which Joyce is organising.  Here's her message again. Please get in touch with her via Joyce.Edmond-Smith@brighton-hove.gov.uk if you'd like to take part.
This is final call for any takers. Burley is situated in the New Forest - 5 miles from Brockenhurst station, for those going by car the address is Cott Lane, Burley, Ringwood ,Hampshire OS 195,GR 220028. Telephone 0870 770 5734.
Accommodation is in dormitories – no need to bring bedding, you can hire sheets very cheaply, but you will need towels (and if you wish you can bring a sleeping bag).
Since some people are not members we will need to get a 'group membership' – which will cost £25.50 and be divided between the non-members.  Price per night is £12.50.
The idea is to do some cycling and return on Sunday afternoon. Sheila and I will be going on Friday, to arrive early evening. I expect others will come on Saturday morning. We could arrange to meet up either at the hostel or a village in the forest (here's where mobile phones have their uses).
I need to finalise numbers – and send a deposit so confirmation would be
welcome.                                                       
Joyce Edmond-Smith
Report of Last Ride – by Liz
Sunday 13 March
Albourne – Goddards Green – Bolney – Twineham c 20 miles
The second Sunday in March provided a good day for the ride from Hassocks.  Taking in mostly lightly trafficked lanes around Burgess Hill and Hassocks, we could always see the Downs, and sometimes looked across at almost the same level!  We crossed the A23 more than once, and although if we listened hard the traffic could be heard behind the larks, the overwhelming impression was of quiet country.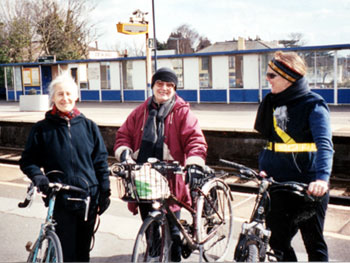 Hassocks staion with Sue, Joyce and Liz – Ian's photo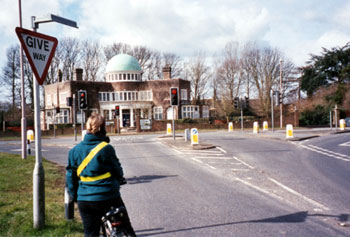 The former Kings Head at Albourne – Ian's photo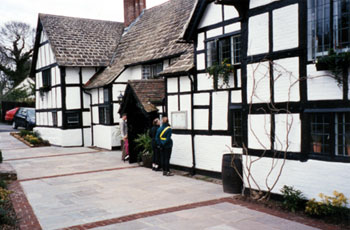 Checking out the Bolney Stage – Ian's photo
Lunch and an open fire at the Eight Bells in Bolney made it a good day out for the four of us: Sue Pringle, Joyce, Ian and myself.
Liz
Boots!
Ian