Dear fellow members and friends
17 February 2005
New Forest weekend
Got the dates slightly wrong last time – sorry. Should have been Friday 22 to Sunday 24 April. Joyce has had some response already, but would like even more! Contact her on Joyce.Edmond-Smith@brighton-hove.gov.uk. Below are details of the Clarion Easter Meet which I've been asked to circulate. And see further below for Fred's report on last Sunday's ride.
Boots!
Ian
The Next Rides
Sunday 27 February   
Polegate – Pevensey Levels – Normans Bay – Hooe – Wartling – Polegate  
25 miles
Bit longer but still pretty easy going, this combines some bits of rides we did last year – albeit not always in the same direction – and some new bits.  We kick off as though we're going along the Cuckoo trail but turn off almost immediately along a connecting cycle route that takes us out onto the Levels and then down to Pevensey. Then we continue down to Normans Bay and into the outskirts of Bexhill. Then there's a couple of miles of suburban road before we're out on the open Levels again near Gotham (OK he can bring Robin too if he insists) and on to Hooe Common, Hooe and Wartling before dropping down again to Rickney, and heading across to join the Cuckoo Trail just up  from the usual tea stop.
Pubs. I'd welcome advice on this from anyone with more up-to-date info. The Star at Norman Bay was closed last time we went that way. A better bet might be the Red Lion at Hooe.  I was there in 1996 – but I can't remember anything about it – and it might well have changed in the meantime anyway.
Catch 10.21 from Brighton Station or meet at Polegate Station at 10.48. Aiming to return by 15.28 from Polegate arriving Brighton at 15.56 or 16.28 arriving 16.56. All Southern trains. No changes.
Sunday  13 March 
Albourne – Goddards Green – Bolney – Twineham   
c.20 miles
If I describe this ride as 'either side of the A23' it may sound uninviting – but it is fascinating how very 'rural' it can be – apart from the distant rumbling of traffic to those with very sharp ears,  This uses mainly quiet country lanes – unavoidable 'suburban' stretches at start and finish – and two different bits of the old A23 now designated as part of the cycle route which you may remember from before the road was turned into a motorway in all but name.  We join the first by that  distinctive domed  former pub  – the  King's Head with its green copper cupola, now a computer firm's HQ – near Albourne and go through Sayers Common before crossing over to the east side of the A23 and going up through Goddards Green and eventually recrossing the A23 near Bolney to the second part of the old main road. When I recced this ride last summer the famous Bolney Stage  pub had just been renovated and was about to re-open (Though no sign of the stage coach that used to stand outside).  I suggest we make this our first choice for a pub lunch stop – though there is also the Eight Bells  and the Queens Head within a few hundred yards.  The quiet roads down through Twineham are mostly flat when not positively downhill.
Catch 10.58 from Brighton Station or meet at Hassocks Station at 11.08. Aiming to return by 15.40 from Hassocks arriving Brighton at 15.51 or 16.40 arriving 16.51. All Southern trains. No changes.
Report of last ride by Fred
The Hassocks circular took us to the heart of 'horseyculture' territory, with a trip past paddocks, fields and a race course, all under the shadow of the South Downs and Ditchling Beacon. The weather was bright but cold, and there had been a downpour that morning. Joyce and I met at Brighton Station, where the queues for the tickets office seem to be getting longer. We met Ian (sporting a new head warmer) at Hassocks station and set off towards Hurstpierpoint hoping for a glimpse of Greta Scacchi's house, but, as we didn't know where it was, made do with Danny Park, an Elizabethan/Georgian pile over the fields in the distance. Whistling 'Danny Boy', we pedalled on to Clayton, enjoying views of the Jack and Jill windmills and the castellated Tunnel Cottage (1840), perched on top of a tunnel entrance on the London-Brighton line.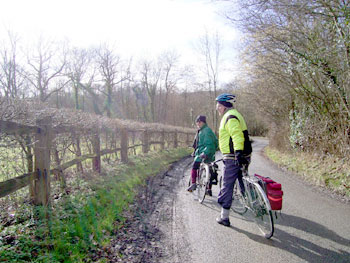 Joyce and Ian take in the view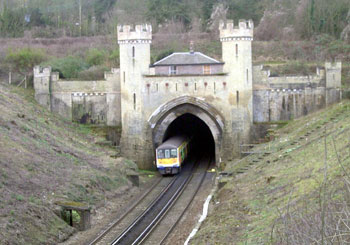 Clayton tunnel
At Clayton we consulted Ian's copy of Pevsner while waiting for the service at the church of St John the Baptist to end. Inside, the walls are covered by faded but graphic wall paintings depicting the Last Judgement (c.1100) and there's a Brighton-built organ similar to the one we saw at St Botolph's.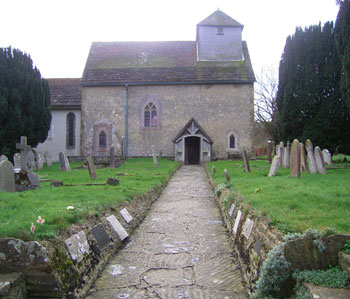 St John the Baptist, Clayton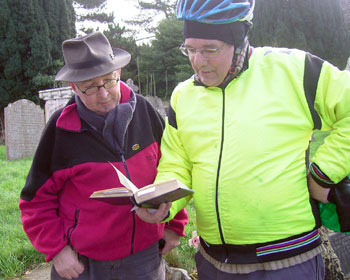 Fred consults Ian's Pevsner
Then we cycled east with the looming South Downs to our right and wide open spaces to the north on our left. At the foot of the Beacon we debated briefly about taking a detour up that mountain but decided to leave that pleasure for another day!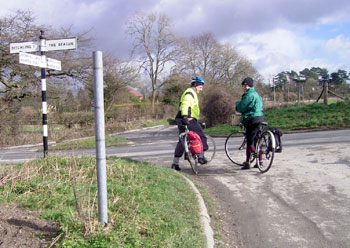 To the Beacon? Maybe not today!
We hurried past the 'over-restored' St Martins at Westmeston and the fruity smell of Plumpton Agricultural College to stop at the Half Moon, just as a few snow flakes began to fall.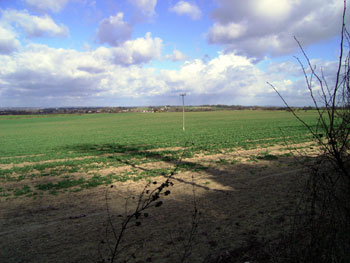 View to the north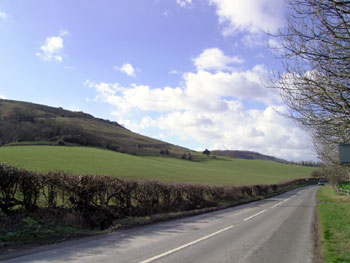 The South Downs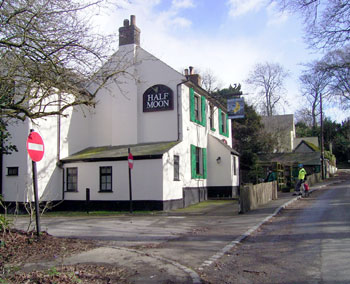 The Half Moon, Plumpton
At lunch and a welcome glass of Harvey's Old, we were delighted to be joined by Richard and Sharen, who had missed the train because of the long queue at the ticket office and cycled straight to the pub from Hassocks.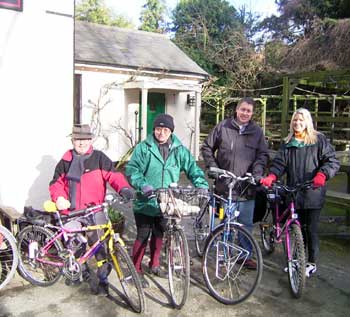 Fred, Joyce, Richard and Sharen
The second half of the ride was much more suburban, through Plumpton Green, skirting Burgess Hill, and through Keymer. We stopped briefly at a memorial to the Polish Spitfire pilots of RAF Chailey outside The Plough pub.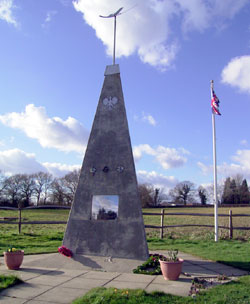 RAF Chailey memorial
The little tiring hills seemed to get more frequent and we had to race to make the hourly train, no time to bid farewell to Ian, and upon which we met a couple of Bricycles riders who had been to the Worth Way. Failed to see Lutyens' Plumpton Place and Oldland Windmill – maybe because we had our heads down against the icy wind! About 18 miles.
Fred