Dear fellow members and friends
17 February 2006
I hope everyone received my last message with the AGM minutes etc attached. Let me know if not.
As reported at the AGM we had 26 paid-up members at the start of the year. I've had subscriptions or – just as good, messages confirming intention to pay me when they see me – from 16 members (including the 3 people who joined at the end of 2005). I know that one member is out of the country at the moment – which leaves 9 I'd still like to hear from. If you haven't done so already please reply to this circular with an email saying (I hope) 'count me in for 2006' or words to that effect. I intend to pay all our national subs in one go at the beginning of March – which is approaching rapidly!
 
As I've said a 'message of intent' will do fine, but if you want to post your subs to me, my address is 104 Bonchurch Road, Brighton BN2 3PH. We haven't a Clarion bank account yet, so please make cheques out to me, Ian Bullock.
And if you're a 'friend' rather than a 'member' – how's about it? Download a membership form and follow the instructions there or e mail me and I'll post you one.
As well as the details of the next rides and the report of the last one, this circular includes the long-awaited details of Brian Hutton's 'super-hilly' training ride from the 1950s and some more about Clarion members involvement in the Spanish Civil War.
Boots!
Ian
The Next Rides
 
Sunday 26 February
Hurstpierpoint – Hickstead – Twineham – Wineham – Blackstone (late risers' special) c 22 miles
 
Taking the little roads past Hurstpierpoint College crossing the main A27 (by bridge) at Hickstead, more quiet lanes to Twineham then a loop up round the A272 and back to Wineham where we'll stop for lunch at the Royal Oak – such a pleasant surprise when we did a similar (but not identical) ride last September. Then down to the pretty hamlet of Blackstone and via Bramlands back to Hurstpierpoint and Hassocks
 
Catch 11am from Brighton station or meet at Hassocks station at 11.10. Trains back are at 38 minute past the hour.
 
 
Sunday 12 March
Centurion Way and loop towards the Hampshire Border – about 19 miles
 
The problems with what we've done on the Centurion Way to date have been 1) the unpleasant bit of main road between West Dean and the turn-off for the Lavant Valley … and one or other of the fairly big hills to climb out of it before gliding down to Chichester.
 
My idea is to take the trail as far as Lavant and then head west through West Stoke and Funtington to Woodmancote (which is quite near to the Hampshire border) where we might have lunch at the imaginatively-named Woodmancote Arms.
 
Then we head back towards Chichester, at first paralleling the main road but then veering north-east to rejoin the Centurion Way at the access point below the one we left at. From there we return to Chichester.
 
Catch the 10.17* from Brighton or meet at Chichester station at 11.20. Best trains back 15.15 – arrives 16.00 or 15.53 arrives 16.56.
 
* There is the possibility of changing at Hove for a faster train. Both are Southern trains but changing platforms at Hove can be awkward so let's stick to the slower version.
 
The Last Ride – Neil's report
Sunday 12 February
Pevensey Levels & Herstmonceux
 
I'd begun to think that the Clarion had some special dispensation protecting it from miserable weather. I joined in the summer and the dry sunlit rides seemed to continuing well into the Autumn.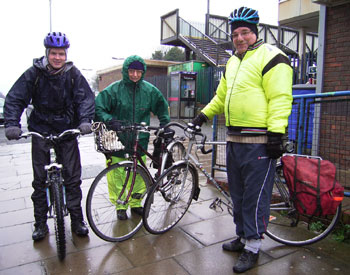 Neil, Joyce and Ian ready for any weather
 
No such luck today. The forecast was for persistent rain and that, along with a chilly wind, was exactly what we got. Undeterred, Fred, Ian, Joyce and myself met up at Polegate Station. There's something bleak about Polegate Station at the best of times and as the wind gusted and the rain fell the prospect of a 23 mile ride seemed, momentarily at least, a less than attractive option.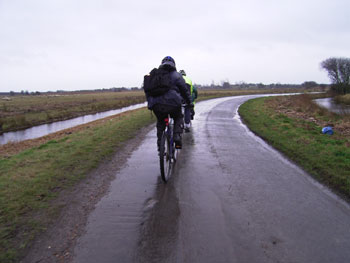 Single-file through the Pevensey Levels
 
Things seemed much better as we made our way onto the Cuckoo Trail and, turning onto the Pevensey Levels a relaxed mood and pace seemed to have settled in. Our first hour or so of riding was accompanied by the distant and occasionally not so distant sound of shotgun fire. I looked round for some indication as to the direction it was coming from – scattering rabbits, wildfowl dropping from the sky, Dick Cheney's motorcade fleeing the scene – but there were just no clues to be had. Joyce reassured me that the likely targets were clay pigeons and I satisfied myself with that explanation.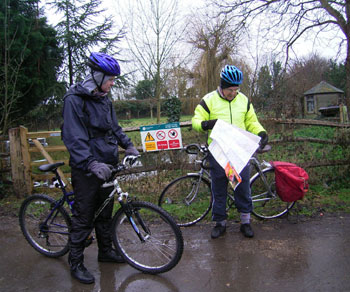 Ian consults the map
 
We passed Chilley Farm and my toes seemed to take this as a reminder of the conditions. As I was trying to wiggle them back to life I looked up only to see Ian passing in the opposite direction. When I caught up with him, Ian was consulting his map and explained that we'd missed the sign for Herstmonceux. We headed back towards the gunfire and found our turning.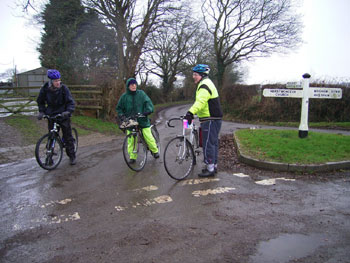 Back on track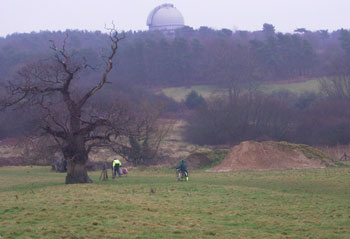 Across the muddy bridleway
 
As the long road across the Levels reached a junction we stopped to discuss the conditions and the possibility of detouring away from our bridleway route at Herstmonceux Castle and the angry man on the gate (who I'd not personally encountered but had read about in previous circulars). Undaunted we decided to press on as planned.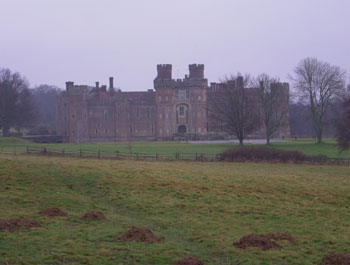 Herstmonceux Castle through the gloom
 
There was a sense of anticlimax as we cruised through the unmanned entrance to the Science Centre and set about finding the bridleway. We all missed the sign and carried on into the Science Centre car park. Our movements had not gone unnoticed and within seconds a car drew up alongside us. The window wound down to reveal another (different) angry man who's expression suggested that we were by no means the first people to have missed the bridleway. He turned his car and herded us back onto public land.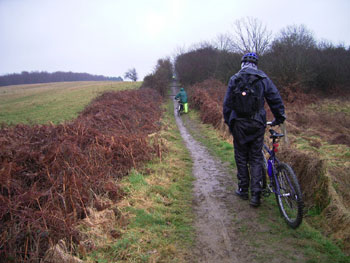 Up the other side
 
The rain had taken its toll on the bridleway and we headed carefully through the mud. The Castle and Science Centre looked impressive in the surrounding countryside but I couldn't help wondering what they do or keep in there that warrants such security.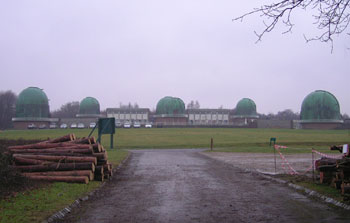 The highly secure Science Centre (from the bridle path)
With some relief we rejoined the main road and decided to get lunch at the next pub we passed. This turned out to be the Horseshoe Inn at Windmill Hill. The chalkboards outside suggested that we might be restricted to Sunday roast. Joyce and Ian debated whether to carry on to the next pub but the lure of shelter got the better of us and we were rewarded with a decent bowl of soup.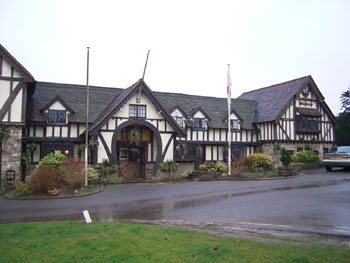 The mock-Tudor splendour of the Horseshoe Inn
With the rain persisting, we headed back over some hilly roads eventually rejoining the Cuckoo trail just north of Hailsham. We dodged the dog walkers and counted down the miles to Polegate. Ian headed for the car and Fred, Joyce and myself headed home on the train which was delayed because of an earlier fatality – a grim end to the day.
This ride will be one to recall on a hot sunny ride in the summer, sat out in a pub garden – 26 miles (including the three-mile detour on the Levels!) and, as Joyce pointed out to me, the whole ride was completed in the rain.
Neil
The Old Brighton Section – Brian's Weekly Training Ride (c 1950)
'Here are the details of my "secret weapon" during my racing days – the tough circuit I devised to train on. I usually had to go round solo as other riders thought it was far too tough [surprise! Surprise! IB] and no race circuits were as hard. As a result I actually came to like hills instead of fearing them as may riders did. I saw them as a place to apply pressure and break away rather than just hanging on! The circuit sounds a long way but I think it was only about 35 miles and I used to top up the mileage by finishing with extra laps round a town-centre circuit 
BASIC CIRCUIT
This started at the Palace Pier. East along Madeira Drive and up Dukes Mound to the top road. East to Arundel Road and East Brighton Park and up Wilson Avenue. Turn right to Downs Hotel and then left to Falmer cross roads (as it then was). Left towards Brighton and right up Coldean Lane. Down to Patcham and up Mill Hill. Right on to Saddlescombe and down to Poynings. Right on the A23 up Dale Hill to Pycombe. Left to Ditchling. Up Ditchling Beacon and down Coldean Lane. Turn left to Falmer and continue towards Lewes. Do a U-turn at the bottom of the hill and then back up to Falmer. Left to Woodingdean and down Elm Grove to complete circuit.
SECOND CIRCUIT
From bottom of Elm Grove to Kemp Town and up Freshfield Road (or Wilson Avenue) and down Elm Grove. Maybe do a U-turn and climb back and do the circuit in reverse. Carry on with more variations of circuit depending on the time available.
I only used to do this super-hilly riding once a week. Other nights I used to go out with groups of riders and have really fast riding over more conventional routes. If you rode over the hilly route more than once a week you probably would have lost all your ability to sprint and so forth. But once a week definitely helped to develop my hill climbing.'
Brian Hutton 
[It's interesting that Brian's second circuit (Elm Grove/Wilson Avenue) featured both in the two Wincanton Classic races in 1990 and 1991 and also at the end of the Dover-Brighton stage of the 1994 Tour de France. Great minds clearly do think alike!]
 
IB
More on the Clarion and the Spanish Civil War
You'll remember me passing on an extract from a letter from Charles Jepson, the National Secretary towards the end of last year The key bit was; 'Last week we re-formed a Clarion Section at the Bolton Wood Socialist Club, one of the few remaining truly Socialist Clubs in the country. One of that Section's first actions was to pledge to produce a large painted "trade union style" banner in memory of Ray Cox (Southampton Clarion) and Roy Watts (Portsmouth Clarion) who fell defending the democratically elected government of Spain against the forces of fascism.'
Since then I have received material from Michael Walker about other Clarion members involved in Spain at that time. Michael tells me his sources were issues of the Daily Worker in 1946. I've edited the texts a little to avoid unnecessary repetition.
'Among the first to go were Joe Boyd and Fred McMahon, both members of the Socialist Party group within the Northern Ireland Labour Party – the local equivalent of the ILP in Britain. Volunteering for the Scottish Medical Unit, they arrived in Spain on October 1, 1936. On November 8, they were captured in no-man's land near Madrid, escaping summary execution only when Boyd treated a wounded fascist. After six days in custody, witnessing daily executions, they were brought to the Portuguese border and expelled from Spain.'
Meanwhile their plight had been raised in the House of Commons.
'Mr. T Jackson (Labour, Stirling and Clackmanon) asked the Foreign Secretary whether he was aware that Messrs MacMahon and Boyd, two members of the Scottish ambulance unit in Spain, had been captured by rebel forces in Madrid, and would he take steps to secure their release.
The two men were captured by General Franco's troops at Carabanchel, near Madrid, on Sunday morning last. McMahon was re-elected honorary secretary of the Belfast Clarion Cycling Club at the annual general meeting of the club in the Labour Hall, York Street,on Thursday evening. [the 12th] '
It would be nice to hear more about Joe and Fred and other 'Clarionettes' who went to Spain.
IB