Dear fellow members and friends
16 January 2006
Thanks to Neil for volunteering to lead two of the rides I asked for volunteers for last time. Apologies to Joyce for getting her address wrong - she lives at 32 Bentham Road not what I said last time.
Members please note that the agenda for the AGM on 1 February and the minutes of last year's meeting are attached.
Do read to the end – after Suzanne's report of yesterday's excursion you'll find some interesting responses to my request for more information on the old Brighton Section and its members. With more to follow.
Boots!
Ian
The Next Rides
 
January and February Rides
 
Sunday 29 January
Glynde – East Hoathly – Glynde 20-21 miles
Leaving the station we go up the little hill (sorry about that, Fred) past Glynde Place and at the bottom of the hill take the right fork avoiding the hilly Glyndebourne road. We cross the Ringmer-Laughton road, skirt Plashett Wood cross the A22 (carefully) and head for East Hoathly where we can try the King's Head for lunch. [The pub featured in 1990 in The Hidden Places of Sussex – by Anon but with a foreword by Angela Rippon! – which tells us 'The history of this pub is written in the diaries of Thomas Turner, who worked as schoolmaster, haberdasher, grocer and undertaker, and who divided his spare time between drinking, quarrelling with his mother-in-law and keeping a diary which he began in 1754' Spare time?] Heading home, we take the A22 for just a short spell then the road down through Vert Wood (Upper and Lower) cross the B road again down to Mark Cross after which we will cut across our trail of the previous fortnight into Ripe and from there down to the A27 where we'll follow the cycle route back to Glynde station.
 
Same trains as last week. Catch 10.20 from Brighton station [nb it doesn't stop at London Road] or meet at Glynde station at 10.37. Trains back at 53 minutes past the hour arriving in Brighton at 12 minutes past.
 
 
Sunday 12 February
Pevensey Levels & Herstmonceux c 23 miles
Starting just for a short way on the Cuckoo Trail, this route takes us out onto the Levels and via Rickney northwards to Herstmonceux Castle (Science Centre) dating from c 1440 where we will try to find the bridleway route and avoid the ire of the man on the entrance this time.
 
A couple of miles on the A272 take us through Boreham Street (where we might stop for lunch at the Bull's Head, Windmill Hill, (which does have a post mill) and Herstmonceux where we head out on quieter roads to Cowbeech Hill then loop downwards to rejoin the Trail at Hellingly. Possibility of tea at the usual place near the Polegate end of the Trail.
 
Catch the 10.20 (again!) from Brighton station or meet at Polegate station at 10.49. Trains back are at 2 minutes past the hour with a change at Lewes and 42 minutes past for direct services.
Sunday 26 February
Hurstpierpoint – Hickstead – Twineham –Wineham- Blackstone (late risers' special) c 22 miles
 
Taking the little roads past Hurstpierpoint College crossing the main A27 (by bridge) at Hickstead, more quiet lanes to Twineham then a loop up round the A272 and back to Wineham where we'll stop for lunch at the Royal Oak – such a pleasant surprise when we did a similar (but not identical) ride last September. Then down to the pretty hamlet of Blackstone and via Bramlands back to Hurstpierpoint and Hassocks.
 
Catch 11am from Brighton station or meet at Hassocks station at 11.10. Trains back are at 38 minute past the hour.
 
 
The Last Ride
Sunday 15 January – Suzanne's Report.
 
Fred, Roger and Suzanne met up on Brighton station to be whisked away to Berwick in a smart new, two-coach diesel train on its way to Ashford International. What a pity this magnificent new service does not deign to stop at some of the intermediate stations, as Sue would tell you herself, after having seen it zoom past her as she stood on the platform at London Road.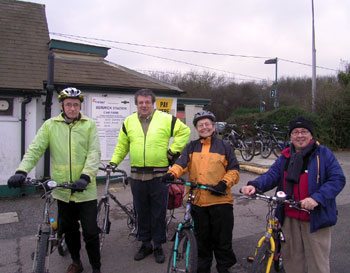 Roger, Ian, Suzanne and Fred outside Berwick (Sussex) station
Ian met us at Berwick station and we set off northwards. One of the delights of cycle riding is that any route looks completely different if you approach it from the opposite direction, so although the terrain had been covered before, it felt quite new and very interesting.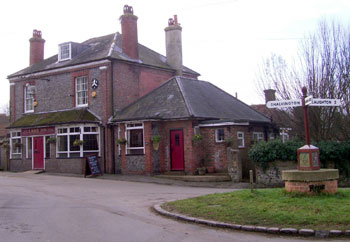 The Lamb Inn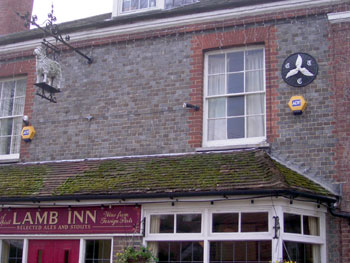 Close-up of the old CTC sign outside the Lamb
A gentle twiddle or two of the pedals and we were in Ripe – too early to get into the Lamb Inn (at least, too early to get in without physically battering down the doors) but in plenty of time to admire the 16th Century Eckington House on the main road and to spot the blue plaque of the day: this time it was a plaque to commemorate that Malcolm Lowry, the novelist, had lived in a little house in a back lane in 1956-57. Given that he died in 1957, perhaps Ripe was not good for his health.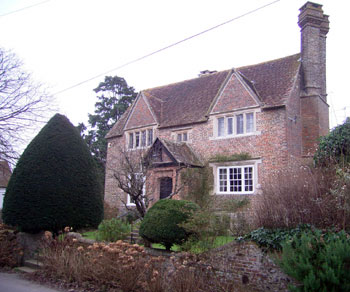 Eckington House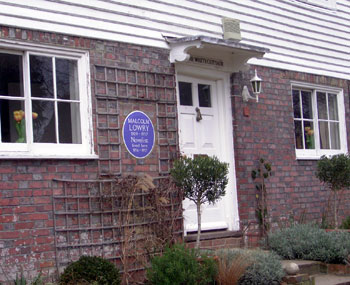 Blue plaque of the day
The same might be said for the generous portions of excellent chips served up with the baguettes, burgers and broth consumed by our party in the Lamb. But the best part of our visit to the Lamb was that Sue finally managed to catch up with us and as if by magic, popped up just in time to order lunch.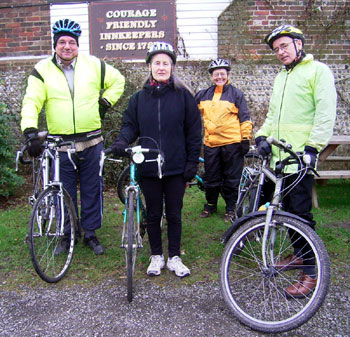 Ian, Sue, Suzanne and Roger outside the Lamb
 
After finally prising ourselves out of our cosy corner in the Lamb we pottered along some twists and turns (encountering a 4x4 road-hog along the way) to another cosy corner in the tea rooms at Silletts Cottage Restaurant, Selmeston. The gentlemen delicately sipped tea while the ladies tucked into butterscotch meringue [see last year's ride] and hot chocolate. No wonder Sue had the good idea of giving herself a good tough ride back from Selmeston to Glynde along the old coaching road at the foot of the downs. The weaker brethren (ie: all the remaining four!) made their way back to Berwick station. Good to her word, Sue hopped onto the Brighton bound train at Glynde.
 
Many thanks to Ian for planning a very enjoyable day. 
 
Suzanne
 
The Old Brighton Section
 
Michael Walker, of UNISON, has sent us masses of bits and pieces for our 'history page' and has now unearthed a Clarion recommended repairer in 1951
 
E.G.F. Moreman, 24 George Street, Brighton
 
Brian Hutton has a really good tale to tell involving Mr Moreman – which I'm saving for the next circular
 
We already know that in 1962/3 the Clarion were recommending Strudwicks in Oxford Street
 
And in 1939 these were the recommended caterers in Sussex.


 
Ken Wells, like Brian a member of the old section, emailed me as follows:
 
'A few more names of 1948-1949 members, but I have no idea of their whereabouts.'
'Derek Payne who joined B & H Wheelers later and emigrated to Canada, Derek? Howson, Derek Grover, Brian James. Derek Marsh, who was club captain in 1948
Also ? Bush (cannot remember his first name), Len Blackman, Mike and Pat Moreton.'
'Pat joined the Prestonville when I did, and Mike Joined B & H wheelers shortly
before being called up on National Service. National Service was the cause of a lot of people giving up cycling after being posted to distant shores with no bike. Mike was Sussex Pursuit champion and won several other championships in Wheelers colours, Clarion the team prize in an SCA 25 in Sept 48, which was my first 25, Mike did a 1-1 Brian James did a 1-4 in his first 25, I cannot remember who the third team counter was. It was not me.'
'My second club run was an Easter YHA tour including the Good Friday Herne Hill
meeting when Reg Harris was due to ride, but injured his back in a car crash.'
Brian, who is still in touch with Ken, adds a few more names – though he's not sure whether or not all of them actually joined the Claron – Ivan Kettley, 'Faz' Farrell, Derek Cover, Dave Gravett (who is well known to several of us and came to the Christmas get-together.)
 
Of Wally Newman, the secretary of the Brighton Clarion, Brian says 'I vaguely remember Wally Newman. He was a nice guy but I think some of the riders were put off as he was very much into Labour politics and wanted Clarion members to go leafleting and so on. He probably influenced me towards the Left, but I think at that time most riders were not really interested in politics.'
 
MORE – MUCH MORE – FROM BRIAN NEXT TIME.