Dear fellow members and friends
14 May 2007

I'm sure I'm not the only one to feel really gutted about Joyce losing out in the recent council elections. And after twenty odd years of pushing environmental issues (including cycling, of course) long before everyone was doing so (or at least going through the motions) and it was regarded as a bit eccentric and obsessive even in many Labour Party circles, to be defeated by the Greens! What irony!
Planning for the Summer
I was hoping to be able to fit our traditional Chichester Harbour ride (featuring, Jeff's favourite, the Itchenor Ferry) during May or June but have been thwarted by rail maintenance. Will try again in August!
As notified several circulars ago, I can't make either of the rides in July. Jim is planning a Downs Link one for 8 July and I'm assuming people want to have a Clarion contingent again for the Shoreham Toll Bridge Ride on 22nd. Let me know, please! I should be OK for the August rides but will be away for at least one in September. Jim has another one up his sleeve – any other volunteers?
As well as the things I've already sent on to you, I received this e-mail last week.
Dear Ian,

I have just written a book, 'A Mule in Brighton - a Taste of The Downs'. There are 10 cycle routes, designed for the leisure cyclist rather than serious speedo merchants. Up the Cuckoo Trail, down The Adur, and many hilltops in between. The book is available from most Brighton bookshops as well as from Amazon.

Please get in touch if you would like any further information.

All the best,

Rob Silverstone

Well, that sounds worth having a look at – but I don't know about 'hilltops'. What d'you think, Fred?
Boots!
Ian
The Next Ride
Sunday 27 May
East Hoathly via Potato Lane c 23 miles
This was the one that was rained off in March. Hope we have better luck this time
We leave Glynde station and take our time to get up the little hill that goes past Glynde Place (we may look in there for tea later). Then past the fields of alpacas and llamas (if they're out) behind Glyndebourne and by little roads – including the splendidly named Potato Lane to the outskirts of Ringer. Across the main road and round through Norlington, then northwards past the Bentley Wildfowl entrance and across the A26 to High Cross and Palehouse Common (glimpses of the grandiose Hoogstraten 'palace'). By little roads to East Hoathly for lunch at the Kings Head.
On the way back, after a nasty but mercifully short bit of the A26 we will neatly bisect our muddy route to Chiddinly earlier in the year (at right angles, on a proper road, and heading downhill!) through Vert Woods and then by 'narrow roads', skirting Ripe, then a slightly bigger one and back to Glynde by a deserted bit of the old main road and the cycle path along the A27 for a short spell. If time and inclination permits we can then ride half way up the hill again for tea at Glynde Place
Catch 10.20 from Brighton Station or meet at Glynde Station at 10.37. Return trains at 53 minutes past the hour
Points of Interest
Glynde place is an Elizabethan courtyard house dating from the 1560s, Near Norlington, as Roger reported when we passed that way last August, 'The most notable landmark en route was a roadside plot with two small bumps which, allegedly, are the graves of two men who died in a duel nearby in 1800. There was some debate about why there were two graves, since a duel usually has a winner and a loser.' Hoogstraten's folly I've already mentioned. The pub at East Hoathly, as I reported when we visited it on previous occasssions, by different routes, featured in 1990 in The Hidden Places of Sussex – by Anon but with a foreword by Angela Rippon! – which tells us 'The history of this pub is written in the diaries of Thomas Turner, who worked as schoolmaster, haberdasher, grocer and undertaker, and who divided his spare time between drinking, quarrelling with his mother-in-law and keeping a diary which he began in 1754' So, there you have it!
The Last Ride – Fred's Report
Sunday 13 May
Blackstone - Fulking - Newtimber
The weather forecast threatened rain - and lots of it - so it was no surprise to find just Joyce at Brighton station. I think Ian was secretly hoping no one would alight from the train at Hassocks so he could go home, but there were three of us, so onwards. After a French woman took our photo, we headed through Hurstpierpoint and eventually turned northwards to cross the A23 near Sayers Common (as per Ian's description of the ride), along quiet country roads and through the pretty village of Blackstone.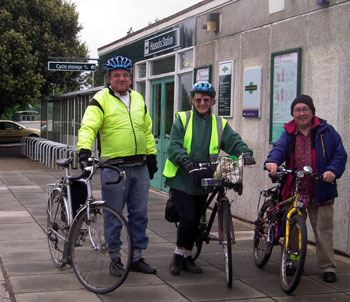 Ian, Joyce and Fred at Hassocks station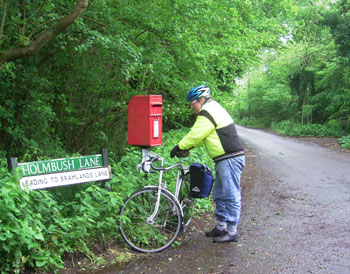 Ian consults planning notice predicting temp closure of our route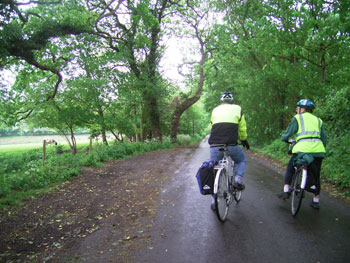 View from the Lanterne Rouge
With the South Downs in view coming  into Fulking, the rain started to tip it down, as we say Up North, so we decided to try the Shepherd and Dog below Devils Dyke. Alas, what  with the weather (we usually sit in the garden) and an MG rally,  there was no room in the inn, but after a brief discussion we decided  to camp out under a smokers' gazebo for a ciabatta and pint, as the rain roared onto the canvas above our heads and periodically gushed  onto the peripheral tables. I was volunteered to write up the ride – hence its brevity, as I was constantly playing catch-up with Ian and Joyce so wasn't paying much attention to the route!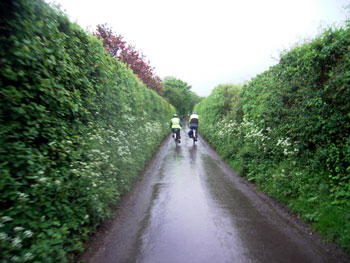 Another view from the Lanterne Rouge!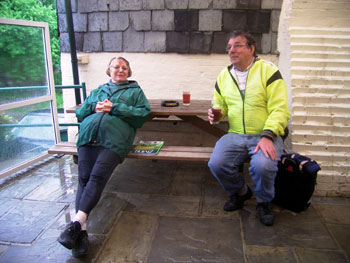 Joyce and ian dry out in the pub gazebo
After lunch it  started to ease off so we headed back up the hill (past the Ruskin memorials) towards Poynings and along the sheep-lined 'Equestrian Route' until it joined the cycle route besides the A23. I thought I was hearing voices during this part of the ride, but it must have been the tannoy from a gymkhana nearby! Then it was back over the  main road to Hurstpierpoint.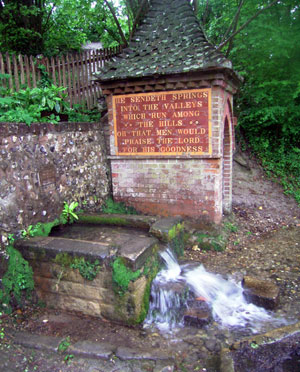 Plenty of water in the stream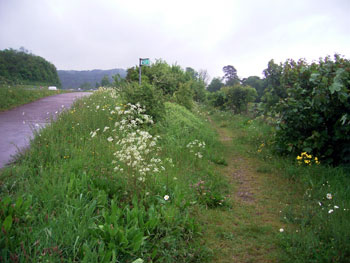 Looking back at the Equestrian Route (path on right)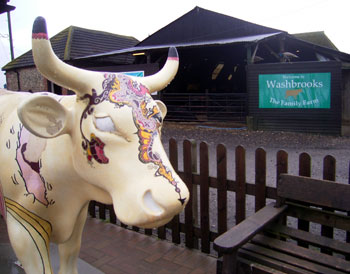 Peacocks shelter from the rain at Washbrooks farm (top right!)
As we couldn't make the hourly train without lots of effort, we stopped off for tea and scones at Washbrook farm, watching out for 'free-range children'. No cheap quails eggs this time. We said goodbye to Ian at Hassocks and by the time we got back to Brighton it was blue skies and sunshine again! Another exhilarating ride! Cheers Ian.
fred