Dear fellow members and friends
13 November 2005
Fred attended the Special Cycle reps meeting – see his report below.
Both of the dates I can't do are now covered: 20 November by Neil and 4 December by Joyce and Sue in (but not on) tandem. After that I 've got a really easy ride planned for the 18th December.
It's time to consider what we want to do for our Christmas get-together. Last year we met on Saturday 11 December for lunch at the Swan at Falmer. I'm quite happy for us to do likewise this year; it was easy to get to both by bike and by bus and we didn't have to wait for new legislation to get a smoke-free atmosphere. But you might have other ideas. If so, let me know by Friday 25 November at the latest – with full details please!
Boots!
Ian
The Next Rides
 
Sunday 20 November
Seaford/Litlington/Seaford
Neil has responded to my plea for volunteers and is organising this short (c 15 mile) ride based on Seaford Station. There are several possibilities for the exact route – and for stops, the latter including the Plough and Harrow at Littleton, the Sussex Ox at Milton Street, the Smugglers' Inn at Alfriston, and the Golden Galleon at Exceat Bridge. Let Neil know your preference on the day. [No, you can't stop for a pint at all of them. Fred!]
 
Catch the 10.40 from Brighton station or meet at Seaford station at 11.23. Aiming to return on the 14.54 – reaches Brighton at 15.35.
 
Sunday 4 December
Watch this space!
Joyce and Sue are working on a ride – incorporating part of the Downs Link
 
The Last Ride
Berwick – Bo-Peep – Old Coach – Firle – Ripe – Golden Cross – Chalvington – Berwick
6 November Ian's Report
 
Well, it couldn't last for ever could it? For the last few rides we've been congratulating ourselves on our luck in avoiding bad weather – even when rain has been forecast. It was raining quite hard as I drove to Berwick and I was doubtful whether anyone else was going to turn up. I decided not to get my bike out until the train had arrived in case I was on my own. Listening to Radio Three on the car radio a piece by Holst was announced. A good omen, I thought, since the composer had connections with the Clarion movement in his early years. (See 'History' on the webpage.) Then came the title – a suite from The Perfect Fool. I wasn't so sure! So I felt a bit ashamed as one of little faith when the train rolled in and disgorged Joyce, Fred, Sue and a new recruit Tracey who had found us via various links for Cycling for Life.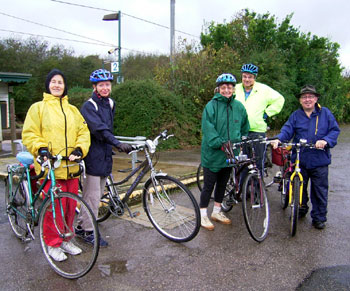 Sue, Tracey, Joyce, Ian and Fred ready for any weather!
 
Most of the time the weather wasn't too bad – though vicious gusts of wind were disconcerting now and then. We crossed the A27 at Selmeston and went down Bo-Peep Lane and picked up the Old Coach Road following it behind Charleston to Firle. We had a pause there to have a look at the John Piper window from 1982 and the church generally. Joyce was a fount of knowledge about brasses and brass rubbing.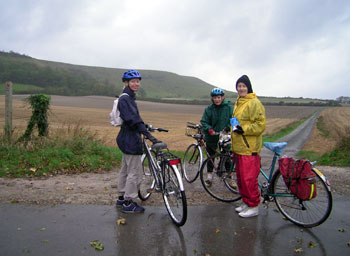 Onto the Old Coach Road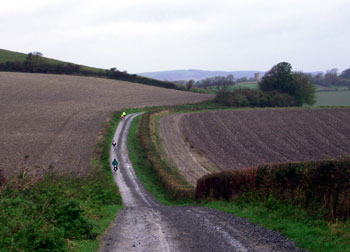 The Old Coach Road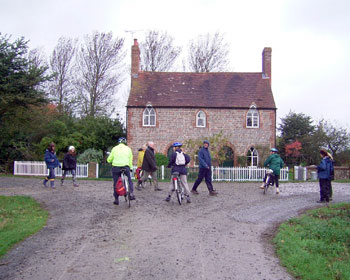 Encounter with ramblers on the edge of the Firle Place estate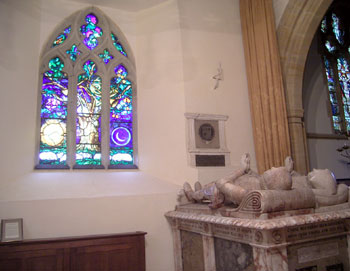 The John Piper window, representing the tree of life, plus Sir John Gage and his wife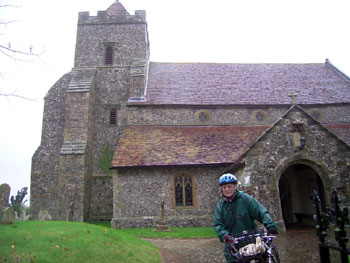 Joyce at St Peter's church, Firle
 
Then we were out in the wind and drizzle again and following both surviving bits of the pre-straightened main road to begin with soon arrived at The Lamb at Ripe for lunch. Sue, meanwhile, having to get back in time to work at 2pm had taken off in the direction of Glynde to get a train back.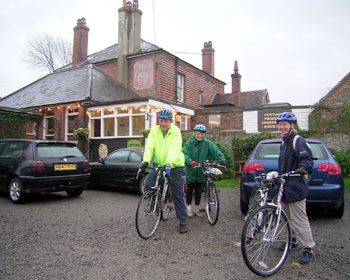 Ian, Joyce and Tracey leaving The Lamb
 
I'd planned things so that it the weather was really foul we had a short 2 to 3 mile sprint back to Berwick station. Although it was still raining when we left the pub everyone opted unanimously to stick to the original idea and do the rather longer loop up round Golden Cross and back to Chalvington. But it was getting really rather unpleasantly windy and starting to rain much harder by the time we got back to Berwick station. Fortunately the Brighton train was being announced within seconds of our arrival. Everyone agreed that we'd had an enjoyable ride in spite of the weather. But with Saturday having been as sunny as a midsummer day often isn't and Monday likewise, we did seem to be a bit out of luck on the weather front this time.
 
Ian
 
Brighton and Hove Cycle Reps meeting
Special meeting 3 November 2005 Fred 's report
For this meeting I deputised for Ian. The world of politics is a newish one for me, and a different world it is, full of acronyms and awards, a parallel universe it seems from my daily rides from A to B around Brighton looking for somewhere to hitch my bike! First off, Brighton has been shortlisted for two awards at the ATOC [Association of Train Operating Companies] National Cycle-Rail Awards [www.cyclerailawards.com]. First is for 'Station of the Year', specifically the newly refurbished London Road station, my local, which seemed a bit odd as Becky from Bricycles pointed out – you can't get from one platform to the other without having to negotiate lots of steps over the (new) footbridge or under the (old) subway. Second nomination is for 'Best Local Government Contribution' (that'll be our Joyce then). Results will be announced on 8 November. I gather that the subtext of all this is that we get to engage with Southern Rail about our other niggles.
Next agenda item was about art, but perhaps not as we know it. Madeira Drive has been earmarked for next year's Car Free Day on 22 September, with amongst other things, a 'Bike Ballet'. Then we came to the main item of the evening, Brighton (or rather Brighton west of and including London Road, and Hove) becoming a Cycling Demonstration Town and all that lovely government money to spend – that'll be down to our Joyce again. The six selected towns were: Aylesbury, Brighton, Darlington, Derby, Exeter and Lancaster. The City of Brighton and Hove was apparently too big to qualify, hence the award to West Brighton and Hove.
This is where it gets complicated. My understanding is that we will receive an annual DfT grant of £500,000 over the next three years administered by Cycling England [www.cyclingengland.co.uk] and the City Council will match this funding each year, totalling a £3 million investment in cycling over the next three years. Dean Spears, the Cycling and Walking Officer, hinted that this may be extended to four years leading up to 2009, designated the Year of Walking and Cycling, for which £4M will be allocated over the two financial years 2008-9 and 2009-10.
Details on how the money will be spent are still a bit vague. For Year 1, which began on 1 November this year, the £500k from the DfT will be divided up as: £195k for an 'outstanding European-guided engineering and Copenhagen-style bicycle account', which I understood to mean improving the Hove to Hangleton cycle route to a high standard, and perhaps doing 'amazing things' with a junction; £160k on personal travel planning; £40k on a Beacon Cycle Training Centre; £60k on two new members of staff to support Dean; and £45k on a 'High-profile walking and cycling Chartermark', which involves bringing in branding experts and designing a logo. The Council's matching £500k has already been allocated to on-going projects. Finally, as a follow up to Ian's last reps report, Dean said that he has had talks with the police about enforcing cycle lane parking transgressions. I also picked up a huge tome that is the Local Transport Plan 2006/7-2010/11, so if anyone wants a look, let me know.
Fred
As a PS, London Road did win the Station of the Year award, jointly with Ely, and Brighton & Hove Council was Highly commended in the Best Local Government Contribution category (West Sussex County Council took the first prize) at the ATOC National Cycle-Rail Awards in London on Tuesday 7 November 2005. Derek Twigg said: 'It's extremely encouraging to see so many examples of improved facilities for cyclists across the rail network. Interest in cycling is high amongst commuters, which is why we've supported cycle parking and CCTV at over 100 stations and leisure users are also benefiting from our investment'. ATOC Director General, George Muir said: 'It is ATOC's aim to make rail easier to use for cyclists. In doing so, the industry can offer an acceptable and healthy alternative to the car'.
Boots!
 
Ian