Dear fellow members and friends
14 March 2006
National subs for 2006 for existing members have now been paid, and I am about to send off the forms of our new members. Welcome to the Clarion, Sue, Suzanne, Anne and Mick! If anyone else wants to join up now, please send me an e mail and I'll hang on for a day or two so you can send me your membership form.
 
Brian's piece on 'cycling cafés' will take some of us 'oldies' back – and interest all I hope!
 
Boots!
Ian
The Next Ride
 
Sunday 26 March
Haywards Heath – Borde Hill – Horsted Keynes – Lindfield 
 
This ride takes us close to a route we took last summer but uses different roads where possible and one or two new bridleways. Quite a few ups and downs but nothing too severe and not too long at 19 miles.
 
Meeting up at Haywards Heath station we'll head north and take a new path through Borde Hill Gardens. Diverting east we'll take the College Road to Ardingly and detour using a bridleway that goes through the College grounds. At Ardingly itself we'll head south and take the road to Horsted Keynes with the option of a stop at the Bluebell Railway. Taking the road to Cinder Hill we'll veer right and follow some quiet scenic roads and lanes through the grounds of Broadhurst Manor. We can have lunch at The Green Man in Horsted Keynes and then make our way back on quietish roads to Lindfield, where we can stop for tea, and on to Haywards Heath.
 
Catch the 10.16 from Brighton or meet at Haywards Heath station at 11.00. Plenty of return trains (3.33, 3.41, 4.03 etc.)
 
The Last Ride – Ian's report.
 
Sunday 12 March
Centurion Way and into Hampshire in search of New Brighton
 
Since I'd had to change my plans in order to lead the ride, I knew that the absence of volunteers to take my place meant that several 'regulars' couldn't make it. As it turned out it was just me and Fred. Can't speak for him, of course, but I had good company [likewise! – Fred]. Weatherwise it was a bit like the last time out – cold and windy but otherwise pleasant. I knew the route only from the map – but what I'd hoped, that we could gain a bit of height effortlessly by taking the Way far as Lavant and then heading west and very gradually south on the flat with more than our share of 'downhill' proved correct. So it was a pretty easy 21 miles we did.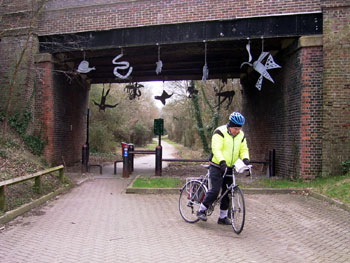 Now where do we leave the Centurian Way?
 
In spite of the cold weather – and reports of snow elsewhere in the country – we saw evidence of spring's arrival not only with the flora but also among the fauna. A couple of very young rabbits scurried into the hedge as we approached them soon after leaving the Way, and there were tiny ducklings swimming in the stream in the aptly named Watery Lane between West Ashling and Funtington.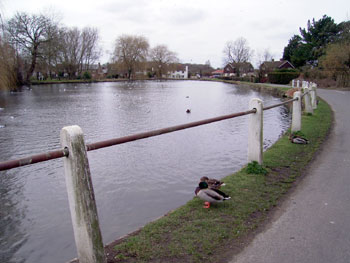 Even the ducks looked cold!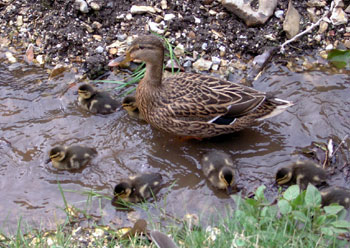 Ducklings by the side of Watery Lane
 
Near a rather mysterious MOD 'Research Establishment' a little later we also encountered a very large field of free-range pigs. They watched us pass with a rather bored air, grunting half-heartedly but cheerfully enough and thereby tended to bear out the dictum attributed to Churchill that whereas dogs look up to you and cats look down on you, pigs treat you as equals.
 
It wasn't until we were quite near Woodmancote, that checking the map, we discovered that the very first place across the Hampshire border – a suburb of Emsworth – rejoiced in the name New Brighton. So at the cost of adding a few miles to our route – some of which we recovered by taking a more direct route back into Chichester than originally planned – we continued on to investigate. Unfortunately, whereas the easterly bound get 'Welcomed' into West Sussex, Hampshire on this road is less hospitable – and we could only find New Brighton – which we both had imagined was on the Wirral – on a road sign. Never mind. We've been there even if there are no T-shirts to prove it.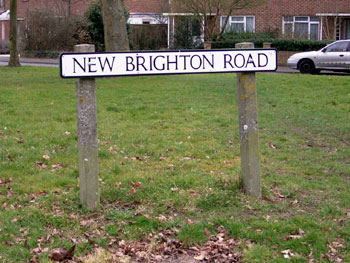 The only evidence we found of New Brighton
 
With hindsight we should then have stopped at one of the pubs in the pleasant village of Westbourne but I led us on to the Woodmancote Arms. In the last circular I joked about the 'imaginativeness' of the name. Now I got my comeuppance! It wasn't that they didn't do food – quite the reverse – they had so many customers they were booked up and couldn't offer us any sustenance till 3.30! So we drank our pints and chatted – for too long as it turned out – and then continued on to the Richmond Arms in West Ashling.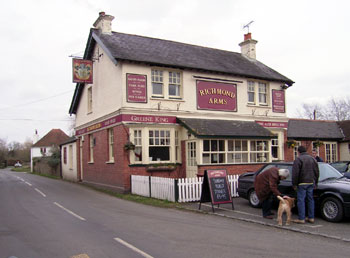 The Richmond Arms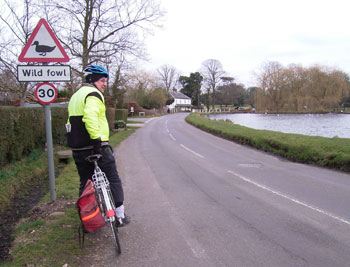 On the way back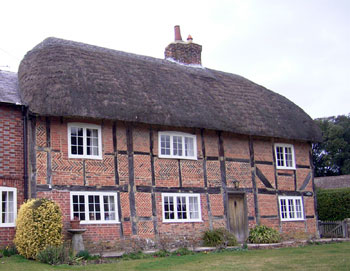 Interesting architecture on the route
But now we were too late! However, tipped off by a couple of cyclists – or to be more precise a cyclist and a tricyclist – we made do with free hot roast potatoes from a basket on the bar and – in Fred's case – some treacle pudding. (They were still serving that.) All was well and ended well; we got back to Chichester station in good time – but without a long wait – for Fred's train.
 
Ian
A Look at Sussex Cycling Cafés of the 1950s
by Brighton Clarion's Brian Hutton
 
Ah, yes, cycling cafés. I remember them well. It may be hard to believe now but there was a golden age in the post-war years when café owners hung out 'Welcome' signs to cyclists and cycling clubs. So too did some country pub landlords, such as the one at The Star Inn, at Waldron, who took bookings for teas from local clubs. Many cafés and pubs were granted official status as caterers by the CTC and the NCU (National Cyclists Union). The last one I was there a year ago one ancient sign still remained outside the Smugglers' Inn in the centre of Alfriston by the Market Cross.
 
[I think the last one we've seen on a ride was the one at the Lamb at Ripe. I B]
 
Sussex had several outstanding cafés that were especially welcoming to local riders. For example, there was The Old Forge at Sayers Common, ten miles north of Brighton on the main London road before it was bypassed. On Tuesday evenings Brighton club members used to go training and then wind up around 9pm at the Old Forge Café which was next to a petrol station. Up to 50 riders would gather for a cup of tea and then someone would start to leave and this was the signal for a mass exodus and for all the riders to indulge in a massive 'burn-up' back to Brighton that would have two monumental sprints, one for the 30mph sign at Braypool and the other to the end of Preston Park.
 
Nearby, in London Road almost underneath the viaduct, there was another very popular café, the FILO (First in Last Out). This was run by a local cycling family and cyclists from all the local clubs could be found there in the evenings after their training rides. It was also handy for taking refreshment after watching or participating in the Preston Park track meetings. Several thousand spectators used to attend the big open meetings there which featured riders such as world sprint champion Reg Harris whose name became a byword in Britain. Pedestrians and motorists would shout in a friendly fashion at speeding cyclists, 'Oi, who do you think you are – bleeding Reg Harris?' Now of course they are more likely to be psychopaths who will pursue you and try to run you down in their 4 x 4s.
 
Another very interesting and quite unique café was The Polar Bear in Lewes. This stood in Cliffe High Street just a couple of doors east of the bridge across the river. The Polar Bear was a milk bar and hung around its walls were a number of large framed cycling cartoons. Like the Old Forge it was the starting point for many a frenzied burn-up back to Brighton – sometimes straight back via Falmer and occasionally over Ditchling Beacon which was my favourite.
 
There were also popular cafés welcoming cyclists near the bridge in Arundel, in Horsham near what is now the Piries Place car park, and in Worthing next to the Dome cinema. There was also a café in Boreham Street [We could have used that on the last but one ride! I B] where riders changed in a small garage before taking part in races around the Battle Circuit! The Swan pub at Forest Row was a popular HQ for many races around the Ashdown Forest.
 
Outside Sussex there was a café at Green Street Green, just east of Croyden and off a roundabout. Green Street Green was the starting point for t he classic London to Battle and Back road race and the café was a Mecca for all the top London riders.
 
Unfortunately, not only are there very few such cafés and pubs now, but riders today tend to turn up in their cars, race, and then disappear. There is no doubt about it; the 'Fifties was a great time to be a cycling club member.
 
Brian