Dear fellow members and friends

12 April 2006

Last Sunday's ride proved longer than expected (Apologies, I really need some map reading lessons) and, as Suzanne's report details below, it had an unexpected sting in the tail!
 
Ian will be back in the saddle for the next ride – a Brighton start so no opportunity for the trains to disrupt plans here (at least not for those living in Brighton).
 
I've had the pictures developed from the ride on 26 March and these should be on the website shortly.
 
Boots!
 
Neil
 
The Next Ride
 
Sunday 23 April
Upper Beeding
c 25 miles Palace Pier to Palace Pier – adjust for your own starting point
 
Time for one of our own 'spring classics'which we did at about the same time of year in both 2004 and 2005. If the rest of this write-up sounds a bit familiar it's because I've borrowed much of it from last year.
 
Meet 10.30 by Palace Pier. If you live at the Hove end I suggest joining us near the King Alfred – outside Marocco's café on the seafront where the cycle track goes round the houses. We can wait for you there if you're going to be late – as long as I know. Phone me before 10.10 on 682133 or after that on my mobile number 07787528433. We'll pass (or stop for a coffee at) Carats Café and take the usual route over the locks and through the quieter streets to the Toll Bridge. Then – unless it's waterlogged like on New Year's Day 2005 the Coastal Link track to Bramber with lunch at the Bridge at Upper Beeding – in the garden if it's warm enough. For the return, as before we'll cross onto the Coombes Road near Botolphs and then go to Shoreham Airport for tea.
 
Points of interest
After the seafront and Shoreham Harbour we'll be passing near a number of medieval churches – including the two Romanesque-Gothic Transitional ones in Shoreham: St Mary de Haura and St Nicholas. Near the latter where we'll join the Coastal Link along the track of the old railway line, there's a very good view across the river of Lancing College Chapel, described by Ian Nairn in The Buildings of England as expressing perfectly 'that elusive dream of the Gothic Revival'. At Bramber there's the ruins of the castle and what's left of St Mary's 15th century house and on the way back more survivals from the Middle Ages (as in the parish churches at Botolphs and (my favourite) the tiny 11th century one at Coombes before we get at least a distant glimpse of the terminal at Shoreham Airport which was used in at least one episode of Poirot to impersonate a Croyden airport and appeared as Bucharest airport in the Fortunes of War.
 
Ian
The Last Ride – Suzanne's report; photos by Joyce
 
Sunday 9 April
Glynde, Barcombe, Piltown, Isfield
 
Conspirators: Jeff, Jim, Joyce, Mano, Neil, Richard, Roger and Suzanne.
Date: Sunday 9 April. Time: 10.32 am. Weather: sunny. Here one of the gang takes up the story: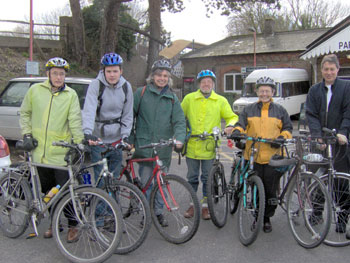 Roger, Neil, Jim, Jeff, Suzanne and Richard
 
We were at Glynde Station. In the car park. We set off. On bi-cycles. Up the hill, but Neil, he was looking after us and he showed us how to avoid the big hill by the big music house – Glynde-bourne, he said it was. And then gee, we saw these animals. But weird. Long necks, dinky little round faces, a mass of curly hair on their noddles and dainty hoofs. Those of us who could read saw a notice that said they were al-pack-a, or something. Didn't look as if you could pack much into them.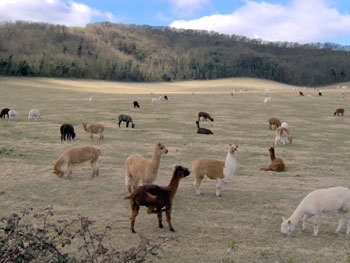 Alpacas
 
A climb, a dip, flat bit, and then we saw a sign for a watering hole called The Anchor. It was a bit off the highway, but as nice as a spot to rest as any. River. Green garden. Olde worlde public housee. Out came the maps. More plotting. More planning. We agreed to forge on.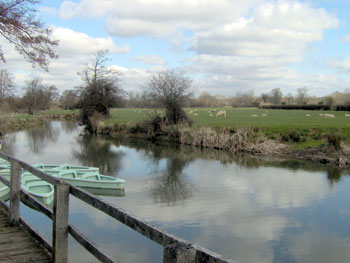 By the river
More dips, more flats and lots more climbs as we pushed (and pushed and pushed) our way up into them there hills. To Pilt-down. It didn't seem like 'down' to most of us. It seemed more 'up' but another watering hole, The Peacock was what we had in a our sights. And we made it. Good tucker. Bread and soup for the hobos amongst us. Mushroom stroganoff for the more classy – and yes it was Jim who came out with the After Eights!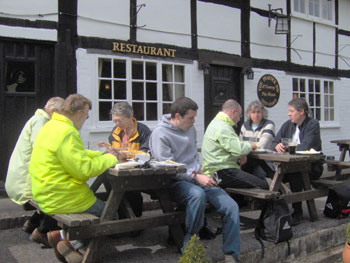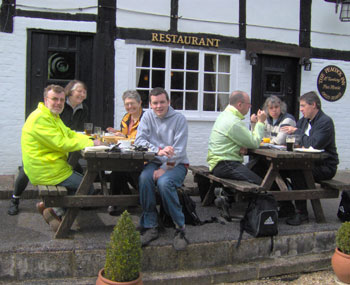 Outside The Peacock Inn
 
Back in the saddle. More down than up. Checking the sheep on the range. Recording the spring lambs leaping across the outback (Joyce called it photo-graph-ing). Richard, he's a hard rider. He made the 3.53 loco to Brighton. Mano, he was just hitching his steed to his auto-mobile when the rest of the gang reached the Station. Loco gone. Only one thing for it. More tucker. The folks at the Little Cottage café in the centre of the village, they're mighty hospitable and their cream teas from little old Sussex sure went down a treat. Neil was glad to get into his auto-mobile and head off into the hills of Hassocks. That just left five saddle-sore critters ready to hop aboard the next loco.
 
Station. 4.50. Announcement. 'We regret…' What have they done? Lynched a passenger? Do they do that here? 'We regret that the 4.53 to Brighton has been cancelled because of a broken down train that has now been repaired'. Gee, these English. They can't even explain what they mean in English. Whatdowedo? Wait another hour? Will it be another hour? Canter on to Lewes to pick up another loco? We decide. On to Lewes. Up, down. Up down. Whizzo Cycle Route 90 alongside the A27. Industrial estate. Down Cliff High Street the wrong way – by now we're a wild band of desperadoes. Lewes Station. Loco. Three bikes on already. Squeeze in. Jeff and Jim off at London Road. Roger and Suzanne home to tea. Joyce off to a welcome Sauna. 30+ miles. We are the tough ones!!
Suzanne