Dear fellow members and friends

11 May 2006
A few reminders to start with
Tollbridge ride, 25 June
Fred' s putting a link to the entry form on the website. Try
www.geocities.com/fredpipes/css/tollbridge1.pdf. 
The entry form is on p2 – which is all you need to print out. Do sign up before 1 June – after which it costs a little more. I've entered for the 29 mile version, Neil is contemplating 39 and Fred is thinking about which one to do! We will arrange some suitable Clarion get-together after (or before and after) the rides. So enter whichever one you prefer.
The tollbridge is an important link for us as for other cyclists in the area, so I hope that members (and friends!) who don't participate directly in the ride will make a donation to the trust.
T-shirts: One or two people have expressed interest in a Clarion T-shirt. I understand from Charles Jepson that he has a few on order for mid-June. If I remember rightly they're £12. Let me know by the start of next week – Monday lunchtime – if you' d definitely like to order one – small, medium or large – and I'll see if I can put in a bid for them. I've remembered your order, Jim!
Racing To date the major activity for most of us has been our 'Gentle Potterers' ' rides on alternate Sundays – but we do have a 'Racing Secretary' in the slender and superfit shape of Bob Harber (see his Easter meet report later in this circular) Anyone interested – however tentatively - in the more challenging and energetic sides of cycling – including long distance Audax rides and the like should get in touch with Bob. He's at bobharber@tiscali.co.uk.
 
Boots!
 
Ian
The Next Ride
 
Sunday 21 May. A different approach to the Pevensey Levels.
Only 17-18 miles (but with a couple of miles of 'slow' track as well as bits of Cuckoo Trail.)
 
It's specially difficult to find new rides in this area because the roads are few in most parts of the Levels. But this is different from any of the ones we have done before
 
We'll head up the Cuckoo Train as far as Hailsham and then take a bridleway that goes out over the Levels. When I checked this out I decided it was all do-able on the bike (though I did manage to do my usual trick of falling into a muddy puddle) But quite a bit of it is probably better walked, particularly for anyone with a 'bad back' like me who should avoid falling off bikes too often – it's between a mile and a half and two miles long. I saw quite a few swans and a few more exotic waterfowl on this stretch.
 
We come out on the Rickney-Herstmonceux road which we've used several times before – but always going north. This time we go south down to Rickney and then on to Hankham, skirt Westham and Stone Cross. There's not a lot of choice as regards pubs – without going off the route. The Red Lion at Stone Cross looks the best bet.
 
After lunch we' ll return to Rickney – on a different road to begin with – and then take the route we've used before across to Summer Hill to rejoin the Cuckoo Trail near Old Loom Mill Craft Centre and Tea Room where we can – if that's the decision on the day – make a second stop for a cuppa (and possibly a piece of homemade cake) before returning to Polegate station.
 
Catch the 10.20 at Brighton Station or meet at Polegate Station at 10.49 (direct train). Trains back are at 2 minutes past the hour (with change at Lewes) or 42 minutes (direct).
 
Points of Interest
 
Mainly the Levels themselves and their flora and fauna. What there is of architectural interest is found close together at the southern edge our route. On the way southwards we pass Hankham Hall – described by Pevsner as 'A charming late Georgian house of grey and red brick' with 'Gothick' windows and doorway. Near the pub we'll be able to see the Stone Cross windmill – quite a striking tower mill, and the Memorial Hall of 1921 by B Stevens opposite the pub rated an entry in Pevsner because of its 'curious splayed front with a convex centre enriched by two columns flanking the entrance.' Nearby, but after lunch, we'll pass Peelings 'a small symmetrical C17 house of stone, two gabled wings…' And a bit further on – though I can't find it on the map – the Dog House (sic) 'Of c1600, timber framed with brick infilling.' So there you have it!
 
The Last Ride
'Oh What A Beautiful Morning, Oh What A Wonderful Day' as the song goes. We boarded the train with a good turnout consisting of Joyce, Fred, Jim, John, Anne, Mick and myself, and Ian meeting up with us at Hassocks. Apart from a jobsworth guard on the train, we were off to an enjoyable day out.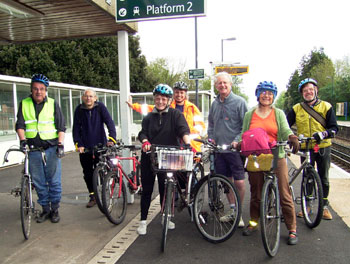 Ian, John, Joyce, Jim, Mick, Anne and Jeff
 
With Ian as our leader we progressed through the great Sussex countryside. We started at Hassocks station, going through the picturesque village of Hurstpierpoint, down through the High Street, past the Clock Shop and the Olde Shoppes. Onward we passed into Sayers Common, and down the lanes to High Cross.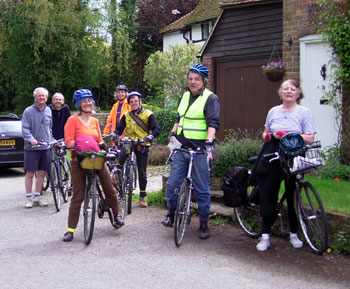 A brief stop at Blackstone
Before we knew it lunchtime had arrived, as we made our way to the Shepherd & Dog (Fulking) below Devil's Dyke. After an enjoyable lunch (with poor Anne and Mick having to wait a little longer than the rest of us for a fresh batch of baguettes) we mounted our bikes and were off again.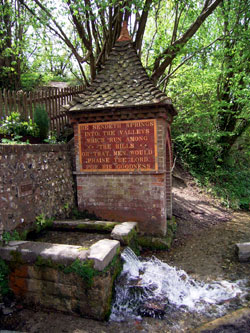 Memorial (one of two) to John Ruskin at Fulking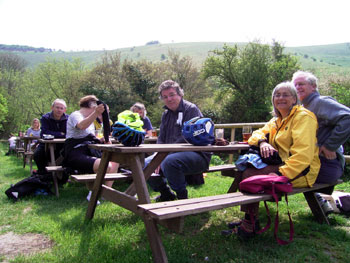 At lunch under the Downs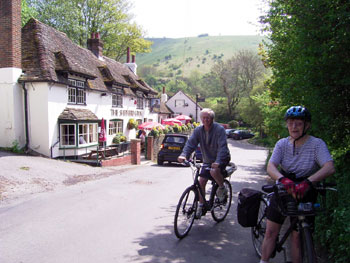 The Shepherd and Dog, Fulking
With the blossom in the trees and bluebells coming through on the grass verges and hedgerow with new green shoots and new leaves – maybe the weather will be kind to us for Spring/Summer bike rides. We soon reached Newtimber, and heard the first call of a skylark for the Spring of 2006 … alas, it was only one of our bikes needing a little TLC [but forever after to be known as 'The Skylark' – Jim]. Passing, and admiring, Newtimber Place we wished our Lottery numbers had come up the night before!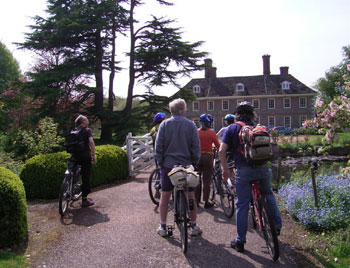 Newtimber Place
 
All too soon we were having a nice cup of tea at Washbrook's Farm, to give us the impetus to do the last stretch of our ride back to Hassocks. Back through Hurstpierpoint, we said our thanks to Ian for a most enjoyable ride; we left him at Hassocks railway station, the rest of us making our way back to Brighton – a little tired, maybe, but happy that the weather had held up for us and we had had good company for the day.
 
Jeff (photos by Fred and Anne)
 
Clarion Easter Meet 2006
Shrewsbury 14 to 18 April 2006
Your section was represented at the 111th Easter Meet by Bob and Colette Harber, now experienced Clarionettes on their second meet.
 
Meet HQ, offering period (very) accommodation in a rambling old Shrewsbury coaching inn, was at the Lion Hotel. The imposing gold beast above the front entrance indicated it would be a suitable place for another round of bounderising. The social events took place in the restored and listed John Adam ballroom, a fitting setting for the magnificent array of Clarion silverware at the Sunday night dinner.
 
Saturday morning had a guided walking tour through Shrewsbury's medieval heart. Whilst the Severn Vale is wonderful cycling country, the city has steep little hills, cobbled streets and narrow alleys and is more a pedestrian place.
 
The afternoon saw the Clarion race meet open the new circuit at the Sundorne Sports village on the edge of town. Beautiful tarmac surface, ? mile laps and an enthusiastic crowd made for a successful afternoon. It's not a track like Preston Park, more a sweeping long loop with a small hill and generally wide curves except for a tight hairpin for the unwary.
 
The Evening Social had a Ceilidh Band, who were cycling musical friends, and also included a special Clarion section 'team games' competition. Colette and Bob adopted a stray child into their team, appointed him captain, and cheered as he walked up for the main prize. His mum said it made his weekend; what, sitting at a table with a couple of know-alls?
 
Bob entered the Sunday morning Mid Shropshire Wheelers 25 mile time trial at Prees; riding in Brighton Clarion colours. It is against RTTC regulations to change clubs for an event, but as Bob knew he was never going to be among the prizewinners, he could handle the publicity issue when it arose. It was a lovely spring morning's ride for the 20 miles to the start, but got cloudier and windier as the event progressed, and then rained on the return ride to Shrewsbury. The winner's time was 55min 00sec, closely followed by Bob in 67th position [of 85] on 1hr 11 min 12 secs.
 
There was barely time for some lunch before assembling for the Club run from The Square. With a send off by the Town Crier, the destination was Ironbridge. Once there, the traditional Group Photograph was posed in the shadow of the eponymous structure, with the red Clarion standard prominently featuring; outdoor refreshments followed. The return ride was markedly more ragged than the fairly orderly outward trip. By now I had ridden about 100 miles that day, including a race, so serious energy conservation was essential before the Sunday evening event.
 
On awakening, more serious socialising was now scheduled. The Annual Dinner and Prize Presentation awaited us. The splendid trophies include the Czechoslovak Trophy, a reminder of the Clarion's work with socialist friends in Europe. How about making a bid to win either the Section mileage award for highest aggregate mileage for riding to the Meet or that for the greatest number of members in attendance from one section? Awards for All!
 
It seemed only a few moments between retiring to bed and meeting again in the truly uplifting Adam Ballroom on the Monday morning for the conference, the annual democratic forum. On your behalf, I wielded the Card Vote of 28 for the Brighton Section. Outcomes? Subs to rise to £6; a minor rules revision; mainly about trophies, and next year's Easter Meet to be at Hereford.
 
Will we be there? You bet!
Bob