Dear fellow members and friends
11 July 2005
It's fallen to me to do the ride report this time – so I'll leave it at that. Hope to see you on a ride soon.
Boots!
Ian
The Next Rides
Sunday 17 July
Polegate – Pevensey Levels – Normans Bay – Hooe – Wartling – Polegate
25 miles
This would be particularly good for anyone who hasn't been out on the bike for a while. Bit longer than the last one but pretty easy going, this is the ride we intended to do in February – but shortened because of the snow storms.
We kick off as though we're going along the Cuckoo trail but turn off almost immediately along a connecting cycle route that takes us out onto the Levels and then down to Pevensey. Then we continue down to Normans Bay and into the outskirts of Bexhill. Then there's a couple of miles of suburban road before we're out on the open Levels again near Gotham (lookout for Robin and friend) and on to Hooe Common, Hooe and Wartling before dropping down again to Rickney, and heading across to join the Cuckoo Trail just up from the usual tea stop.
Pubs: The Star at Norman Bay is one possibility or the Red Lion at Hooe.
Catch 10.14 from Brighton Station or meet at Polegate Station at 10.46 (no changes). 'No change' return trains at 28 minutes past the hour (change in Lewes ones at 58 minutes past)
Sunday 31 July
Haywards Heath – Ouse Viaduct – Balcombe – Ardingly – Lindfield
A variation on one we did last year (avoiding the big flights of stairs at both Wivelsfield and Burgess Hill stations) Only about 16 miles – but with some hills and a track or two that will be enough for most of us (and you can always go round again at the end if you need more!)
We'll loop round to Cuckfield, take the 'back entrance' route to Borde Hill and then enjoy the splendid view of the Ouse Viaduct – familiar to everyone from train journeys to London but even more impressive from ground level.
On to Balcombe – with the possibility of a stop at the Half Moon. Then round (and across one arm of) the Ardingly Reservoir to Ardingly – another possible lunch stop = the Gardeners' Arms - then to the Bluebell Railway station at Horsted Keynes. Skirting Horsted Keynes itself we make for Lindfield – tea by the pond – and then back to Haywards Heath.
Catch 10.58 from Brighton Station or meet at Haywards Heath station at 11.19. Southern trains back at 28 minutes past the hour (Thameslink at 3 and 33 minutes past).
The Last Ride
Sunday 3 July
Lewes – Isfield – Piltdown – Barcombe – Lewes
Ian's report
As well as regulars Joyce, Fred and myself, one of our newest members, Mark, came on this ride.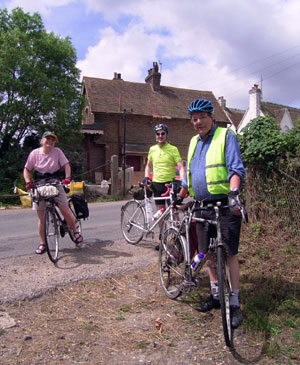 Joyce, Mark and Ian entering the 'licensed bridle way'
I contrived to run over something jarring near Earwig Corner as we left Lewes and had some temporary problems with my carrier which had lost both its bolts and acquired the nasty habit of responding to the weight of my pannier by describing an arc which ended with hitting the ground behind the back wheel. We managed to lash it up in the end.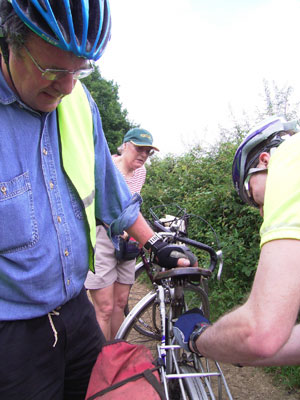 Running repairs
The first stretch of 'track' on what was once the old Lewes-Uckfield railway line was ride-able, but the stretch from Anchor Lane to Isfield was partially walked.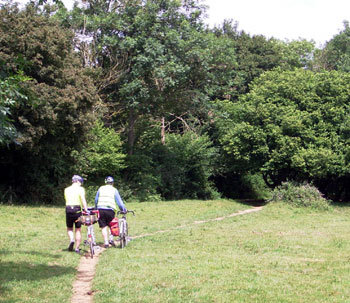 Into the woods
In the middle we made a small diversion to the Anchor Inn. It was only just opening and having stared dutifully at the Renoir-esque river scene with its moored punts we decided not to stay for coffee or a beer and continued on our way, stopping instead for lunch at the Laughing Fish at Isfield - where we encountered the Brighton CTC who – characteristically – had ridden about five time further than us in about the same time. (But we'd probably walked more and 'stopped and started' more.)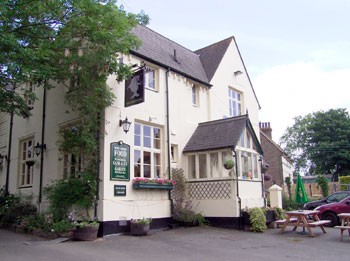 The Laughing Fish, Isfield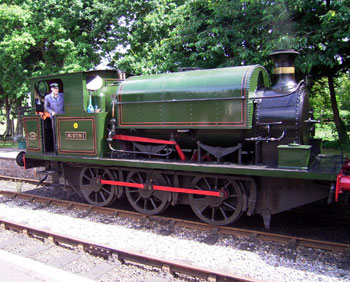 Saddle tank at the Lavender Line
Fred checked out the Lavender Line next door to the pub – which made his day – and after a leisurely lunch we sped on – well trundled on – to Piltdown.
Piltdown Pond– but no sight of the Piltdown Man!
The road between Piltdown pond and Offham is, in my opinion, one of the best country lanes in our area, in part because it crosses no main roads for such a long stretch and Barcombe Cross is the only place of any size at all that you pass through. We had a stop there for tea at the Royal Oak.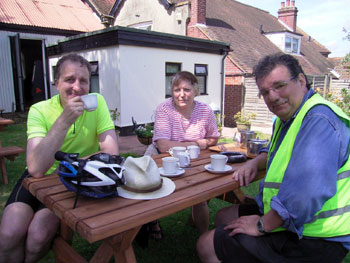 Mark treated us to tea at the Royal Oak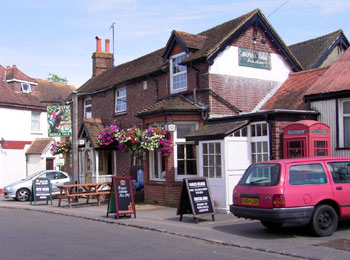 The Royal Oak, with corrugated iron 'prefab' extension
We've used the track that comes out near Offham Church a couple of times – but as an 'escape' from Lewes.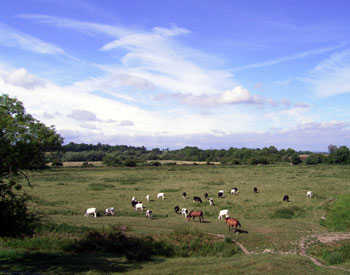 Wonderful view!
This time we used it to return; a bit hair-raising in places due to the downhill gradient, but we took it gently and with only one small diversion caused by my over-confidence that I knew the route (when I clearly didn't!) arrived back at Lewes in good time.
Ian