Dear fellow members and friends
10 October 2005
The latest on Ed Furey is that he went into hospital last week but his operation was delayed until today. It seems to have gone well and he is recovering. Sarah is putting progress reports on the ansaphone. The number is (01273) 243643. Still looking for ride organisers for 20 November and 4 December.
Boots!
Ian
Sunday 23 October
Sheffield Park – Bluebell Railway – a Fred Special
Fred is especially keen that we take in a special Bluebell Railway event – with, I quote, 'the Giants of Steam weekend with 7 locos going up and down!'
We can reach Sheffield Park station from Lewes via the usual route out to Offham we've followed before and country roads for all but the last mile or so when we'll have to take to the main road.
The Giants of Steam website says 'At Sheffield Park Station, housed within the purpose built restaurant is our real ale bar, The Bessemer Arms. Bar lunches, featuring appetising homemade food, are available here every day except Christmas day.' Which sounds fine, though Fred fears it may be very busy. If so it looks like back to Newick where there are several pubs. Maybe a day for sandwiches – you can always eat them later if they're not needed.
We can return on a variation of these lanes using some but not all of the ones we've explored on previous rides in the Ouse Valley and stopping for tea at the pub in Barcombe Cross. About 26 miles
Catch the 10.14 from Brighton station or meet at Lewes station at 10.29. Possible return times are 15.19, 15.49 and 16.19.
Sunday 6 November
Berwick/Firle Circular – a short and seasonable variation
British Summer Time will have ended – so with this in mind and the desirability of getting back to Brighton (or Hassocks or wherever) before dark and the increasing possibility of cold and/or wet weather I've planned a very short one (only about 15/16 miles) which can even be shortened a bit further if it's raining, very cold or very very windy. It also involves quite a stretch of 'track' which always slows things down a lot as well as making the distance seem further.
Leaving Berwick station we go down to the A27 near Selmeston – cross it carefully – and follow the little road opposite down to Bo-Peep where we will pick up the Old Coach Road – one of the bits we didn't do last time we came this way – as far as Firle. Then well follow both bits of the old main road recrossing the present A27 back to Ripe for lunch at the Lamb. A loop round Golden Cross and Chalvington will bring us back to Berwick where, train times permitting, we can have tea at the Berwick Inn like we did last time we came this way.
Catch the 10.14 from Brighton station or meet at Berwick station at 10.41. Best return train is 15.34 which gets into Brighton at 16.05. Both are direct trains.

 
The Last Ride – Sheila 's Report
Centurion Way 9 October
 
Five of us, (Mei, Joyce, Fred, Ian and Sheila) met up at Chichester. Four of us had taken the slow stopping train from Brighton as the lifts were out of order at Hove or rather the operator had had an accident. It was a most beautiful autumn day and perfect for cycling, sunny and still and a perfect temperature. We mused that after the first Clarion ride on the Cuckoo Trail, when we all got soaked to the skin, no matter what the forecast the weather has always been kind.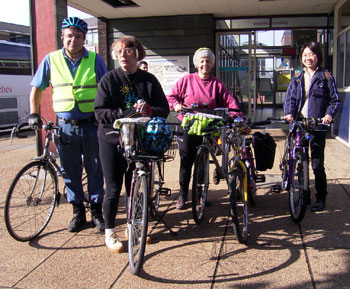 Ian, Joyce, Sheila and Mei
 
After the customary photos we set off along a cycle path through Chichester to the Centurion Way. This is a disused railway track to the outskirts of West Dean via East Lavant.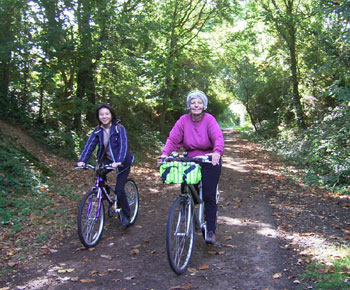 Mei and Sheila on the Centurian Way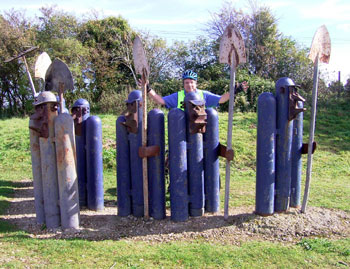 Ian joins the scupture
The cycle tracks from Chichester Station, both north and south are very good. Other routes out are not at all bike friendly. At West Dean we passed the College, and the gardens. And then at the Open Air Museum at Singleton we had to ride on the A286 for the last mile or so. Fortunately it was downhill so we got over it quite quickly. We left the main road and went through Singleton to Charlton.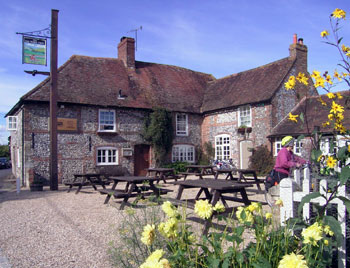 The Fox Goes Free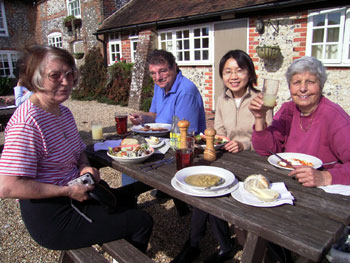 Joyce, Ian, Mei and Sheila enjoy lunch al fresco
 
There we stopped at the wonderfully named pub The Fox Goes Free. The weather was so good that we were able to eat in the pub garden. The scenery north of Chichester is quite spectacular.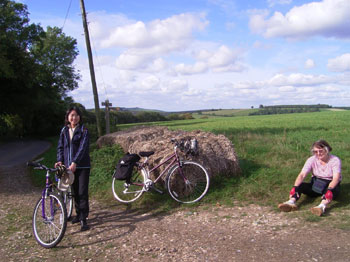 Mei and Joyce takes a breather at the top of a hill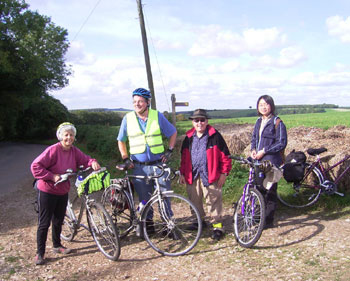 Sheila, Ian, Fred and Mei prepare for the descent
It is very wooded and there are streams (mainly dried up at the moment) in sharp contrast to the starkness of the East Sussex downs. Eventually we had to turn south and face a long slow climb and then down past Goodwood and back to Chichester.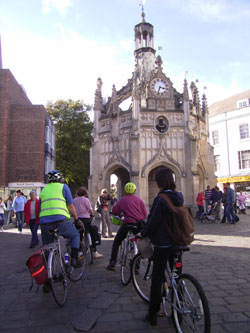 Chichester Cross

Ian informs us: 'Ian Nairn (who did West Sussex for Pevsner) says that it was built in 1501 by Bishop Story "almost Cotswold in design, not at all like Sussex". He says that the statue is of Charles I – not II as the lady paser-by who told us all about it. It has, he says, been attributed to Fanelli.'
Is this the last time we will be able to sit outside for lunch this year? The trees seem to have kept their green leaves quite late this so that we did not see many autumn tints as yet. Perhaps another cycle to woods later this year would be good. Personally I was delighted to have cycled 18 easy miles. Everyone was very kind about waiting for the slowcoach.
 
Sheila