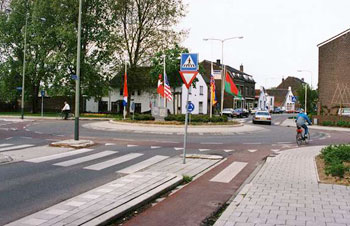 From Ivo Miesen, who writes:
This roundabout is where a medium busy A-road enters the old built-up area.
Bike paths finish here on the roundabout, further on car speed decreases
enormously on the less wide road, and car and bike traffic mingle.
I take this roundabout quite often, and it works quite ok.
BTW, the monument in the middle is a war monument.
http://home.planet.nl/~fietsersbond-maastricht/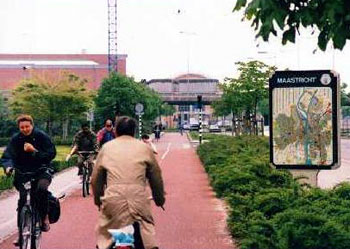 The bikepath here is the main artery through the river valley,
leading from town to several villages.
The bikepath is located on the riverside of the road,
in order to minimise the amount of crossing traffic.
On all crossings on the 8-9km long stretch towards its destination
the cyclists have the right of way.
This is a good design when there isn't much crossing traffic.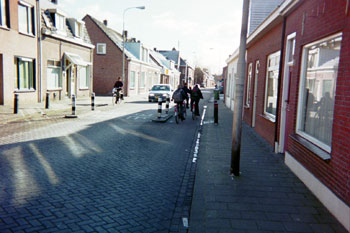 Thanks to Tim Malburn in Worcestershire for these.
Motor vehicle pinch point and ramp.
Slows vehicles down, provides island for pedestrians,
enables constant speed cycling and keeps motor vehicles off cycles.
Note there is no ramp to hinder the cyclists.
The path is bollarded to make sure no vehicle can be parked
blocking the cycle part of the road.
This is more suitable for the quieter roads on the estates.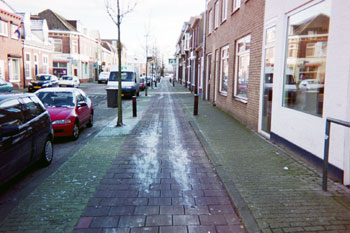 Has a pedestrian path both sides, off-road cycle path both sides
and roadside car parking both sides.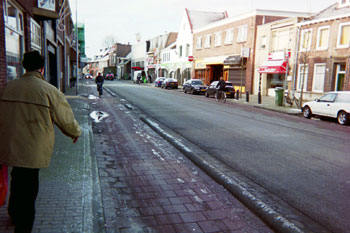 A quietish road, but still the cyclists are protected by a ramp
between them and the traffic one side,
there is coloured tarmac and a white line the other side,
but note vehicles have roadside parking
to ensure that no vehicle needs to stop on the cycleway.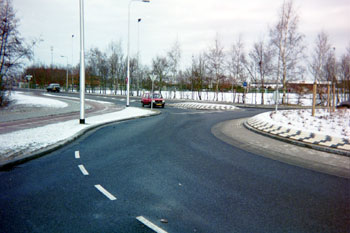 A cycle-friendly island about the size of Stourminster Island.
Or is that a mirage, as Worcs Highways says it can't be done?
The cycles are taken away from the road on a cycle path
and are taken across the road remaining at the same level.
There is a ramp on the road to slow vehicles
down where the cycles and pedestrians
(they have their section of the ramped crossing) cross.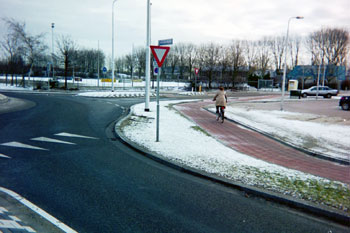 Cyclist using cycle path around island.
Note raised splitter with drop to cycle path and pedestrian path level.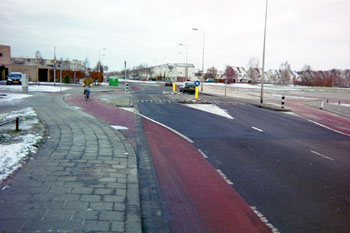 Crossing point outside school.
Ramped for motor vehicles, the pedestrian path from left to right
remains at path level across the road.
Whilst the road vehicles have a ramp to the maximum allowed
(about the same as here),
the cycles have a gentle incline around this traffic-calmed crossing area.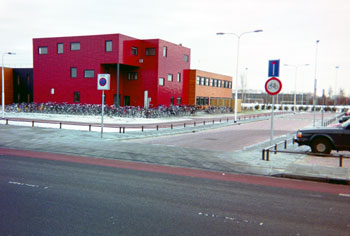 An estate school similar to Comberton.
They are about the same age range as the First and middle.
There are so many bikes you can't count them.
Why? Because they put the infrastructure in and parents are happy for them to cycle.






Images & text © copyright Alan (Fred) Pipes 2004
who asserts his moral rights as creator