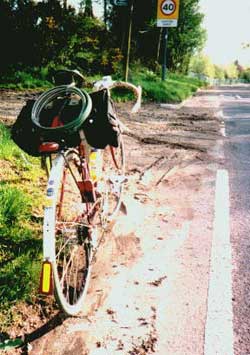 From Graham Brodie of CTC Torbay
We told them not to put one here becuase it would get silted up
with all the sand washed out from adjacent woods – so what happens?
In this shot you can see the lane; these days it's obliterated!
http://swauks.com
www.accorddartmoor.free-online.co.uk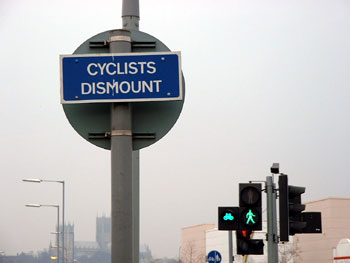 Paul Rea is chairman of CycleLincs – The Lincoln Cycle Campaign Group.
He writes: we have been trying to get our council to listen to cyclists since 1994.
None of their designing officers cycle and so
the things that are produced are not very cycle friendly.

Toucan crossing with CYCLISTS DISMOUNT sign.
When is a toucan not a toucan?
This is one of many examples in Lincoln
where the County Council's obsessive use of CYCLISTS DISMOUNT signs
has resulted in their newly installed toucans having them as well.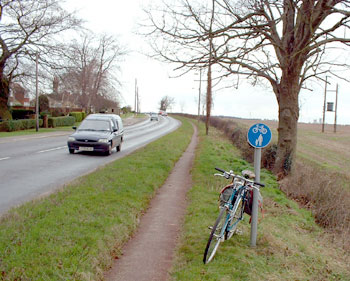 The narrowest cycle track?
The photo of Branston Path Narrow was taken on a cycle path out from Lincoln
to the village of Branston. It is narrower than the width of my handlebars
and at 60cm wide is meant to be a two-way shared use cycle path
with perdestrians and wheelchair users.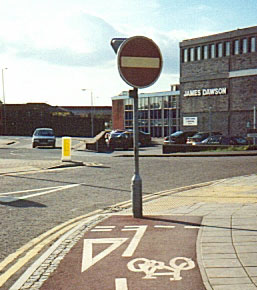 Posts in paths.
I thought you might like the NO ENTRY sign
on this cycle path on Tritton Road in Lincoln.






Images & text © copyright Alan (Fred) Pipes 2003
who asserts his moral rights as creator