Abridgements are given for all combination tools with attached corkscrews, and also for other devices to assist cork extraction.
All the variant forms of each patent are clearly identified.
Photographs of prime examples of these patents come from
private collections worldwide and from Christie's auction sales.
Clear reproductions of engravings from published specifications are also featured.

This book will be of interest to collectors, antique dealers, auction houses, patent offices, design and cultural historians, and anyone interested in correctly identifying patented corkscrews.
Full patent specifications for 94 major corkscrew patents.

Patent abridgements for 236 corkscrews, combination tools
and cork extractors.

List of all bar-mounted cork drawer patents.

All patents are cross-referenced with their French, German,
and American equivalents.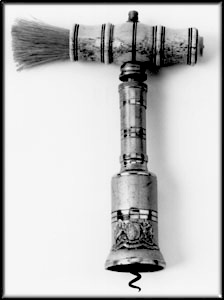 125 black and white photographs.
15 full-colour plates, including a full-page colour photograph
of the silver-gilt Shrapnel patent corkscrew presented to Prince Albert and now owned by Her Majesty the Queen.

Comprehensive indexes.

Short biographies of corkscrew manufacturers.

Original prices listed, plus information on corkscrew markings.

Information on all known patent variants of corkscrews.

'Some books, on first acquaintance, exude an obvious quality which demands attention ... this is an essential reference for anyone whose business may lead them into buying or selling British corkscrews, and for the more serious collector ... those who feel the need should not hesitate to acquire copy.' Robin Butler in Antiques Trade Gazette


'This long awaited addition to the corkscrew world has arrived and it was certainly worth the wait.'
David Aldous-Cook in The Dealer
Fletcher Wallis is a corkscrew collector and dealer who has been interested in the history of patent inventions for the past 25 years.
ISBN 189882505X (hardback)
376 pages; A4 format
Please note that British Corkscrew Patents from 1795 is only available in a limited-edition case-bound (hardback) edition of 1000 numbered and signed copies.
Price: £75 + £7.50 postage (surface mail);
£18 postage (airmail)

If you live near or are visiting London, you can also purchase these books from Fletcher Wallis, who has a stall at Units 60 and 62, Admiral Vernon Arcade, Portobello Road, only on Saturdays 8.30-3.30.
Please address all further enquiries to Fletcher Wallis