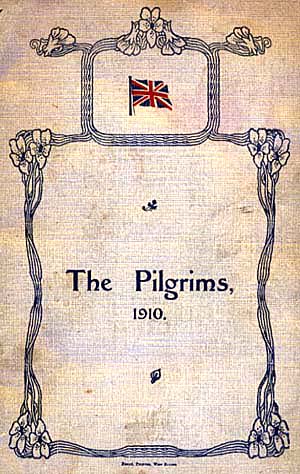 The Pilgrims
1910.
Being, more or less, faithful records of weekly Cycle
Tours in Rural Middlesex, Hertfordshire, Bucking-
hamshire, and Surrey, as seen through
different spectacles.
The Story of The Pilgrims
how this book arrived at this website
Eileen Sloley is the daughter of one of the members of The Pilgrims cycling club who contributed to this little book about their great enjoyment riding the country lanes on the outskirts of London, during the Edwardian 'Golden Age' before the Great War. When she moved from Norfolk to Eastbourne a few years ago, Eileen came across the book among family memorabilia.
Eileen had no idea who might find it interesting but thought that her friend Liz Robinson, a director of CSS and lifelong keen cyclist, might think of a way to keep this unusual historical record for posterity and make it available to a wider public.
Liz took this job on, thinking that it would be simple to find a library or museum of cycling that could offer the booklet a home. But at the time, there appeared to be nothing appropriate. The CTC itself said they had a loft full of historical material and no time or resources to deal with it adequately. So The Pilgrims were kept safe by Liz for a few more years, in a cupboard.
Eventually the Internet came to the rescue. Fred Pipes kindly agreed to scan the photos and put the whole document onto the Cycling Support Services Ltd website. Liz typed out the text in Word for Fred to integrate with the rest of the publication.
So now the whole world can read about Pilgrims and picture the time, early in the last century, when this cheerful group had so much fun together on their bicycles that they went to the trouble of recording their exploits in this lovely little book.
What they would think if they knew it would end up here, on the world wide web? I very much hope and indeed I am pretty sure they would all be utterly amazed - and absolutely delighted.
Les Robinson, 26-2-04
Contents
PROLOGUE: The Evolution of the Pilgrims Club.
CHAPTER I. BRICKET WOOD.
CHAPTER II. CHERTSEY.
CHAPTER III. CHALFONT ST. PETER.
AL FRESCO CONCERT. HARLINGTON.
CHAPTER IV STANWELL (VAIN ATTEMPT TO REACH DATCHET)
CHAPTER V. HAREFIELD
CHAPTER VI. RICHMOND.
CHAPTER VII. SHEPPERTON.
CHAPTER VIII. HARROW AND STANMORE.
CHAPTER IX. BLACK PARK, LANGLEY.
CHAPTER X. LITTLETON.
LATE NEWS.